The founder of Facebook, Mark Zuckerberg, and his wife Priscilla Chan have announced they are donating $25m (£15.7m) to help fight the Ebola virus.
Their undoubtedly generous offering will be well received by the Centers for Disease Control and Prevention (CDC), but the virus, which has already killed over 4,000 people, is advancing so rapidly that even such a large sum of money is a fraction of the amount needed.
---
The Ebola epidemic is at a critical turning point. It has infected 8,400 people so far, but it is spreading very quickly and projections suggest it could infect 1 million people or more over the next several months if not addressed.
---
The World Health Organisation's (WHO) assistant director general warned today that there could be up to 10,000 new cases diagnosed per week within the next two months if the situation continues to escalate - with a death rate of 70 per cent, the results could be devastating.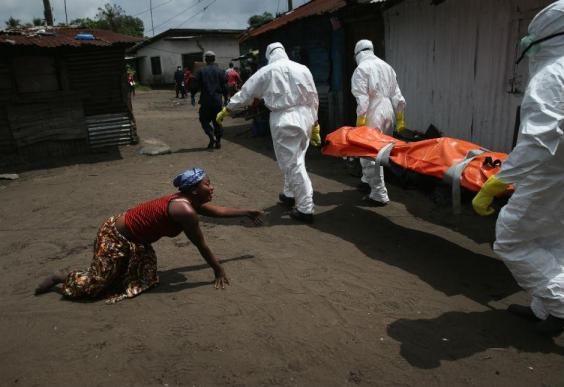 A woman in Monrovia, Liberia, crawls towards the body of her sister as an Ebola burial team take her away for cremation (Picture: Getty)
---
As the [Guardian]4 reports, such an increase in cases will result in a far higher demand for beds, medical equipment and trained personnel to deal with the sick.
The WHO and UN estimated last month that they would need roughly $1bn (£625m) to tackle the outbreak - so far $507m of that has been pledged by government bodies, private businesses and individuals.
---
---
Sadly, the calculation of $1bn was based on the assumption that only 20,000 people would be affected (opens in PDF) before the turn of the year (p6).
If the projected outbreak does reach 10,000 new cases per week, then it becomes clear just how desperate the situation could become.
---
More: Someone is actually trying to sell ebola.com for $150,000