1. Her name wasn't Joan Rivers
She was born Joan Alexandra Molinsky on 8 June 1933 in Brooklyn, New York, the daughter of Russian Jewish immigrants, before taking the stage name Joan Rivers when she started her comedy career.
2. If she had not gone in to show business, Rivers said she would have liked to have been an anthropologist
3. She was an avid collector of china
"If you come to my house, you'll never eat off the same pattern," she once said.
5. Her book was banned in some US shops.
Her book was allegedly banned by Costco stores in the US. She was so outraged that she held a protest outside the one branch wearing sunglasses and shouting through a megaphone before being asked to leave by police.
6. She was also banned from an American talk show
Rivers was banned from the Tonight Show after falling out with former presenter Johnny Carson when they worked together on the programme. The move was upheld by his two successors Jay Leno and Conan O'Brien although she did make two appearances when Jimmy Fallon took over.
7. Her husband killed himself in 1987
Rivers said he was pushed to the edge after the pair were sacked by The Late Show.
8. She won the Celebrity Apprentice in 2009
Rivers won a spin-off of the entrepreneur reality show popularised by Donald Trump in the US and Lord Sugar in Britain.
9. She collected Fabergé eggs
Although sold off a lot of her set at a Sotheby's auction in 2001.
10. She once kissed Barbra Streisand
The comedian appeared alongside Streisand in an off-Broadway play called Driftwood in 1959. Streisand "was all tongue," quipped Rivers.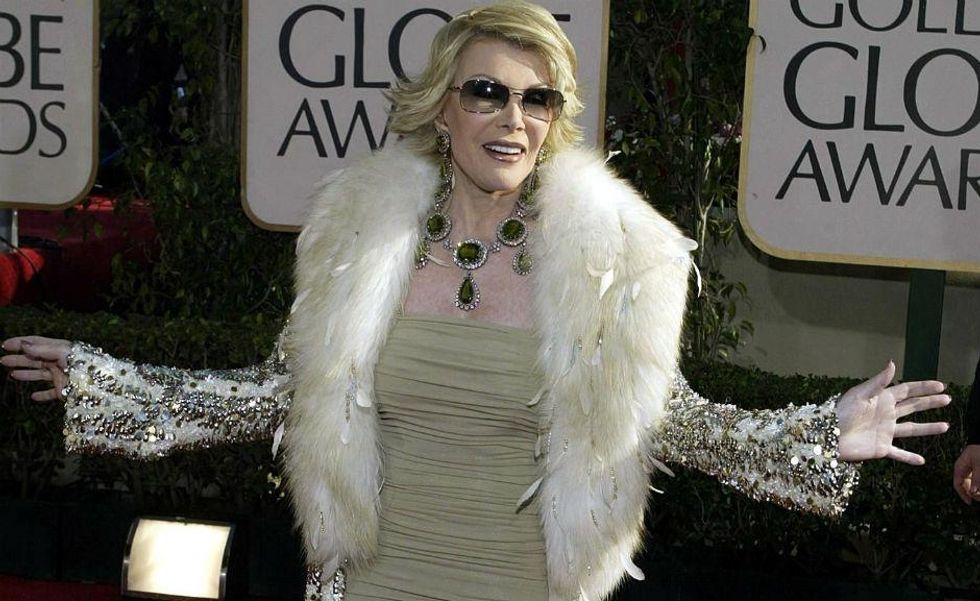 11. She also went by the stage name 'Pepper January'
In her early career she worked as a comedian at a strip club under the pseudonym Pepper January.
12. She won a Harvard Hasty Pudding 'Woman of the year' award in 1984
The university's theatrical society bestows this honour upon a performer each year who is deemed to have made "a lasting and impressive contribution to the world of entertainment."
13. She received a star on the Hollywood 'Walk of Fame' in 1989
14. She once said the best meal she ever ate was a shepherd's pie