The (cake) dust has settled on Nadiya Hussain winning the latest series of The Great British Bake Off last week.
The mum-of-three from Leeds won fans, praise and ultimately the competition for her wit, warmth and peerless baking skills.
For some reason, some people tried to make what is basically a show about people who are extremely good at making cakes into a debate about Nadiya's religion.
Amanda Platell wrote in the Mail on October 3 that contestant Flora Shedden wouldn't have been eliminated from the show if she had made a "chocolate mosque", while some readers online just couldn't comprehend that a hijab-wearing British woman of Bangaladeshi origin had won. Meanwhile in the Sun, Ally Ross accused the BBC of "ideological warfare" for having a diverse set of bakers on the show.
When these comments were put to Nadiya during an interview with the Guardian, she replied:
I don't know. It's all very... It's just so negative isn't it? For me, the experience is so much better if you don't concentrate on negativity.
But then she added:
If anything, putting people of different cultures in the tent is the reason why they had amazing bakes this year.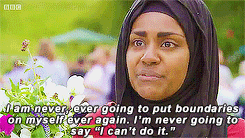 You can read the full Guardian interview here.