Mark Thornberry
In June 2017, Mark Thornberry was told that he would most likely be dead by March after his liver cancer became terminal.
Yet, five months on from March, not only is Mark still going strong, he has been raising money for charity via his passion of ultra-running - and this weekend he will partake in a 145-mile run.
The purpose of this epic jog is to help raise enough funds to that will finance vital research into early detection of the disease, which will help others in a similar position to Mark.
Just a few months after his diagnosis, Mark went public on social media and announced his intentions to run in the race, which will take him from Whitehaven dock in the North West to Tynemouth castle on the adjacent coast of the UK.
Mark has already raised more than £80,000 for the King's College Hospital Charity Fund. In his own words Mark explains his challenging journey, so far and how he plans to conquer the gruelling race.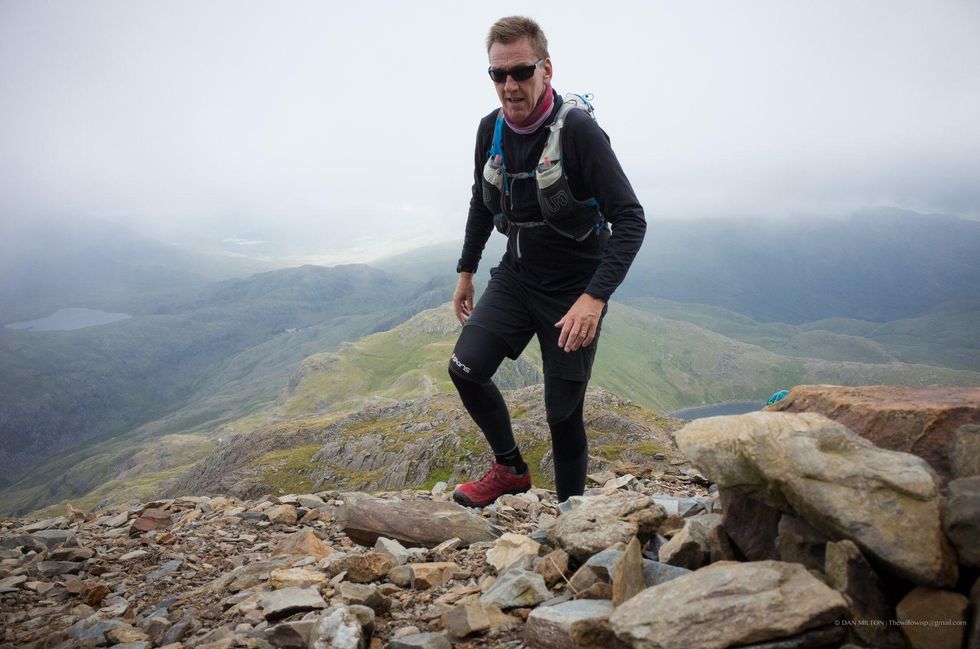 Picture: Mark Thornberry
Everyone has a few key dates that stick in the mind, where they can recall exactly where they were and what they were doing. It tends to be births, marriages and, perhaps, a momentous world event like a fist-pumping sporting occasion.
For me, it is the 26 of June 2017, the day I was told that my initial intervention had failed and that my liver cancer was now terminal. I had six to nine months to live.
Prior to my diagnosis, I had become a keen endurance runner. Over five years I took on increasingly greater challenges. At the age of 57, I was proud to be able to say that I had completed a good number of 100-mile races among the many 'ultra-marathons' that I successfully ran.
As I contemplated my new prognosis, I was sure of one thing. As Dylan Thomas urged his father, I would 'Rage, rage against the dying of the light...'.
I also wanted to find a focus that would keep me out of the 'dark rooms' in my mind that deplete your will to live and your ability to fight on.
I found this focus in marrying my passion for running long distances with raising money for the King's College Hospital Charity Fund.
I have been a patient at King's College Hospital for thirteen years now. I had been diagnosed in 2005 with cirrhosis, as a result of Hepatitis C. My chances of developing hepatocellular carcinoma (primary liver cancer) were around one in 50. I seem to remember similar odds for Leicester City Football Club to win the Premiership…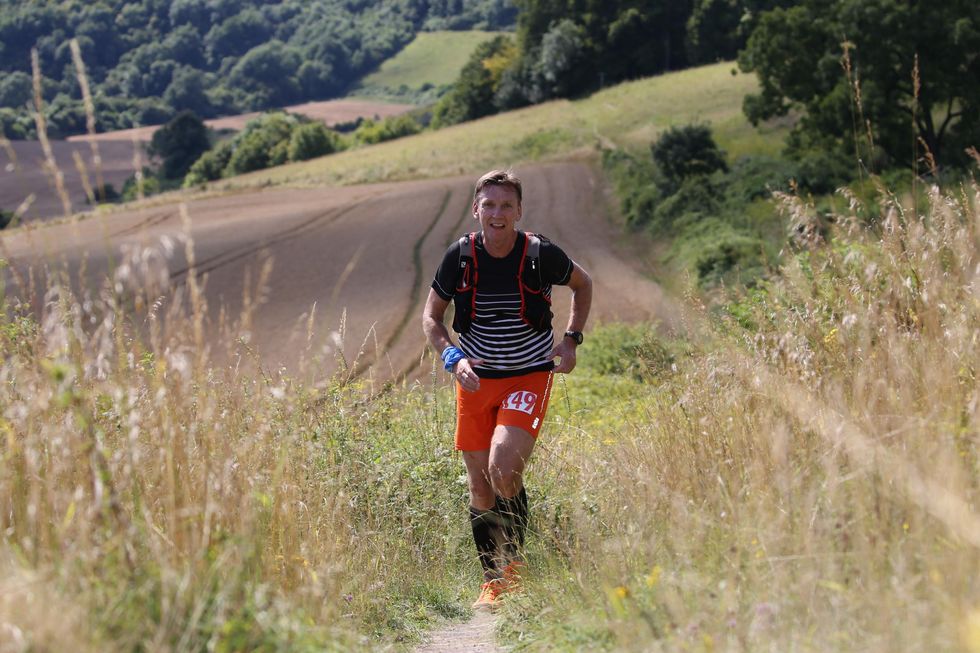 Picture: Mark Thornberry
KCH's Hepatology department and the adjunct Institute of Liver Studies are first class but, frankly, criminally underfunded. Liver cancer is what's known as an 'orphan' cancer, given its correlation to liver disease. Frankly, I get the impression that it is too damned hard a problem to 'solve'. The Pharma companies have other priorities and, more crudely, larger target markets to pursue.
I went public on social media with my cancer diagnosis in August of 2017, and suggested that people might want to help me reach a £5,000 fundraising target...and perhaps join me on the odd run.

In just under a year, I am humbled that the support I have received has helped to push the total raised to over £82,000. All I have had to do in return is lace up my trainers and run, when I can.
With five hospital stays and the attendant recovery required for each procedure, my training schedule can be a bit random. But I have managed to get out there more than I expected. Whether I raise a few bob or not, I can find that happy place. Mostly alone on a trail, but often with good friends, whose attitude to my illness is just brilliant. It is irreverence at its very best.
Among the challenges I've managed to beat since I started to rattle the tin: the 145 mile Grand Union Canal Race, a continuous foot race from Birmingham to London Paddington, and a 100-mile race in the Arizonan desert that I stumbled my way through. No tent stops in that one.
I'm going to keep running until the doctors tell me I physically can't, and even then they better have a bloody good reason!
I am breaking new ground at KCH. I had, to quote, "an extraordinary response" to the treatment that pulled me back from the very edge of the precipice last year. And although I've just had microwave ablation to deal with a new tumour, I'm positive for the results due soon.
Either way, I will be on the start line for the Coast2Coast Ultra on the 25th of August. This is a no-frills single stage 140-mile race. Dipping my toes in the Irish Sea at Whitehaven, I will have 38 hours to run, walk or crawl to do likewise in the North Sea, by Tynemouth. The race follows the C2C cycle route, traversing the Lakes and the Pennine Way. I am looking forward to it both with trepidation and more than a smidge of excitement.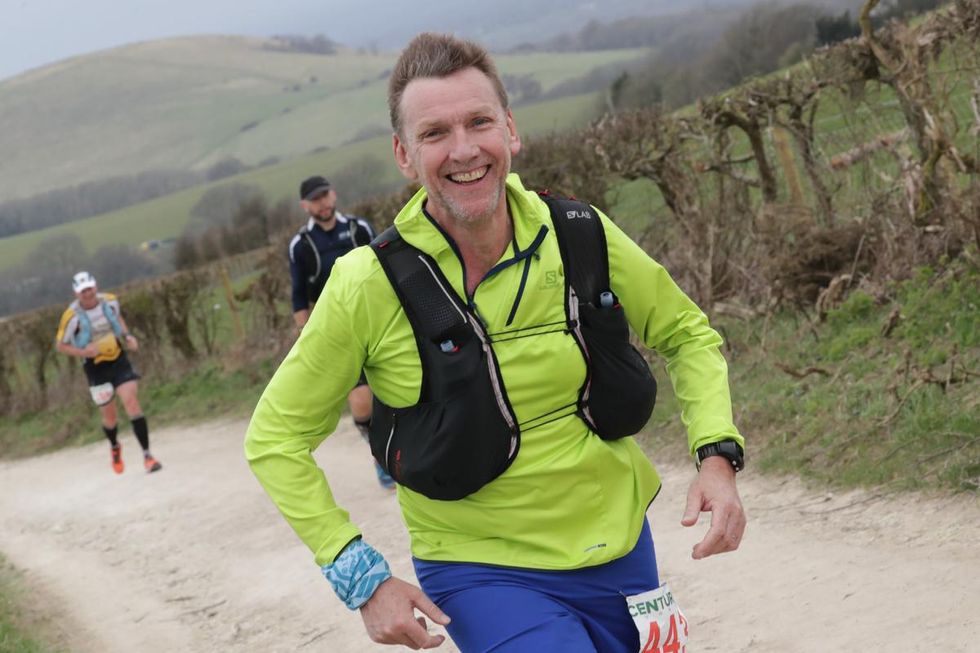 Picture: Mark Thornberry
My cancer has made me a less 'efficient' runner, processing nutrients are more problematic as is storing glycogen - key 'musts' for endurance running, and I get fatigued more quickly. However, I am ahead of the game. I am fitter than I have ever been before, which has allowed me to tolerate the various treatments undertaken to date. That "six to nine months to live" prognosis was now 14 months ago.
I am frustrated that I can not be cured but know that every penny I can raise will help the medics better understand liver cancer progression and allow them to treat people like me in the future.

I will not go gently into that good night.
That's worth a bob or two surely?
Mark Thornberry is raising money for Kings College Hospital Charity, to fund further research into liver cancer. His fundraising page can be found here.