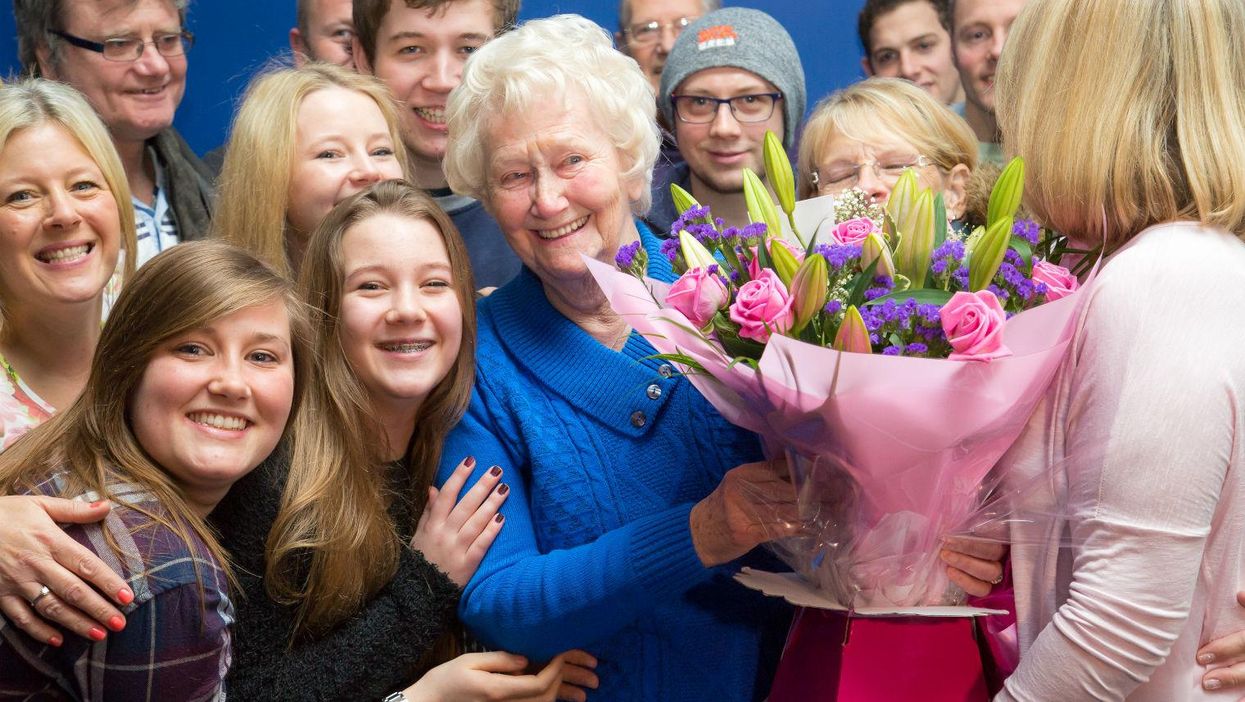 Enjoying an early Mother's Day treat?
Not quite. Family support volunteer Edna Smith has been moved to tears after her loved ones staged a surprise for her at her local cinema.
A special screening of Fifty Shades of Grey?
Mrs Smith, 80, thought she was going to see a Hollywood film.
What was the big surprise?
Her family, friends and many of those she has helped over the years had crammed into the theatre to watch a film about the work she has done to help parents struggling to cope with post-natal depression and low self-esteem.
It must have been hard to keep that secret…who was behind it?
The event at the Odeon in Leicester was arranged by the National Lottery in recognition of Mrs Smith's voluntary work at Home-Start Blaby District, Oadby and Wigston, in which she has cared for hundreds of children over the past 15 years.
Did she suspect anything was afoot?
Mrs Smith, who has four children, 10 grandchildren and two great-grandchildren, said: "I was astonished to see that I was the star of the show. It was a wonderful surprise. I have enjoyed helping families through my work with Home-Start and never expected that people would go to such lengths to show such appreciation."
What did her family have to say?
The pensioner's daughter, Julie Brooks, said: "She is special because she gives so much unconditional love and support. Mum has always been there for her family and the children she has supported through Home-Start, offering love and guidance." She added: "She never criticises or judges people, giving advice when asked, but never interfering. I am proud that her influence on so many people's lives has been recognised."
It sounds like she deserves to be spoilt.
Jackie O'Sullivan, from the National Lottery, said: "Edna Smith is adored by four generations of her family and the young people whose lives she has helped through Home-Start." She added: "Edna is a great example of how volunteers are making a vital difference in their communities with National Lottery funding."