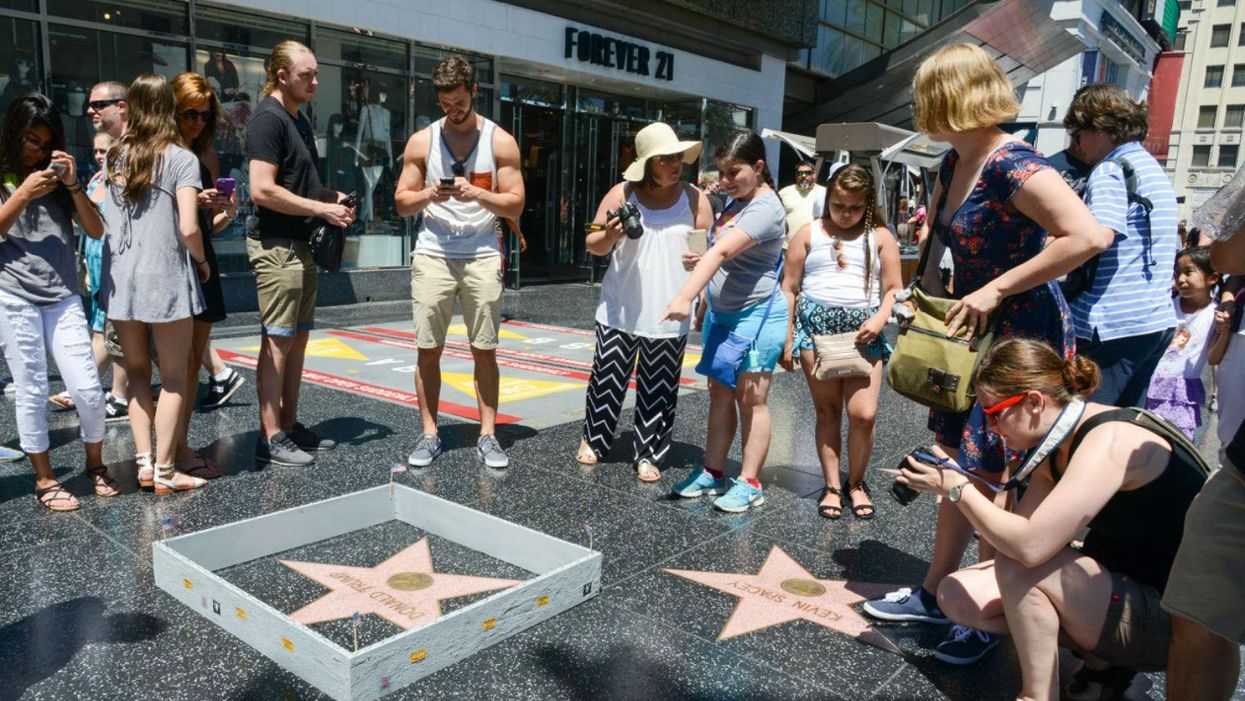 Donald Trump likes walls.
He likes them so much he's insistent on building one along the Mexican border.
In light of his love of walls, artist Plastic Jesus has given Trump's star on the Hollywood Walk of Fame an unofficial upgrade...
Picture: Plastic Jesus
indy100 spoke to Plastic Jesus:
As an artist my work is inspired by News, current affairs, and culture. I think Trumps policies will be hugely damaging to the USA and the rest of the world.

The USA is made up from immigrants… to build a wall would just be idiotic. The pretence that it would protect Americans from threats and crime is just crazy. Most of the threats to the life and safety of Americans comes from American citizens….
How have people reacted to it?
I'm so amazed at the response it has received. Sight -seers on Hollywood Blvd were flocking to it, to have their photograph taken. And it's gone viral online - right around the world. I've had a few insults, but very few. But what people don't realise is that I'm British and we do insults so much better.
Picture: Plastic Jesus
Plastic Jesus' tagline "stop making stupid people famous" is scattered across the US and adorned on T-shirts and posters.
The wall, built on Tuesday, is six inches of concrete and comes complete with 'keep out' signs and razor wire. The artist paid for it himself. No Mexican money was involved at all...
Picture: Plastic Jesus
Needless to say, people have praised its elegance...
...its brilliance
Because really, he's making America great once again...
Plastic Jesus' tongue-in-cheek denunciation of celebrity has made its way onto parking signs too:
And across other walls...
Well played Plastic J, well played.