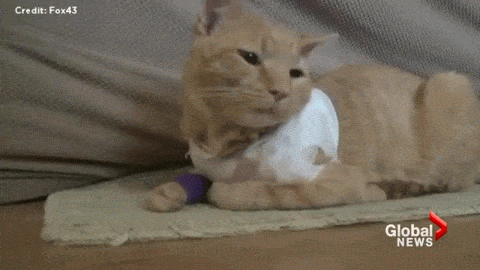 Sponsored by Legal & General
If you have a pet, grew up with one or just happen to live near someone with a really bouncy dog, you know just how awesome animals are.
But these guys are something else. Prepare for all the feels.
1. Opie the cat
The well known phrase "I'd take a bullet for you" rings true with Opie the cat, who saved the life of a three-year-old boy from Pennsylvania in the US.
After a stray bullet went through the window of the boy's home, Opie took hits to the head and shoulder as the bullet ricocheted through the living room, narrowly avoiding the boy who was sleeping on the sofa.
Apart from some muscle damage, Opie had some stitches and made a full recovery.
2. Doc the three-legged kitten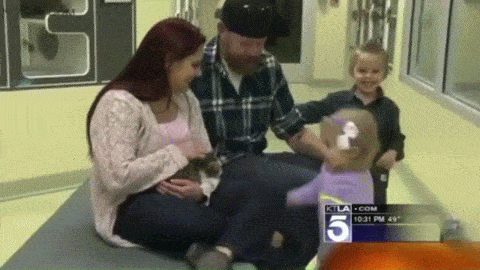 Doc, the rescue kitten, had her paw removed after being hit by a car. She was rescued by Scarlette Tipton's parents, who wanted their child to have a kitten to grow up with.
Incidentally, Scarlette had her right arm amputated when she was 10-months-old because of cancer. Her mum Simone told Love Meow, that Scarlette "recognises that the cat has similar struggles as she does."
3. Samson the graduate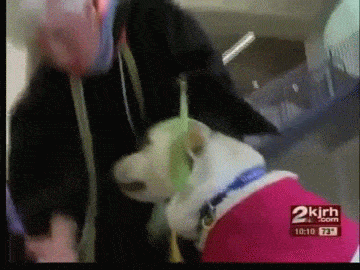 Samson got a traditional graduation, complete with cap, when he completed a two-year degree with an Oklahoma University Rehabilitation Science professor. He received an honorary degree for his hard work and went on to become a service dog.
4. Tara the bodyguard
After a dog attempted to attack a small boy, quick-thinking Tara sped into action by tackling the dog and scaring it away.
The moment was caught on CCTV and the cat was awarded with a special holiday called "Tara the Hero Cat Day" by Kern County in California.
5. Lulu the pig
When Lulu's owner JoAnn Altsman had a heart attack, the pig ran into the street to try and find help. She lay down in the road to stop traffic, eventually alerting the attention of a man who helped get JoAnn to a nearby hospital.
Lulu was later awarded a Humane award by the American Society for the Prevention of Cruelty to Animals for her efforts.
6. Buddy the German Shepherd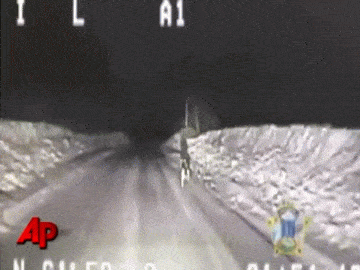 Buddy was with his owner in the family shop in Alaska when a chemical reaction caused a fire.
After briefly being trapped in the building, Buddy and his owner Ben escaped and went to get help. As an Alaska State Trooper was driving along a nearby road, Buddy flagged down his car and led him to the scene of the fire.
7. Duke the rescue dog
When the Brousseau family adopted Duke, they had no idea how much he'd mean to their lives.
After going to bed on a Sunday night, they were woken by the dog jumping up and shaking on their bed.
The couple woke up and knew something was wrong, as Duke was usually obedient. They went to check on their 9-week-old daughter and found she wasn't breathing. The couple credit Duke with saving their daughter's life.
8. Figo the service dog
When Audrey Stone crossed the street without being noticed by a school bus making a hard left at an intersection, her service dog Figo bravely jumped in front of the bus in a bid to save his owner.
Stone fractured her elbow and ankle, but her injuries would have been worse had Figo not come to her rescue. Figo received a deep cut to his leg, but was otherwise fine.
9. Willie the parrot
Proving that parrots can do more than ask for a cracker, Willie the parrot alerted Hannah's babysitter Megan that something was wrong.
The parrot squawked "Mama, baby!" and flapped his wings, leading Megan to check on the child. She found that Hannah was choking and quickly applied the Heimlich manoeuvre to the toddler. Megan credits Willie with saving the girl's life.
10. Therapy llamas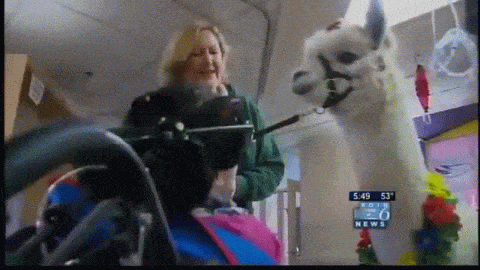 While therapy dogs are increasing in popularity, llamas and alpacas are also being credited for their therapeutic powers.
In Portland in the US, Rojo the llama and Napoleon the alpaca work with Mtn Peaks Therapy Llamas and Alpacas and visit children's hospitals and senior communities to help vulnerable people through animal-led therapy.
Lori Gregory - who runs Mtn Peaks - told KOIN news: "Everybody has their gifts that they're given and I believe our llamas are our gift that we share with the community and world."