11 things you need to know about the Isis caliphate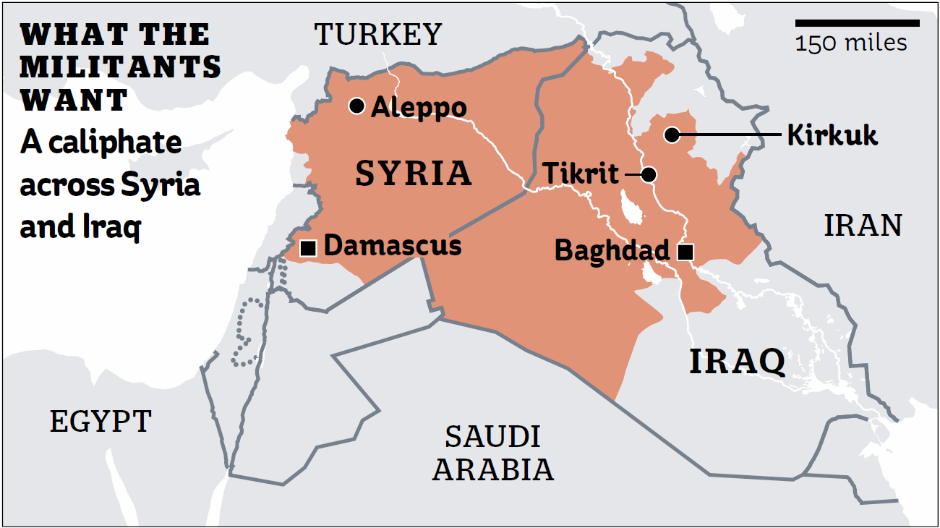 1.
Abu Bakr al-Baghdadi, the would-be Caliph Ibrahim, has declared himself leader of a new Islamic state larger in area than Great Britain.
One of only two known pictures of Abu Bakr al-Baghdadi (Picture: AP)
2.
The last caliphate was abolished 90 years ago by Mustafa Kemal Ataturk in Turkey in 1924.
3.
The founding of a new Islamic State is ostensibly a declaration of war. The Islamic State is viscerally anti-Shia, who make up 60 per cent of Iraq's population.
Captured Iraqi soldiers being led away to their deaths, in a still image from an Isis-propaganda video (Picture: AP)
4.
The Islamic State now claims authority over all 57 countries that follow the Islamic faith. "Listen to your caliph and obey him. Support your state, which grows every day,'' the group's spokesman Abu Mohamed al-Adnani said.
5.
200,000 people have already fled Tikrit, occupied by Isis fighters, due to a lack of utilities and fear of indiscriminate government bombing.
Hundreds of thousands of civilians have fled their homes after the Isis advance (Picture: AP)
6.
Residents in Baghdad fear an Islamic State assault will coincide with attacks from within the city, although there has so far been no uprising by the Sunni enclaves in the capital.
7.
But Baghdad is defended by Iraq's regular army and tens of thousands of Shia militiamen. "They can do disruption but they can't do any victory," Iraq's deputy national security adviser Safa Hussein al-Sheikh told i in Baghdad of the Islamic State.
Iraqi special forces on a patrol south of Baghdad (Picture: Reuters)
8.
The declaration of a new caliphate will have a deep appeal for millions of young Sunni men for whom the political and economic status quo promises nothing but joblessness and poverty, as well as increase recruitment from overseas; the black Isis flag has already been raised in the Sunni and tribal town of Maan in Jordan.
9.
Regardless of the consequences of a new state being declared on Syrian and Iraqi territory, Iraq is almost certain to find itself under new leadership. Prime minister Nouri al-Maliki has been discredited by the loss of Mosul and cannot possibly avoid responsibility for the debacle as acting defence minister, interior minister and supreme commander of the army.
Iraqi prime minister Nouri al-Maliki has vowed not to stand down (Picture: AP
10.
Iraqis are cynical about the US, Britain and Sunni Arab states such as Saudi Arabia, Qatar, Jordan and Turkey claiming to support supposedly moderate Sunni rebels in Syria.
11.
Isis has shared power in very few places, with the exception of Fallujah because the Iraqi army is very close. The Islamic State may be surrounded by many enemies, but it will not go down easily.
Isis fighters march in Raqqa, Syria (Picture: AP
More: Eight questions you had about Isis, answered