McDonald's, like all the other stuff that was cool to 90s kids, is going through something of a renaissance.
Shares in the chain are up almost 28 per cent on last year, and sales are up 5.4 per cent thanks to a turnaround plan put in place by new British CEO Steve Easterbrook to improve on five years' worth of disappointing results.
Here are some jaw-dropping McFacts about one of the biggest chains in the McWorld:
1. McDonald's founder, Ray Kroc, was as ruthless in his approach to business as any Wall Street yuppie:
Contracts are like hearts. They're meant to be broken.
Michael Keaton plays Kroc in the forthcoming film The Founder
2. The first item on their menu was actually a hot dog, not a hamburger.
Picture: Tim Boyle/Getty Images
3. In German branches you can buy beer.
Deleted/Imgur
4. If McDonald's was a country it would be the 68th richest in the world.
Picture: Guang Niu/Getty Images
6. You can buy taro pies in McDonald's in Japan.
Picture: McDonald's
7. And chicken porridge with scallions, ginger and chillies in Malaysia.
Picture: Adlin Hisyamuddin/Flickr
8. And the Hawaiian Deluxe Breakfast includes the Hawaiian favourite, spam.
Picture: Evoixsd/Flickr
9. One in eight Americans have worked for McDonald's at some point (including Amazon founder Jeff Bezos):
Picture: avid Ryder/Getty Images
10. The Golden Arches are more recognised globally than the Christian cross.
Picture: China Photos/Getty Images
11. In 2005 a man called Ronald McDonald robbed a Wendy's in New Hampshire.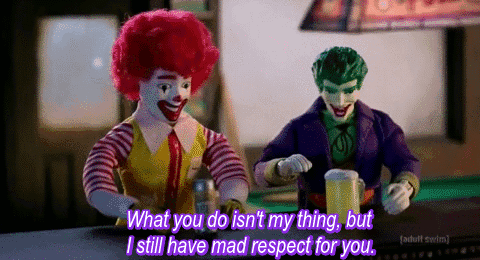 12. McDonald's feeds 68 million people - the entire of the UK, or about one per cent of the world's population - every single day.