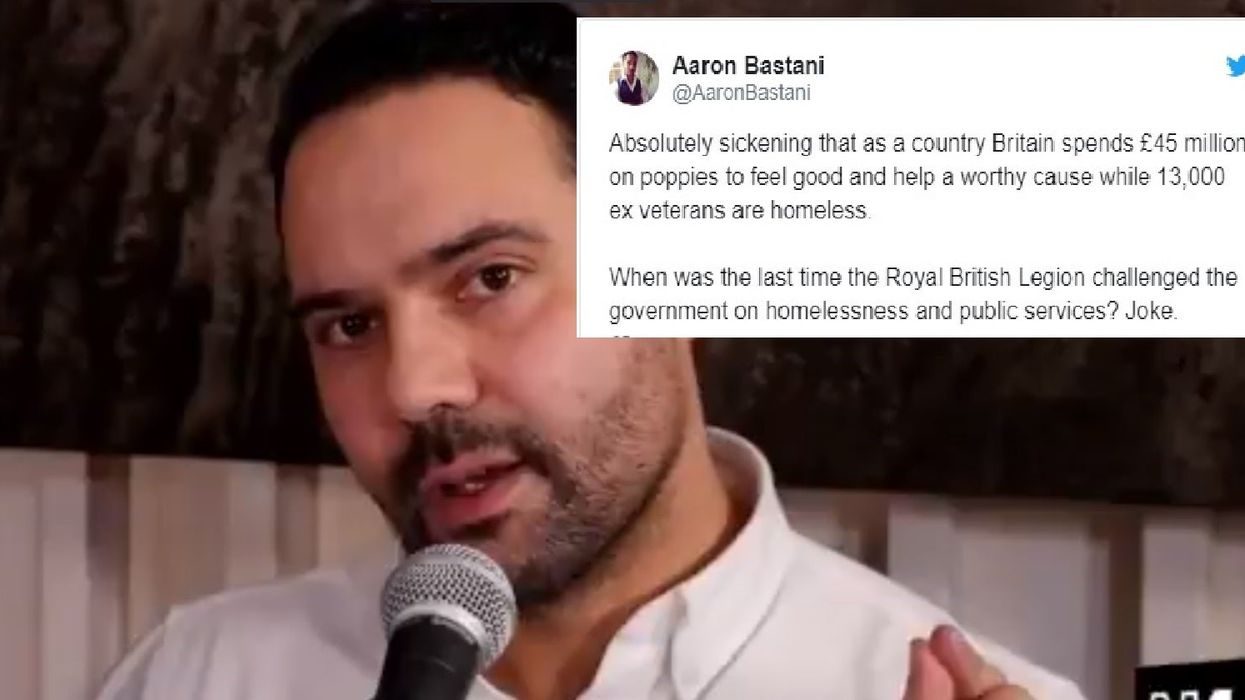 Novara Media / Aaron Bastani
A left-wing activist and Jeremy Corbyn supporter has launched an online attack against the Royal British Legion and its Poppy Appeal.
Aaron Bastani, who co-founded news site Novara Media, tweeted that he thinks it's "sickening" that millions is spent on poppies annually while many veterans are homeless.
Labour's deputy leader Tom Watson said that Bastani "does not speak" for the party as a whole.
Bastani has since defended the Tweet, pinning it to the top of his Twitter.
He stated that people are being "failed" by the British Legion, while criticising the salaries of those who work there. It is unclear how Bastani claims to know anything about the inner workings of the organisation or its ongoing efforts to deal with the issues he raises. It is also not uncommon for charities to pay high-responsibility workers above average salaries to ensure effective campaigns and future donations.
The British Legion currently run a homelessness scheme which helps the 13,000 people Bastani refers to, so encouraging people not to donate has inevitably caused controversy. The charity also runs loneliness campaigns, campaigns for children and employment campaigns.
Nevertheless, Bastani's statements have been retweeted thousands of times on Twitter.
Though not everyone agrees with him.
Some shared personal anecdotes veterans who had been helped by the Legion.
However, some did agree that more should be done to help homeless veterans and that poppies aren't solving the problem.
The debate around "poppy-mania" rages on. This year, Bastani is not alone in denouncing poppies, with several other commentators refusing to take part in the culture war or associating them with racism. He is, however, among the only people to call out a charity directly.
November 11 marks the 100th anniversary of Armistice Day. The Royal British Legion has been running its annual poppy appeal in the build up.
More: What your political allegiance says about your personality