Diesel, a French police dog, was killed on Wednesday in a raid on an apartment in St Denis where terrorists linked to the attacks in Paris last Friday were holed up.
Following the news, in a week that had caused so much human loss in Paris, Beirut and Baghdad, emotion poured out of people across the world.
The hashtag #JeSuisChien ("I am dog") began to trend on social media as people paid tribute to the dog and the sacrifice it made to make the world a safer place.
Since then, people on social media have been sharing other images of dogs who have served in police units, army battalions and border patrols across the world...
Combat, a nine-month-old army mascot waiting for an American soldier who was killed in Vietnam
Australian Army bomb detecting dogs Sam and Jasmine, who are retiring after their service in Afghanistan, are comforted at the Holsworthy Barracks in the outer south-western suburbs of Sydney, 26 November 2006, during a ceremony to welcome back soldiers returning from tour of duty in Afghanistan
Marine Cpl Jonathan Eckert of Oak Lawn, Illinois, attached to India Battery, 3rd Battalion, 12th Marine Regiment sits with his improvised explosive device (IED) sniffing dog Bee as he tries to cope with the death of a fellow Marine
Army veteran Brad Schwarz brings his service dog Panzer for a check up at Southwest Animal Care Center May 3, 2012 in Palos Hills, Illinois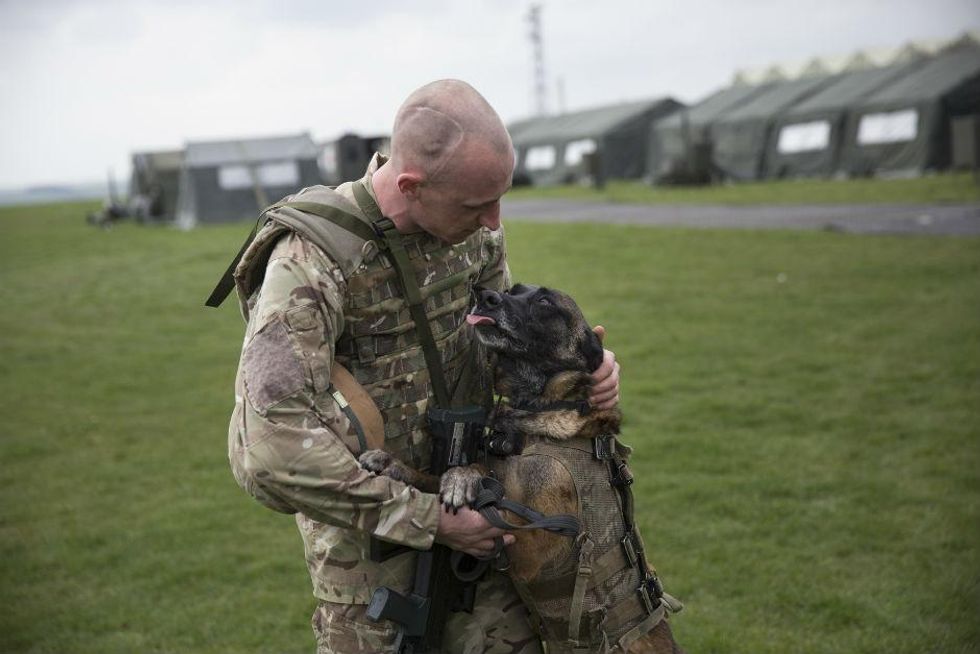 Private Terry Gidzinski and his military working dog Cheyenne relax after putting on a display as the Army showcases its future specialist capabilities, under the title of 'Force Troops Command', at Upavon Airfield on March 26, 2014, England
Sgt John Barton of the 4th Brigade of the US Army's 82nd Airborne Division pets his platoon's pet dog Ray-Ray as he awakens from sleeping outside at combat outpost Impala June 29, 2010 in Bala Murghab, Afghanistan
A Colombian Army Special Forces soldier rappels with a dog during a military exercise during the visit of US Secretary of Defence Chuck Hagel and Colombian Defense Minister Juan Carlos Pinzon at a military base in Tolemaida, Colombia, on October 10, 2014
A US soldier gives his guard dog water at the Kandahar Air Base, on December 8, 2013 in Kandahar
An Israeli paratrooper and his combat dog Nika cross the border into Israel from Lebanon after seven days of fierce fighting with Hezbollah guerillas in the Lebanese village of Bint Jbeil on July 29, 2006 near Avivim, Israel
Soldiers stand in formation along with a therapy dog as they wait to be released at a Welcome Home Ceremony for approximately 230 4th Brigade Combat Team soldiers, November 4, 2012 in Fort Carson, Colorado
A member of the Kruger National Park Anti-Poaching K9 Unit and his dog patrol through the bush in the Kruger National Park on June 23, 2015. Since 2007, rhino poaching has risen rapidly every year in the Kruger as animals are killed for their horn, which is used for its supposed medicinal qualities in China, Vietnam and Thailand
Police cadets pay their respects before the headstone of Long Beach Police dog Ranger in the K-9 cemetery after a memorial service for the dog on October 12, 2005 in Long Beach, California. Ranger was killed on October 2 during a gun-battle with a suspect who had holed up under a porch
Lance Corporal Watchman V, the Staffordshire bull terrier mascot for the Staffordshire Regiment, stands guard outside Lichfield Cathedral during the funeral service of Warrant Officer Ian Fisher from The 3rd Battalion, The Mercian Regiment (Staffords) on December 3, 2013 in Lichfield, England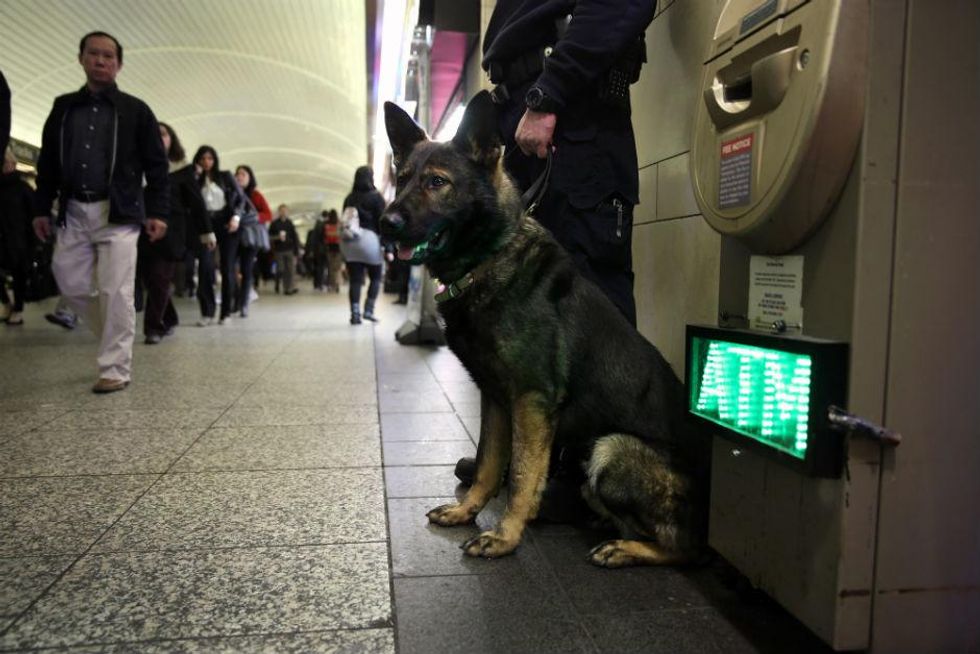 A police K-9 unit stands by as train passengers pass through Penn Station on April 16, 2013 in New York City. Police were out in force throughout New York, a day after explosions near the finish line of the Boston Marathon killed 3 people and wounded more than 170 others
Bay Area Rapid Transit police officer Jason Ledford plays with his bomb-sniffing dog Andy while on patrol aboard a BART train August 11, 2005 in Oakland, California
A German Army dog from the First World War wearing a hat and glasses and carrying a pair of binoculars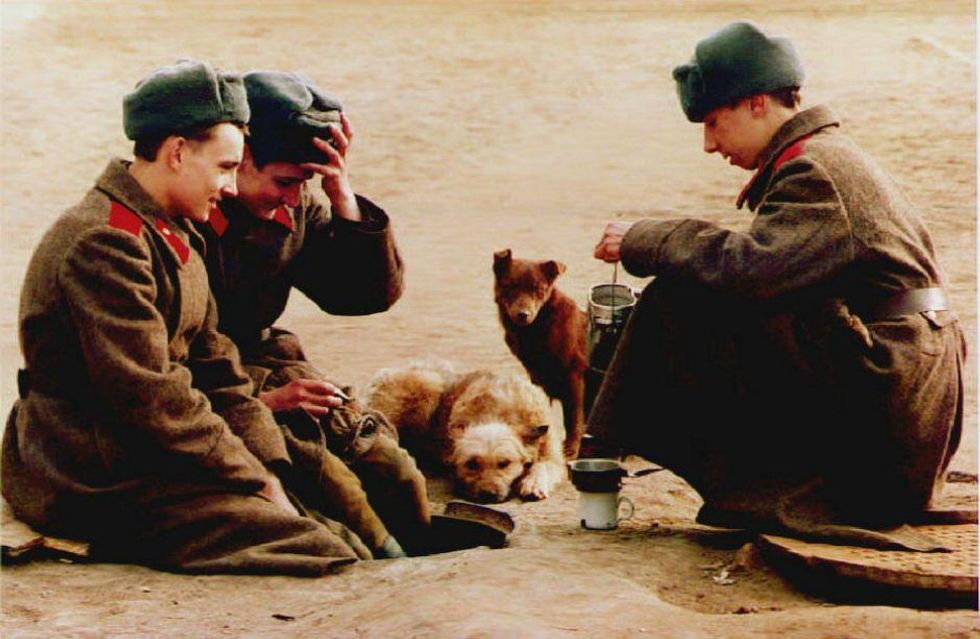 Three Ukrainian soldiers are joined by two homeless dogs 21 February 1994 in Nickolaev as they warm their feet and prepare a meal at an opening of the underground heating system of this military base
A dog dressed like a Zapatista with a pipe, scarf and gun poses in front of a picture of Che Guevara in front of the School of Anthropology and History in Mexico City 30 March, 2001, moments before the Zapatista National Liberation Army (EZLN) departed Mexico City for their return trip to Chiapas
Buster, a five-year-old springer spaniel attached to the Royal Army Veterinary Corps, is awarded the People's Dispensary for Sick Animals (PDSA) Dickin Medal - 'the animal's Victoria Cross' - on December 9, 2003 in London. Buster helped save the lives of troops and civilians earlier this year in southern Iraq when he located a hidden cache of arms, explosives and bomb-making equipment
All pictures: Getty