Chip Somodevilla/Getty Images
Sean Spicer stepped down as White House press secretary on Friday.
His resignation coincided with the appointment of Anthony Scaramucci as the new White House Communications Director.
Spicer's time in the role was dogged by his awkward style in press conferences and a series of controversial statements but he now felt that there were too many individuals working in the White House press office.
Spicer told Fox News:
The president obviously wanted to add to the team, more than anything. 

I just thought it was in the best interest of our communications department, of our press organisation, to not have too many cooks in the kitchen.

Without me in the way, they have a fresh start, so that I'm not lurking over them.
During his time with the Trump Administration, Spicer was more than happy to tow the line and sometimes defend the indefensible.
However, his replacement, who is a major investor on Wall Street and hedge fund booster, has a chequered history with the President.
The 53-year-old Republican previously campaigned for Governor Scott Walker during the party's primaries and eventually joined Jeb Bush's team in early 2016 when Walker dropped out of the race.
Back in 2012, Scaramucci, served as national finance co-chair for Mitt Romney's presidential campaign.
His former alliances would suggest that Scaramucci hasn't always been the biggest fan of Mr Trump and there is some pretty clear evidence to prove that.
In August 2015, he appeared on Fox Business and lambasted Trump, in response to his comments on hedge fund managers.
During the tirade he accused Trump's comments of being "anti-American," adding that he was "a hack politician," and a:
Democratic plant for Hillary Clinton and Elizabeth Warren.
Scaramucci used a briefing at the White House to address his previous criticisms.
Business Insider quoted him as saying:
He brings it up every 15 seconds. One of the biggest mistakes that I have made because I was an unexperienced person in the world of politics. I was supporting another candidate, I should have never said that about him.
It appears that Scaramucci might have to do a bit more digging into his social media history to have a completely clean slate.
Josh Billinson, a photographer from Washington DC, captured an old tweet from 2011, which has since been deleted, praising Romney for not getting involved with Trump.
And it seems that there might be more blemishes to Scaramucci's Twitter history.
The Daily Beast have done some investigating a found these tweets where he questioned Trump's judgements and also supported Hillary Clinton.
They appear to have been removed from Twitter.
Picture: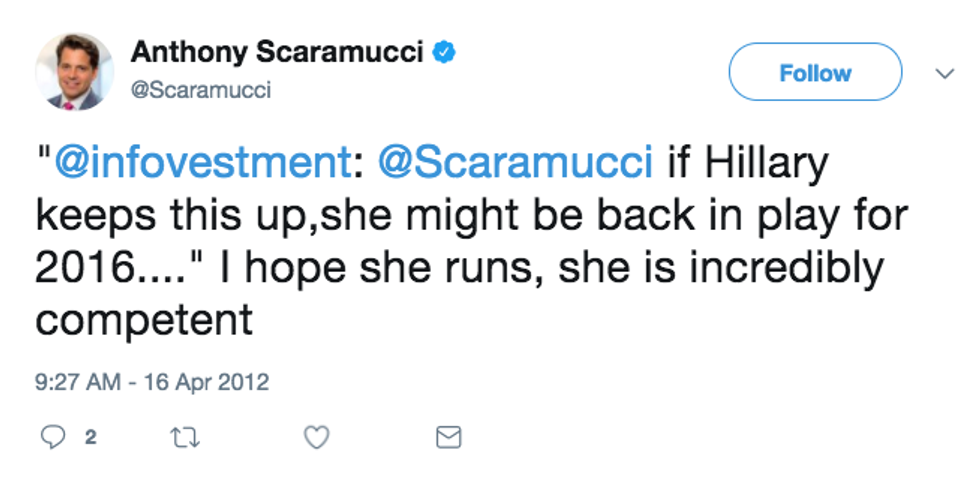 Picture: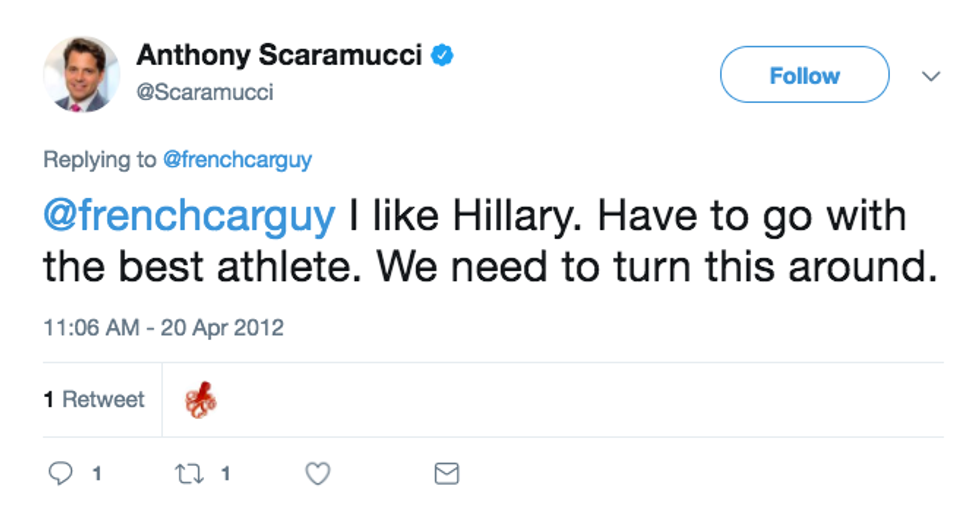 Picture:
However, there are still critical tweets out there, such as this one from December 2015, sending a not-so-subtle dig at Trump's plans for a wall across the Mexican border.