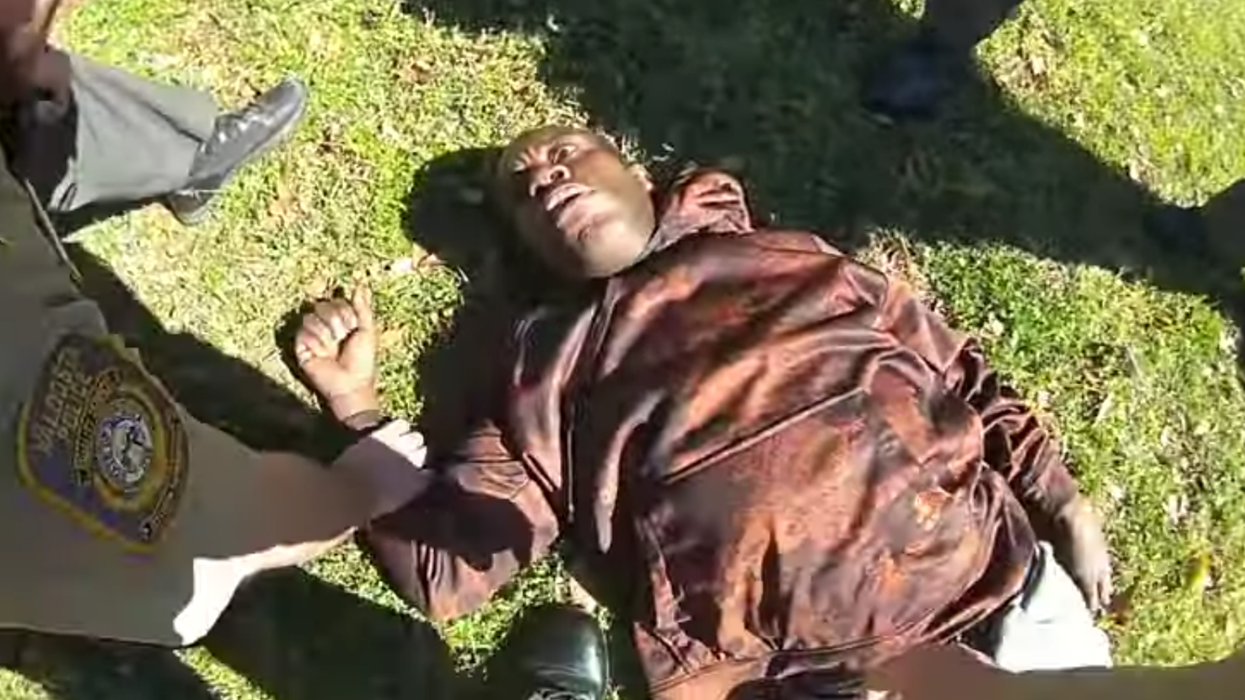 YouTube
Police in Georgia have been slapped with a lawsuit seeking $700,000 in damages after they were filmed breaking a Black man's wrist during a wrongful arrest.
Antonio Arnelo Smith filed a lawsuit against the city of Valdosta last week regarding the incident, which took place in February.
In response, the Valdosta Police Department released a statement and bodycam footage of Smith's violent arrest, which shows him being body-slammed to the ground by four officers while he pleads for help.
The footage also shows the officers realising they've accosted the wrong person – after they've assaulted Smith and handcuffed him.
Smith's wrist was broken in the encounter (which can be seen here, but trigger warning: it is graphic).
Officers apprehended Smith after they mistook him for a suspect who was reportedly harassing shoppers by a Walgreens. In the video, the officers approach Smith and ask him what he's doing.
He replies he was receiving some money from his sister via Western Union and has done nothing wrong.
"What are you guys doing?" Smith asks, as he shows his ID to the officers on request.
"We're investigating suspicious activity," one of the officers replies.
"Well I'm not doing anything," Smith replies. "I've been around cameras".
"So what were you doing over there?" an officer asks him again.
"Waiting for Western Union," Smith repeats. "Call my sister right now".
It's at this point an officer, who has not been involved in the conversation, comes up behind Smith and tackles him in a bear hug.
Smith begins to shriek, and the officer bodyslams him on the ground.
"What are you doing?" Smith cries before screaming "I wasn't doing anything… you broke my ribs!".
The officers pin him down but it's only when the one says he has a warrant for Smith's arrest does the officer wearing the body camera interrupt.
"Hey…" he says. "This was the other guy. The guy with the warrant is over there. There's two different people".
It was quickly realised Smith wasn't the man they were looking for and they had, in fact, tackled an innocent person.
The first officer is heard saying he was trying to "figure out" why his colleague had arrested Smith but had said nothing while he was being detained.
Smith later went to hospital and was told he had "distal radial and ulnar fractures" in his wrist but did not have the financial resources to receive treatment, his attorney Nathaniel Haugabrook told Buzzfeed News.
He's now suing the police department for $700,000 in damages, with the goal of the lawsuit being to "help with this movement around the world to rectify police brutality... and for police reform and accountability," according to Haugarbrook.
Valdosta City, whose municipal slogan is "a city without limits", said it could not yet comment on the allegations.