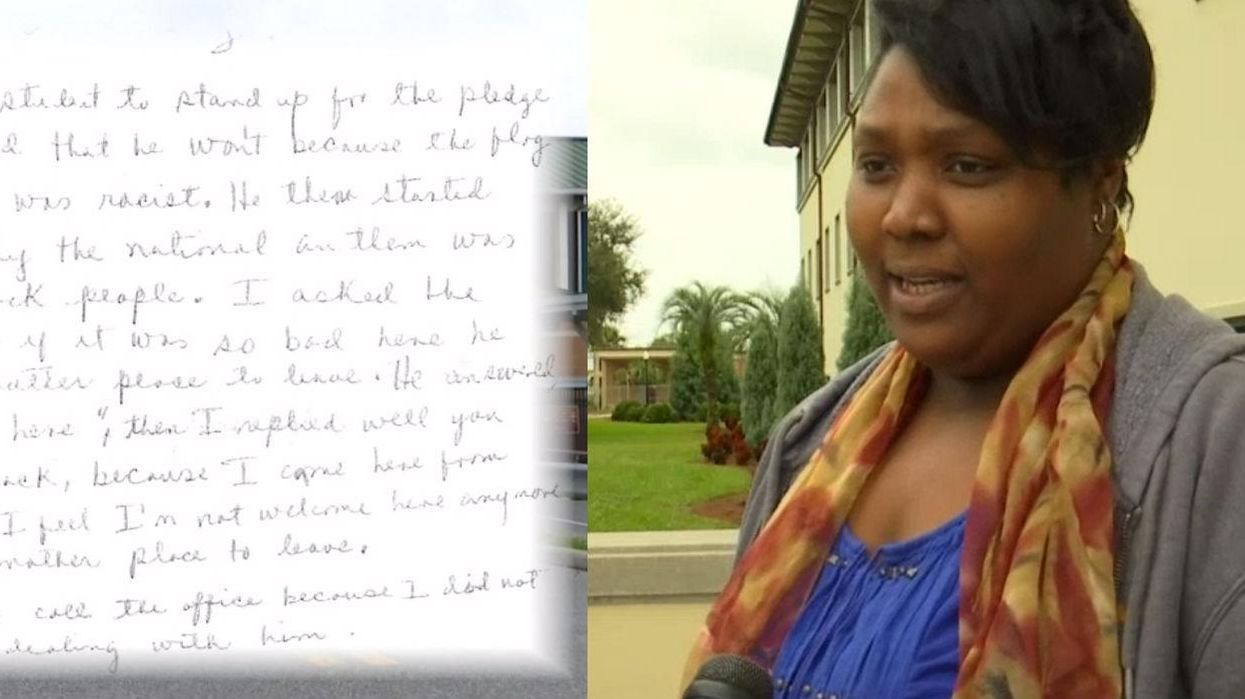 Bay News 9 screengrab
An 11-year-old school student in Florida is facing misdemeanour charges following a confrontation with his teacher after he refused to recite the Pledge of Allegiance.
A year eight student at Lawton Chiles Middle Academy refused to stand for the pledge and told the teacher he thought the flag and the national anthem are "racist" against black people.
The teacher and the student proceeded to have a confrontation, which escalated and was described by school officials as disruptive behaviour, according to an affidavit seen by The Washington Post.
The substitute teacher, identified as Ana Alvarex, reportedly told the student that if America was "so bad", why doesn't he go to another place to live?
The boy allegedly replied: "They brought me here."
Alvarez is then said to have said: "Well you can always go back, because I came here from Cuba, and the day I feel I'm not welcome here anymore, I would find another place to live."
The teacher signed a written statement outlining the exchange between herself and the student. Eventually, she called the district office because she didn't want to deal with him anymore.
According to officials, the student shouted at the dean and a school resource officer, accused them of being racist and refused to leave the room.
The student reportedly said: "Suspend me! I don't care. This school is racist."
Eventually he left the classroom, and he was charged with disruption of a school facility and resisting arrest without violence. He was eventually taken to a juvenile detention center and suspended for three days.
The Lakeland Police Department released a statement and insisted he wasn't arrested for refusing to recite the Pledge of Allegiance, but because his behaviour was "disruptive". It read:
This arrest was based on the student's choice to disrupt the classroom, make threats and resisting the officer's efforts to leave the classroom.
Nevertheless, people are appalled.
Dhakira Talbot, the mother of the student, told Bay News 9 that the teacher was wrong.
"I'm upset, I'm angry. I'm hurt. More so for my son," she said.
My son has never been through anything like this. I feel like this should've been handled differently. If any disciplinary action should've been taken, it should've been with the school. He shouldn't have been arrested.
The Pledge of Allegiance has been a point of contention for many Americans. In 2017, a black student was expelled after refusing to stand for the Pledge of Allegiance. American footballer Colin Kaepernick took the knee in 2016 during the national anthem to protest racism in America, prompting a national movement.