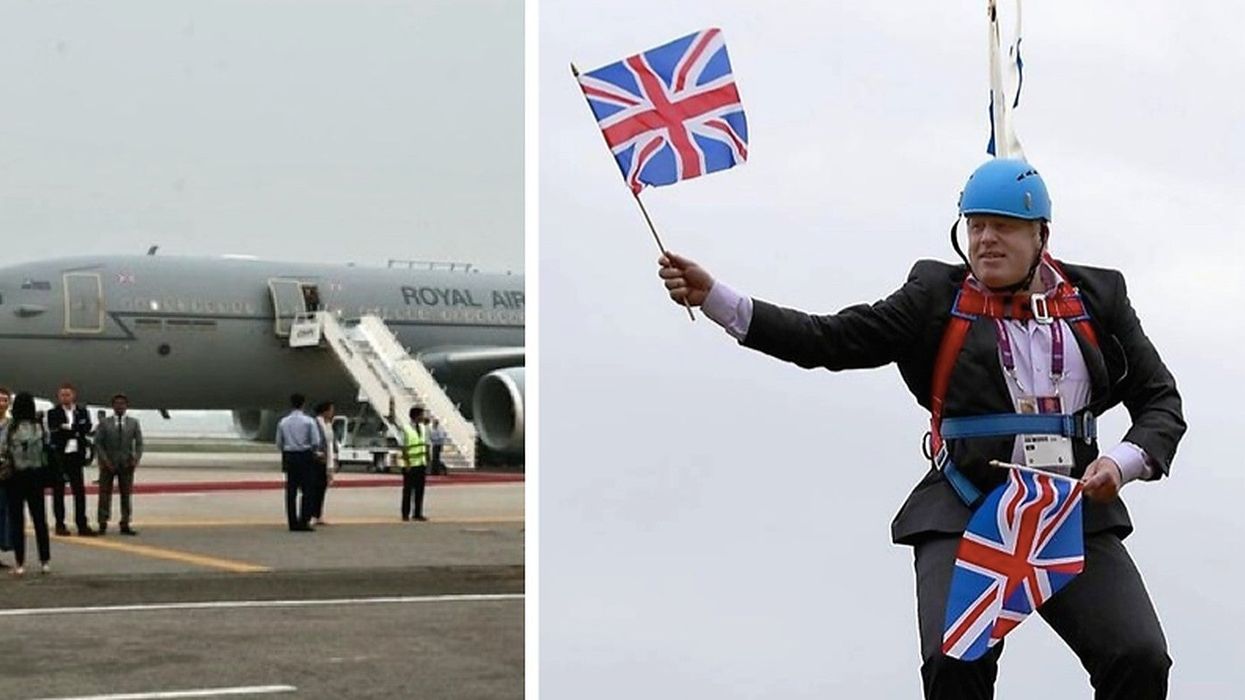 GETTY
Boris Johnson reportedly requested his plane to be repainted in Union Jack colours – much like the famous plane in Austin Powers – to celebrate Brexit because he "doesn't like it being grey".
Apparently grey is too boring for BoJo.
The grey RAF Voyager jet is going to be getting a makeover – with the colours red, white and blue ready to be used – at an airport in Cambridge. Johnson, while foreign secretary, previously pointed out that he wanted something more fitting to travel the world in and promote the government's Brexit vision.
Fun fact: While grey, the plane was good enough for the royal family to use. And while we are at it, Sky News reported a defence source saying the paint job sounded like something "from Austin Powers", so this all seems very embarrassing.
The PM reportedly voiced his displeasure in 2018, saying that the RAF Voyager jet, which is shared by cabinet ministers and the royal family, "never seems to be available".
The source told Sky:
Boris doesn't like it being grey. He is getting it painted up.
It didn't take long for social media users to make their opinions on this expenditure known. For many, the timing is not great. You know considering we, including the economy, is battling the coronavirus pandemic. It also wouldn't be the first time Johnson has engaged in a publicity stunt like this.
So, to put it mildly, people weren't hugely keen on the idea of spending around £100,000 on this.
You have to salute Boris Johnson who's spending £100,000 taxpayers money on having his RAF plane painted with a uni… https://t.co/liO7sQYoM3

— Otto English (@Otto English) 1592387522
Boris will paint his military plane in Union Jack colours and waste millions £ on Cumming's endless polls seeking n… https://t.co/UzNwHk2RGw

— BrexistentialCrisis 💫🇪🇺 (@BrexistentialCrisis 💫🇪🇺) 1592334060
Great to see @BorisJohnson plane being repainted and surprising how the government can find money for this and stru… https://t.co/39SXC2nrcI

— Fusion3 (@Fusion3) 1592382896
Meanwhile, an RAF source backed this up telling PA news agency that whispers that such a plane would have an "appropriate paint scheme based on the Union flag would not be incorrect".
A spokesman for the Royal Air Force said: "An RAF Voyager is currently in Cambridgeshire for pre-planned works."
So keep your eyes up for a giant Union Jack flying in the air once this pandemic is over.