A town in Cincinnati, Ohio, is already celebrating Christmas for a little boy who has been given just one month to live.
Two-year-old Brody Allen has a rare form of cancer called Embryonal Tumor with Multilayered Rosettes, which has left him with four tumours on his brain and one of his spine.
His family took him to a hospital earlier this year as he was suffering from dizziness.
There he spent 98 days in care and was eventually discharged in August, with his parents being informed that he only had two months to live.
Not knowing how long they have left with Brody, his family have decided to bring as much joy and happiness into his life as possible.
These moments of joy included an early celebration of Christmas where they decorated their home with lights and Disney characters and handed out traditional treats.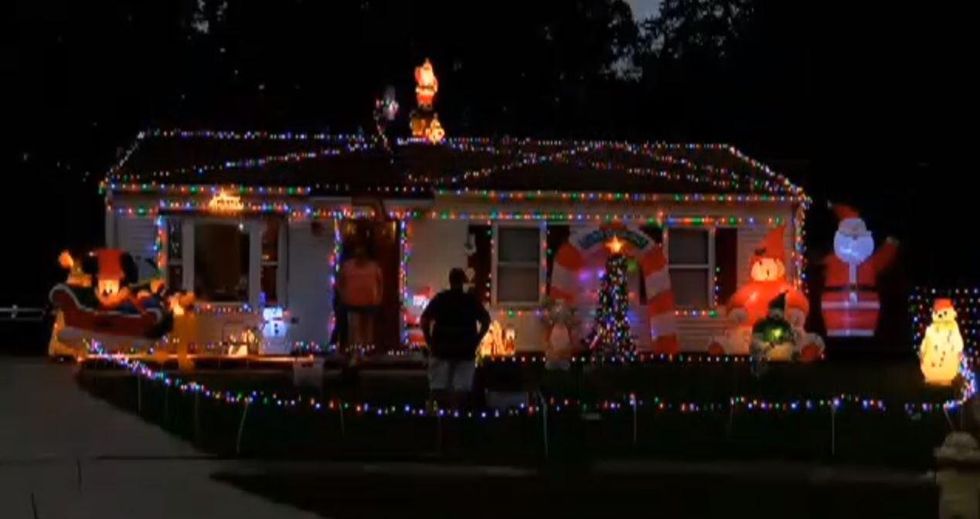 Picture: Fox 19 Now/ Screengrab
Amazingly, their early celebration of Christmas caught on and other members of their community in Colerain also started to celebrate their festivities.
Others also decorated their homes while some sent Christmas cards to Brody
Writing on the Team Brody Facebook group, Brody's father, Todd Allen said:
Good morning everyone. First, let me say Brody had a great day yesterday.

The weather was great so he got to go outside in his favourite wagon. (Brody can no longer walk so we use a wagon or stroller as a wheelchair).

We started putting up decorations yesterday. And he got his first Christmas card! He was so excited. And we are so humbled by all of you.

Thank you to everyone who dropped by yesterday.

Thank you to everyone reaching out to help make Christmas come early for Brody​.

We are overwhelmed by the kindness, compassion, and out right love, perfect strangers have shown us.

I know your life is busy. And to take time just to stop by to say hello, offer a prayer for our family, or a hug is unbelievable to me.

So much of society is geared towards promoting the negative. It's easy to believe that that's all we are.

I'm not a big FB guy. I always saw it as mostly negative with a few cool or funny posts sprinkled in. I'm sorry I was wrong.

Thank you for all your encouragement, generosity, and love you have shown my family. Please know we see them all.

We are grateful beyond measure for all of you and we will never forget it.

Please forgive us if we miss an opportunity to thank you personally.

Your making our day brighter and I can't thank you enough. God bless you and your families.

The Allen Family.
The Allen Family will continue to celebrate Christmas alongside the rest of the community, proving that it really can be Christmas every day.
Speaking to Fox 19 Now, Brody's sister, McKenzie, thanked everyone that had shown compassion to her brother.
Just a magical feeling in our hearts, and it's kind of always just been our favourite holiday.

While his treatments didn't work, I'm still really grateful for the time we do get to have with him, and just seeing him happy makes it less terrible.

It's amazing, and I can't help but say thank you.
Fundraisers are being set up in the local ear for Brody and his family and you can also help make their celebrations even more memorable.
You can donate a piece of Christmas decor to their house or send a letter to 9696 Adair Court, Cincinnati 45251.
You can also donate money to their Go Fund Me campaign which has already raised over $6,500.
HT Lad Bible