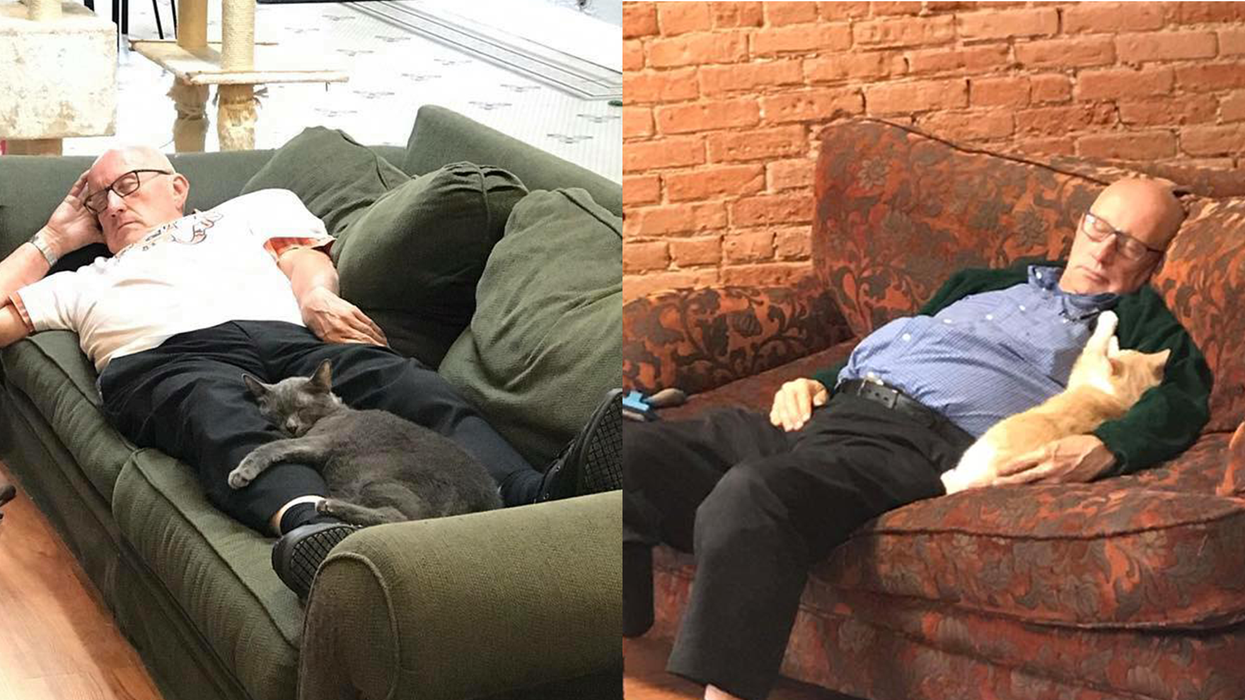 Safe Haven Pet Sanctuary Inc / Facebook
There's arguably nothing more relaxing than curling up with a cute pet after a long, stressful day.
Few people understand this better than 75-year-old Terry Lauerman, an animal shelter volunteer now affectionately known as 'Cat Grandpa'.
Lauerman volunteers regularly at the Safe Haven Pet Sanctuary in Green Bay, Wisconsin, which houses pets with disabilities and makes sure they're well-looked after. His duties involve grooming and brushing his feline friends, but the work can be tiring – so much so that he occasionally cosies up for a quick nap or two, or three.
The shelter recently shared a Facebook post celebrating Terry and thanking him for his work, and there were some seriously adorable photos which have since gone viral.
Not only have the photos earned Terry a cute new moniker, they've also helped to raise awareness of the shelter and its work. In a follow-up comment, the official Safe Haven page wrote:
We are so overwhelmed by support! We are in disbelief. This is making SUCH a big difference already.  

To those of you who are new to our page, we are a rescue for kitties with special needs that are at risk for euthanasia elsewhere. The kitties are rehabilitated here, in a cage-free sanctuary, and then made available for adoption.

Kitties with special needs need a LOT of extra care, and have lots of medical bills. Your support means the world to us. THANK YOU from the bottom of our hearts to everyone who has donated in honor of Terry.

So far, Terry has raised $500.00 for his best friends - the kitties who need it the most!
Unsurprisingly the cats seem to love him; in a follow-up interview with the BBC,shelter owner Elizabeth said:
They all know him, when he walks through the door they run over to him because they know he has the special brush and the special treats.

They all pile on top of him and rub all over him and just love him.
Other Facebook comments indicate that Terry has been overwhelmed by the viral fame, although he doesn't exactly plan to capitalise on it by creating any social media accounts or even making a Facebook page.
Apparently he can barely keep up with his emails!
But the most wholesome part of this story is that hundreds of thousands of dollars have been raised to help the cats – proof that some good can come from the internet after all.