Chrissy Teigen has joined the never ending list of people who are deeply moved and totally obsessed with the film Crazy Rich Asians.
She saw the massively popular movie over the weekend with husband John Legend and their daughter Luna, and Teigan felt compelled to post an emotional tribute to the film on Instagram.
In the post, she shared two photos and a video of Legend and Luna dancing to the film's credits and she explained in the caption why it meant so much to her:
"I've been excited to see this since production was announced," she said, "but I could have never imagined how wonderful it would be."
"I planned on seeing it, making a few jokes about how it checked all the boxes for me (CRAZY ☑️ RICH ☑️ ASIAN ☑️) but the feeling I got during the credits, watching John dance with my little black Asian mashup baby Luna tunes, was a feeling I haven't had at the end of any other movies."
Teigan also wrote that her daughter Luna looked up at Constance Wu's mother in the film (played by Hua Tan) and yelled 'yāy' which is 'Grandma' in Thai, "because she saw someone who looked liker her yāy."
"It was something that simple that made my heart just... warm. That made me happy. It made me happy to see this over the top story done from so many angles, some I could totally understand because of my own confusing Asian American upbringing," Teigen wrote.
A commenter on her Instagram post tried to call out Teigan for failing to "acknowledge" that she is "also white".
She swiftly shut down the pretty absurd comment with a succinct 'LOL'.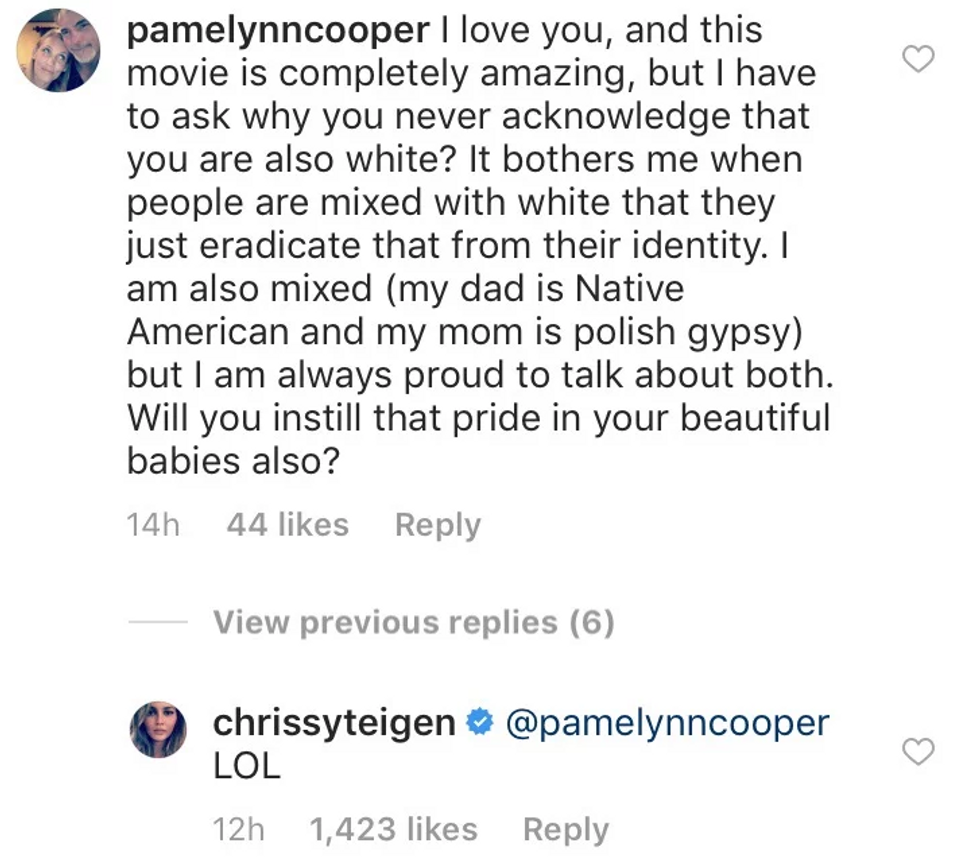 Picture:
Crazy Rich Asians was the first major studio movie to feature an all-Asian cast and Asian-American leads in more than two decades - and it's become a box office hit.
Funny that, it's almost like people want to see different representation in films other than white people.
Who knew? Everyone, apparently.
Read more: This 'Crazy Rich Asians' Twitter thread is making the internet emotional