Leon Neal / Getty Images / Keystone
Russian born Valentina Tereshkova became the first woman to travel in space 54 years ago today.
Tereshkova piloted the Vostock 6 (Pictured below) on 16 June, 1963. Her colleague, Valery Bykovsky, was already piloting Vostok 5, and was still orbiting the Earth when Tereshkova was launched into space.
Picture: LEON NEAL/AFP/Getty Images
The two craft had different orbits, but there was a moment during the flight when both passed within three miles of each other, allowing limited radio communication between the two cosmonauts.
Picture: EMMANUEL DUNAND/AFP/Getty Images
After just under three days in space, Tereshkova's ship, which was piloted automatically, reentered the atmosphere and she successfully parachuted back to Earth after ejecting at 20,000 feet. Tereshkova was an ideal candidate for this section of the mission as she had extensive experience skydiving (she made her first jump at the age of 22 at the local Aeroclub).
Picture: Soviet Cosmonaut Valentina Tereshkova is seen in a still from a documentary film as she writes down the place and time of landing in the logbook on August 2, 1967. (AFP PHOTO RIA NOVOSTI )
During her time in space, she clocked an impressive 48 orbits of the Earth and 71 hours of flight time. This beat the flight time records of all other US astronauts combined (at the time).
For her achievements, Tereshkova was awarded the Order of Lenin. This would not be the only award presented to the first woman in space though, during a visit to London in 1964 Tereshkova was also given a gold medal by the British Interplanetary Society.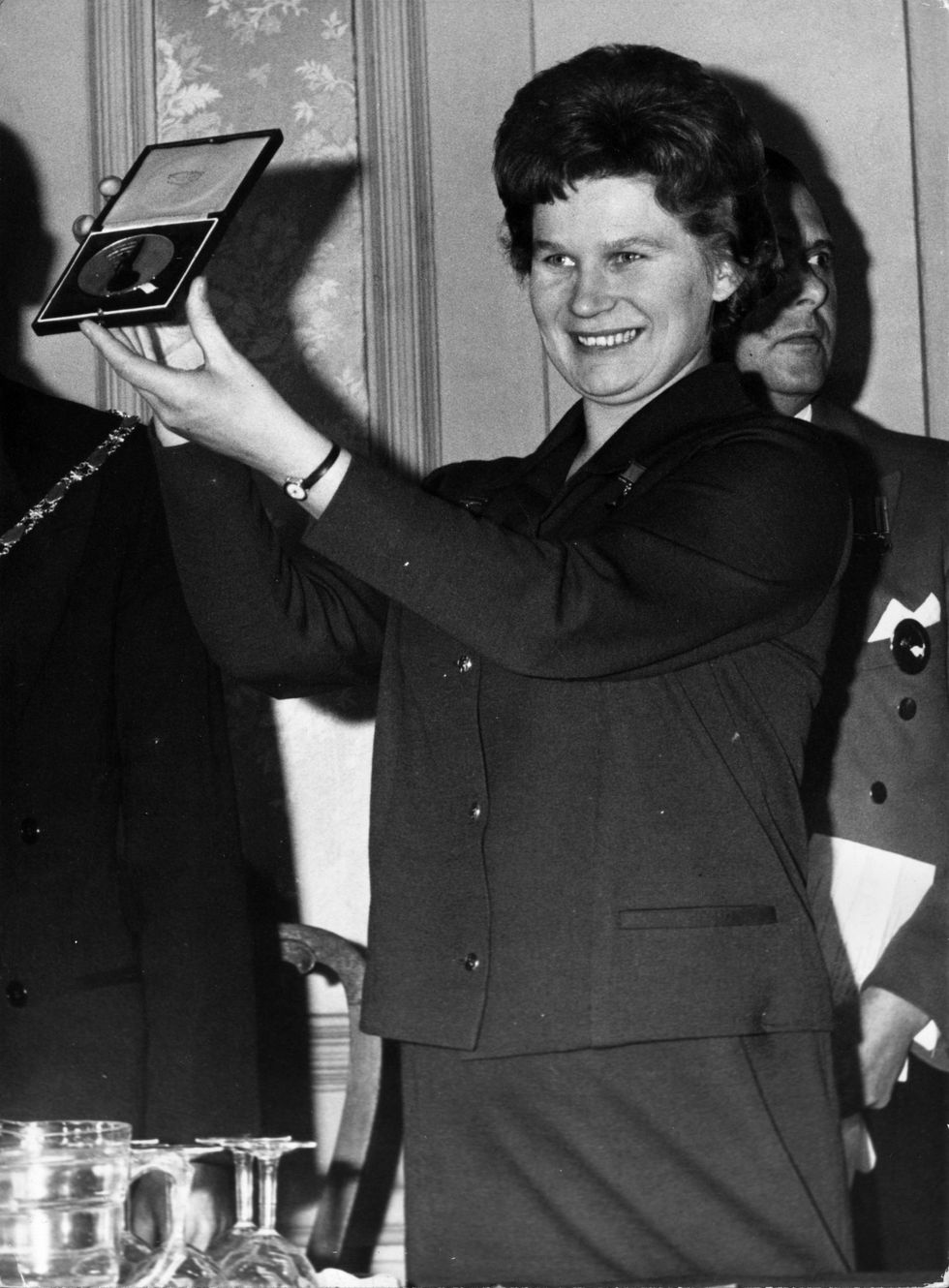 Picture: Douglas Miller/Keystone/Getty Images
She later went on to pursue a career in politics, becoming a member of the Supreme Soviet, the USSR's national parliament.
In 2015, Tereshkova revealed that the Soviet Authorities thought it was 'too dangerous' to send more women into space.
She told BBC News that she protested to this, writing to the central party to object.
On Earth, men and women are taking the same risks. Why shouldn't we be taking the same risks in space?

We had been preparing for another female flight but it was (the head of the space programme) Sergei Korolev's decision not to risk women's lives because one of the women in the space corps already had a family.
It took 19 years for another woman to be sent into space.
Tereshkova has witnessed many firsts in her life, including seeeing off South Korea's first astronaut Yi So-Yeon in 2008 before she blasted off for the International Space Station.
Picture: ALEXANDER NEMENOV/AFP/Getty Images
When she met with Vladimir Putin on her 70th birthday she said that she would like to fly to Mars, even if that meant a one-way trip.
Picture: MIKHAIL KLIMENTYEV/AFP/Getty Images
Tereshkova, now 80-years-old, is still in Russian politics and serves in the State Duma, the lower house of the Russian legislature.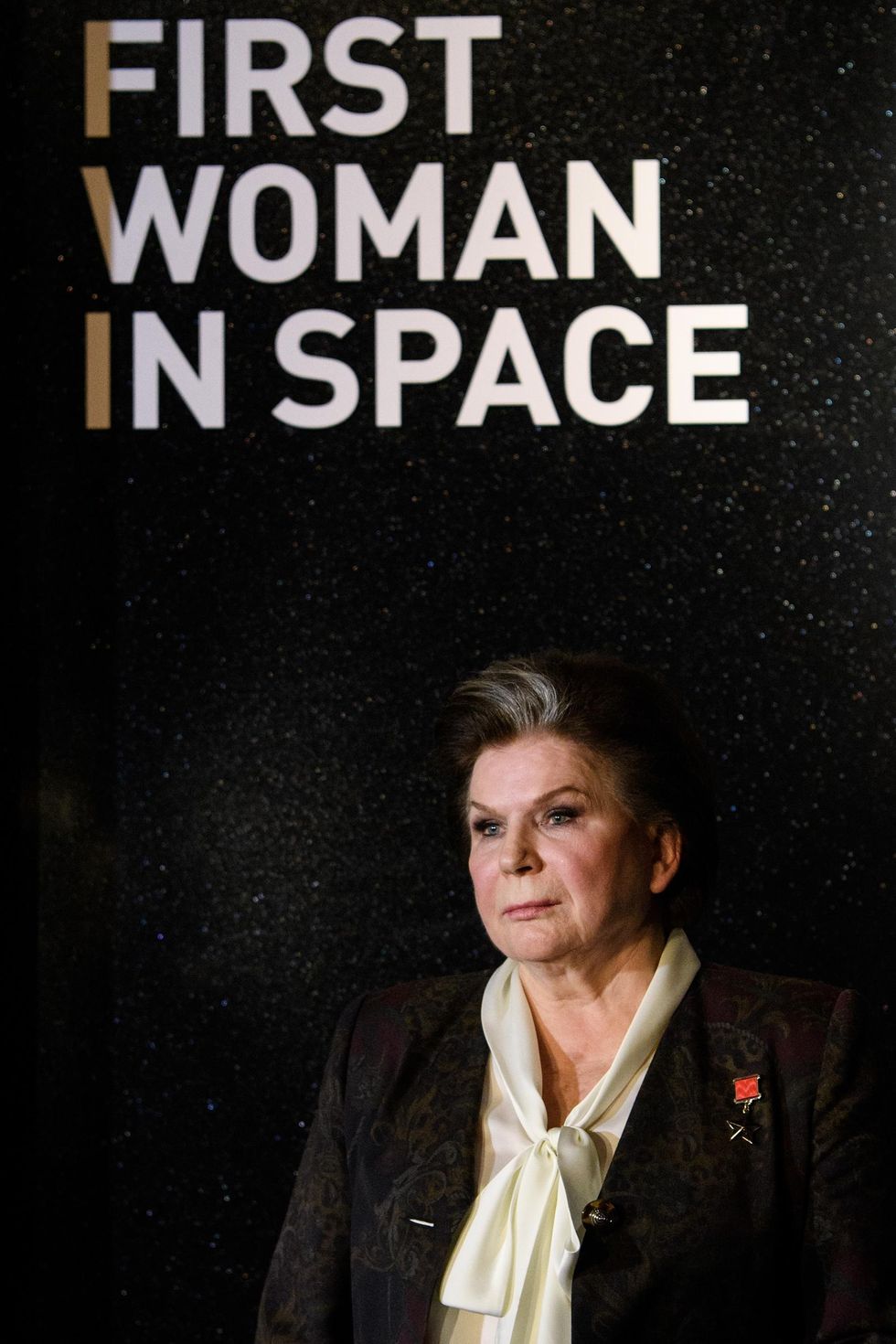 Picture: Leon Neal/Getty Images