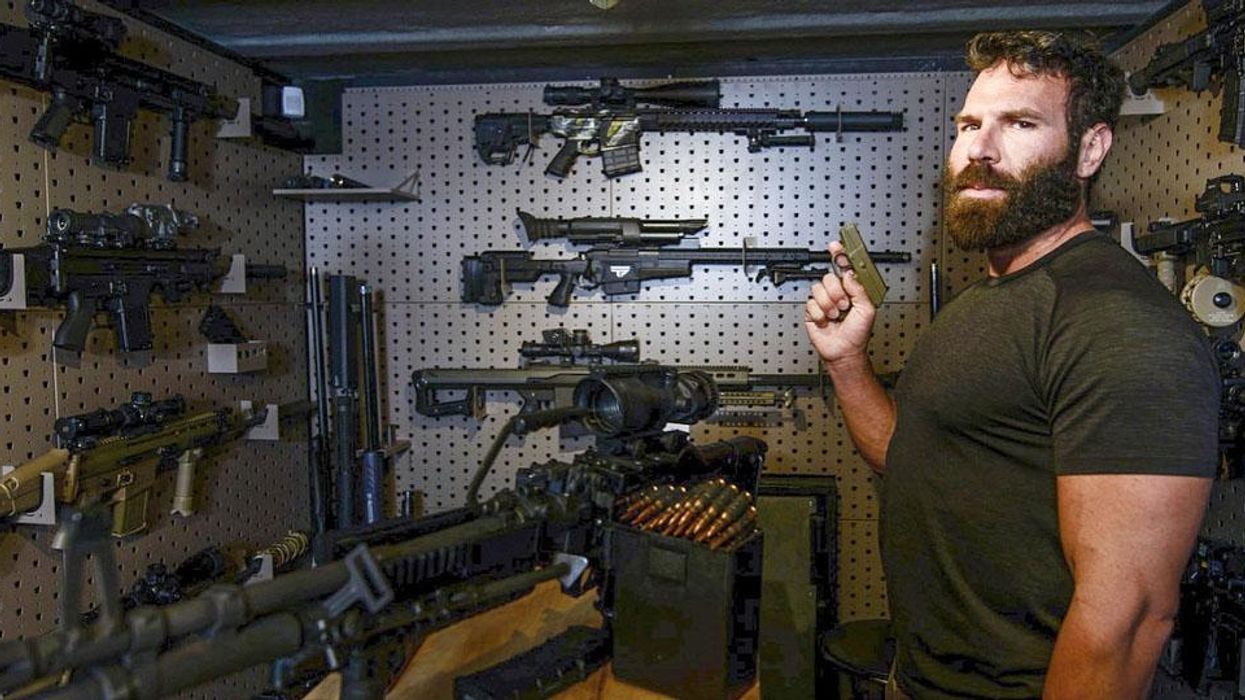 Instagram/ Dan Bilzerian
On Sunday, 59 people were killed at a concert in Las Vegas in the deadliest mass shooting in modern American history.
According to police the incident, which also left hundreds of others injured, was carried out by Stephen Paddock, who fired on the crowd from his hotel room on the 32nd floor.
One man who experienced the evening first hand is the self-proclaimed "King of Instagram" Dan Bilzerian, a professional poker player and gun enthusiast, who has millions of followers on social media.
The 36-year-old was present at the Jason Aldean concert in Vegas on Sunday and footage from the night shows him sprinting towards the hotel, allegedly trying to locate the gunman.
He is first seen running towards a parked police truck, as gunfire echoes overhead and during the interview with The Hill, Bilzerian recounts exactly what he was trying to do.
All I wanted to do was get my hands on a gun and shoot the mother f***er shooting at me.

I was trying to get the shotgun, but I couldn't get it out.
After unsuccessfully trying to retrieve a weapon, Bilzerian is then seen moving towards a group of people and asking for help before noticing an injured woman.
He then decided to run back towards the vehicle to see if the keys were still there and try to help the woman.
He told The Hill:
Her brain was outside her head. That image will be forever burned into my memory.

If I could find them [the keys] in the door or on the seat, I was going to steal it and drag her into the car and drive her towards help but there was nothing. Someone had taken the keys.

We stayed there and then after a few seconds we decided we had to get out of there.
Bilzerian, who is a reserve police officer, then moves closer in the video to the hotel, after spotting police squad cars on the scene - he claims he intended to acquire a gun.
The only thing on my mind was, I need to get a gun, I thought there were multiple shooters walking around gunning people down and I wanted to kill them.

I showed him [a police officer] my badge and creds and asked if I could have one of his guns. He had a pistol and a long gun.

The police officer wouldn't give me his pistol, I can't blame him, but I didn't want to be in this situation and not be able to do anything, so I had to ask.
After this, he then began moving up the street alongside the hotel before being picked up by someone in a van who recognised him and was transporting the injured to hospital.
As he got in the van, Bilzerian phoned his police commissioner to see how he could help.
He told The Hill:
I was on the phone with my police chief who advised against returning with a weapon as I would probably be shot by the police.

He also said his niece was pinned down and asked me to go get her. He dropped me a pin of her location

I went home, put on pants and immediately headed back with just a pistol in my side pocket.

Once I parked outside where it was now barricaded off, I ran 2 miles to the concert area and there were bodies everywhere, it was really terrible.
By this time the niece had reportedly moved to a safe location, so he linked up with a first responders unit to see what else could be done.
Although Bilzerian has now explained himself he was criticised by US war veteran Dakota Meyer, who felt his actions, when recording the video were reckless and cowardly.
In an Instagram post, Meyer, who has been awarded the Medal of Honour for his service in Afghanistan wrote:
Despite the controversy and criticism Bilzerian doesn't regret what he tried to do.
Furthermore, the massacre hasn't changed his opinions on gun legislation either:
When I couldn't get the gun or the keys, I'm not a medic. What I know how to do is shoot, so I wanted to get a gun and shoot the mother f***er responsible for this

This is a situation where having my guns wouldn't have helped me because the shooter was up so high.

But at first I thought it was multiple shooters going around Columbine-style gunning people down, so you do what your instinct is, mine was to get a gun.
HT The Hill