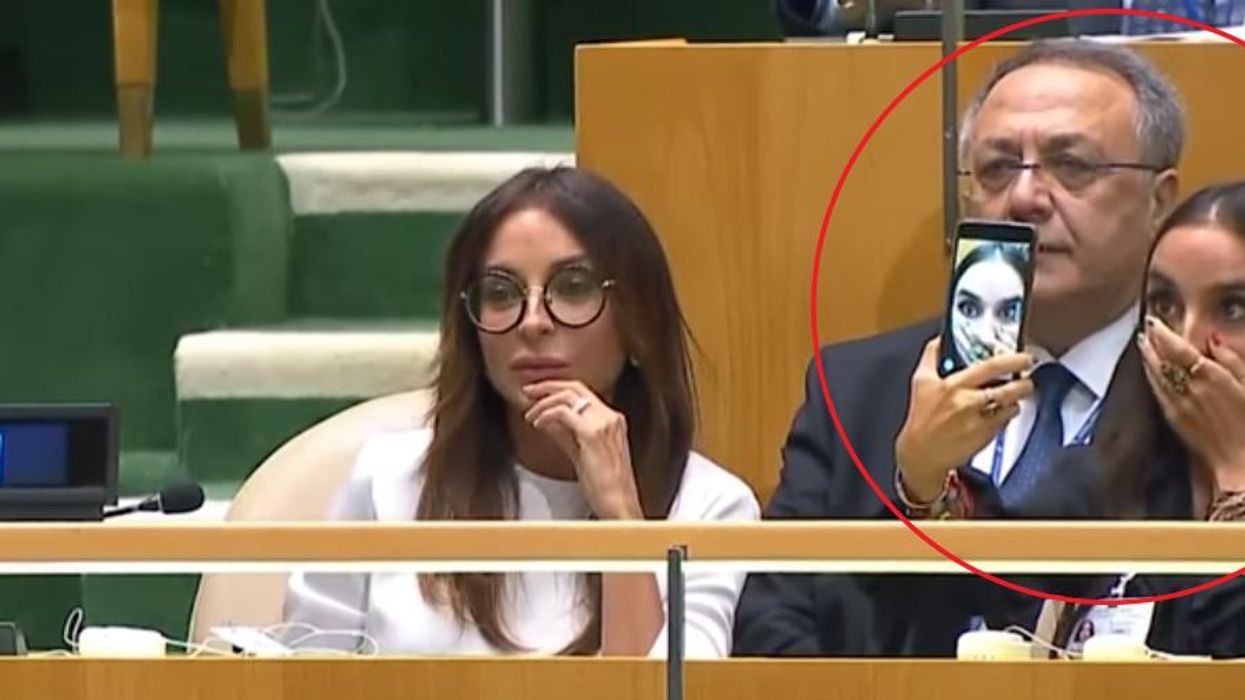 YOUTUBE/ SCREENGRAB
The daughter of the Azerbaijani president has been caught taking selfies while he father gave an important speech at the UN about genocide.
President Ilham Aliyev was speaking to the UN General Assembly in New York, principally discussing the Nagorno-Karabakh War.
The conflict, between Azerbaijan and Armenia, took place in the southwest region of Aliyev's country and lasted between 1988 and 1994.
Aliyev was in attendance to directly talk about a battle which took place in 1992 in Khojaly, which claimed the lives of 613 Azerbaijani people.
However, less than two minutes into his speech, his 33-year-old daughter Leyla appeared to have become distracted.
As her father began recounting the horrors of the conflict, his daughter used her smart phone to take pictures of herself pulling a shocked face.
To make matters worse, she was caught live on camera and it was quickly shared on social media.
#Azerbaijan dictator #Aliyev's daughter #LeylaAliyeva selfies during his daddy speech in frames of family visit to… https://t.co/bu5lWkZiYZ

— ∎∎∎∎∎∎∎∎ ∎∎∎∎∎∎ (@∎∎∎∎∎∎∎∎ ∎∎∎∎∎∎) 1505933056
Perhaps the most embarrassing part of this was the magnitude of the speech with Aliyev was delivering.
APA, a news agency in Azerbaijan, quote him as saying:
Armenia committed genocide against Azerbaijani's in Khodjaly.

The Khodjaly genocide is already officially recognised by more than 20 countries.

On February 26, 1992, Armenia committed a war crime, killing 613 peaceful residents, including 106 women and 63 children.
HT Daily Mail, APA, PanArmenian