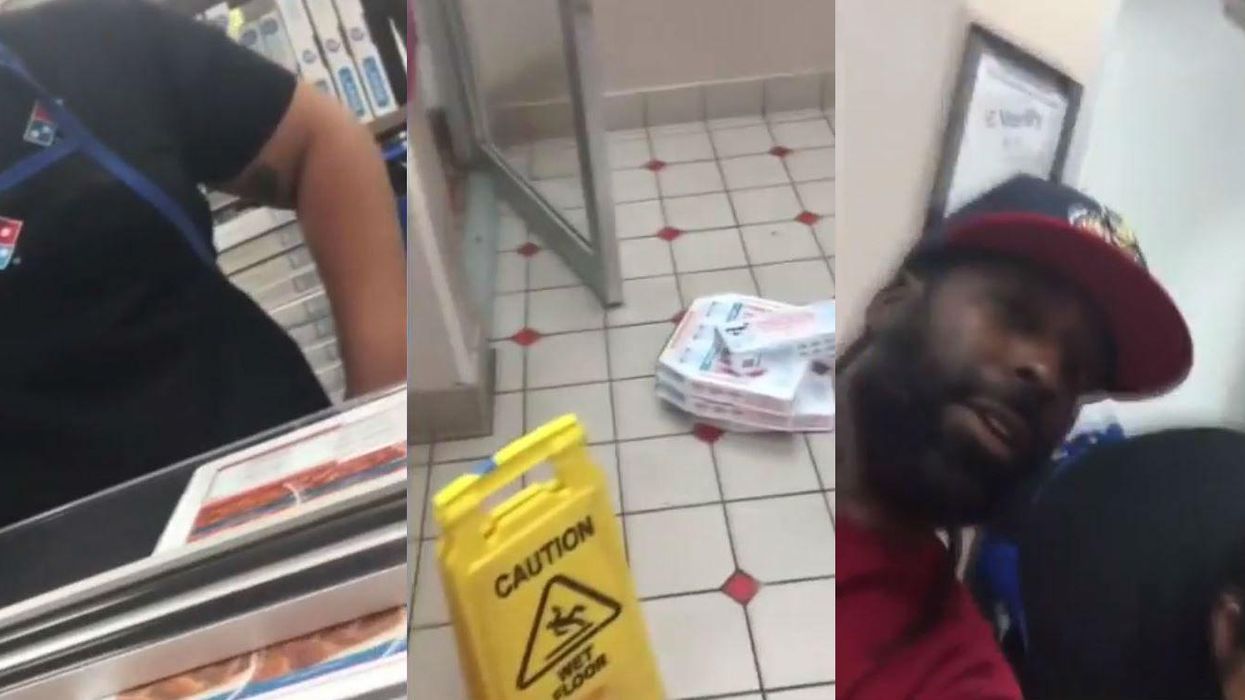 Marlon Robinson screengrab
A Domino's employee was fired after a video that appears to show him calling a customer a racial slur went viral.
Marlon Robinson took a video of the incident on his phone at the Pembroke Pines restaurant after waiting hours for his order.
In the clip, Robinson can be heard shouting expletives at the worker.
The customer shouts:
You're the manager, I'm the customer. Act accordingly.

How much do I owe you?
The employee responded: "$12 and 60 cents."
Robinson replied with "Give me my [expletive]", followed by more swearing.
The employee took the boxes of pizza and chicken and placed them on the floor. At this point an employee can be heard calling him "n****r", prompting Robinson to ask for a refund and leave the store.
He told WSVN:
In the video I was more upset because none [sic] of the two-hour wait, none of the discount, none of any of that. I was upset by how I was treated, as far as me being the customer and them being the business.

I don't want to be silent about something that's… you know, I'm a 36 year old man, I've lived in this community over 25 years and I don't think that the kids after me – that maybe look like me or act like me or talk like me– should have to deal with this whenever they have to go somewhere and don't be heard [sic].
The 5 May incident occurred, Robinson claims, when he initially ordered a pizza to be delivered to him, but it had been delivered to the wrong place. After a number of hours waiting, and assurances from an employee on the phone that he'd have money off his order, he decided to collect the pizza himself.
However, when he got to the restaurant, there were further delays and the employee didn't want to offer the discount.
Domino's said in a statement:
The team at Domino's is mortified by the behaviour of the employee, who has been terminated. Behaviour such as that has no place in our brand.
Robinson has since hired an attorney.
indy100 has contacted Domino's for comment.