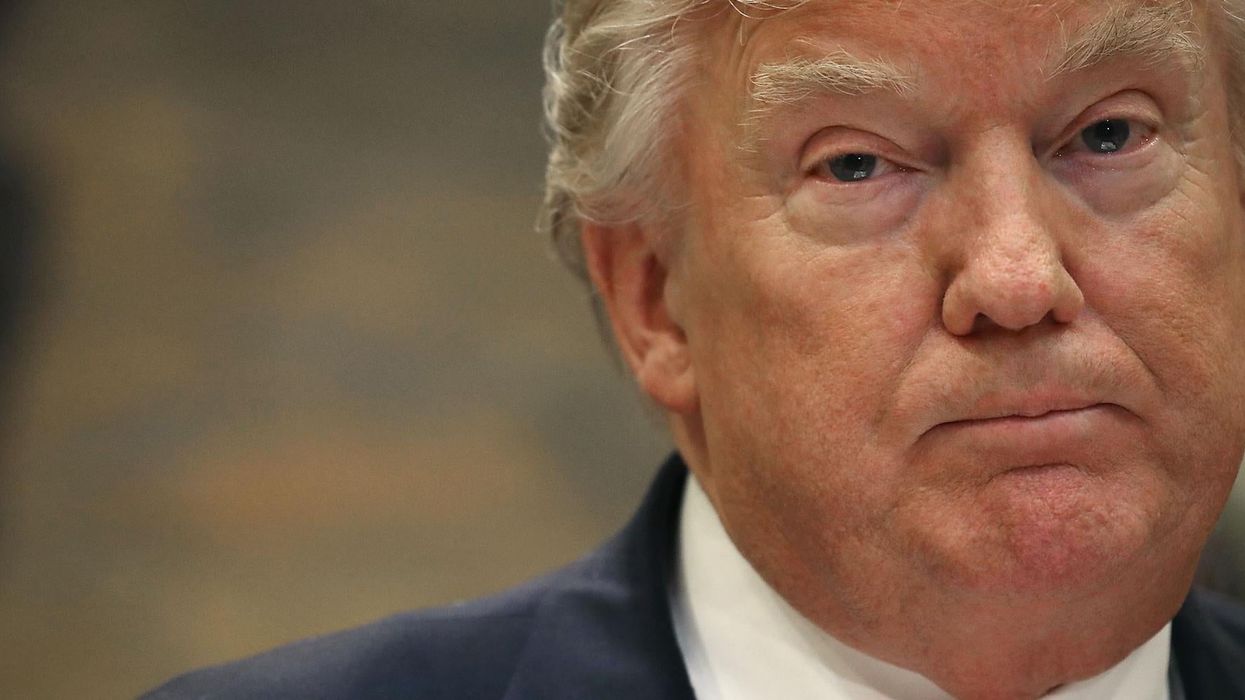 Mark Wilson/Getty Images
In Feburary, Donald Trump confirmed in his first State of the Union address that he will publish a regular list of crimes committed by immigrants.
It was initially announced in an executive order he signed during his first week as President, and he took the opportunity to lay out more details of his plan.
I have ordered the Department of Homeland Security to create an office to serve American Victims.

The office is called VOICE — Victims Of Immigration Crime Engagement. We are providing a voice to those who have been ignored by our media, and silenced by special interests.
On Monday, the Trump administration followed through and published a report containing a list of alleged crimes committed by immigrants.
Picture: ICE screengrab
This first weekly report of cities was published by the Immigration and Customs Enforcement (ICE) Declined Detainer Outcome Report and covered 28 January to 3 February.
The report included "aliens" that were released from custody, as recent Federal court rulings found that holding people longer than usual for ICE violated the Fourth Amendment.
Acting ICE Director Thomas Homan said in a statement:
When law enforcement agencies fail to honour immigration detainers and release serious criminal offenders, it undermines ICE's ability to protect the public safety and carry out its mission…

Our goal is to build cooperative, respectful relationships with our law enforcement partners. We will continue collaborating with them to help ensure that illegal aliens who may pose a threat to our communities are not released onto the streets to potentially harm individuals living within our communities.
It has been painstakingly argued that a list such as this puts undue focus on immigrants, and a 2015 study by nonprofit American Immigration Council found:
Immigrants are less likely to commit serious crimes or be behind bars than the native-born, and high rates of immigration are associated with lower rates of violent crime and property crime.
A different study by The Sentencing Project, a criminal justice group concluded that:
Foreign-born residents of the United States commit crime less often than native-born citizens.
This week, Homeland Security launched the Victims of Immigration Crime Engagement (VOICE) Office, who will now presumably be taking over the reports.
They also have opened up an 'anti-immigrant ' hotline, for victims of alleged crimes.
This hotline has been reportedly inundated with calls from people reporting illegal space aliens.
The director of the Common Defense Executive, Pam Campos, commented via a statement that that the creation of VOICE is incredibly dangerous.
This office is a depraved and dangerous propaganda vehicle that exploits tragedy to fuel hate and division. 

Our commitment of service has no room for tolerating a xenophobic registry, which serves no purpose in helping victims of crime, and only exists to provide fodder for racism.
This anti-immigrant policy employed by the Trump administration exhibits worrying similarities to a certain fascist, racist regime...
This was pointed out when the plan was first mooted, but it bears repeating:
Adolf Hitler also published lists of crimes committed by immigrants.
An article from a Nazi periodical entitled 'The Criminal Jew', was featured in the book Hitler's Ethic: The Nazi Pursuit of Evolutionary Progress by professor Richard Weikart, and includes photos of Jewish people captioned with the crimes they have committed.
Weikart explains:
In 1943, a Nazi directive to the German press declared, 'Jews are criminal by disposition. The Jews are not a nation like other nations but bearers of hereditary criminality.'
In fact, propaganda published during Nazi Germany criminalised Jewish people, often calling them rapists and murderers:
Posters such as this one weren't uncommon:
The Jew: The inciter of war, the prolonger of war.
Picture: bytwerk/Hans Schweitzer/1943-44
It all sounds awfully similar...
More: Carl Sagan's terrifyingly accurate prediction about the future has resurfaced
Watch: Audible groans as Trump announces agency solely to report immigrant crime