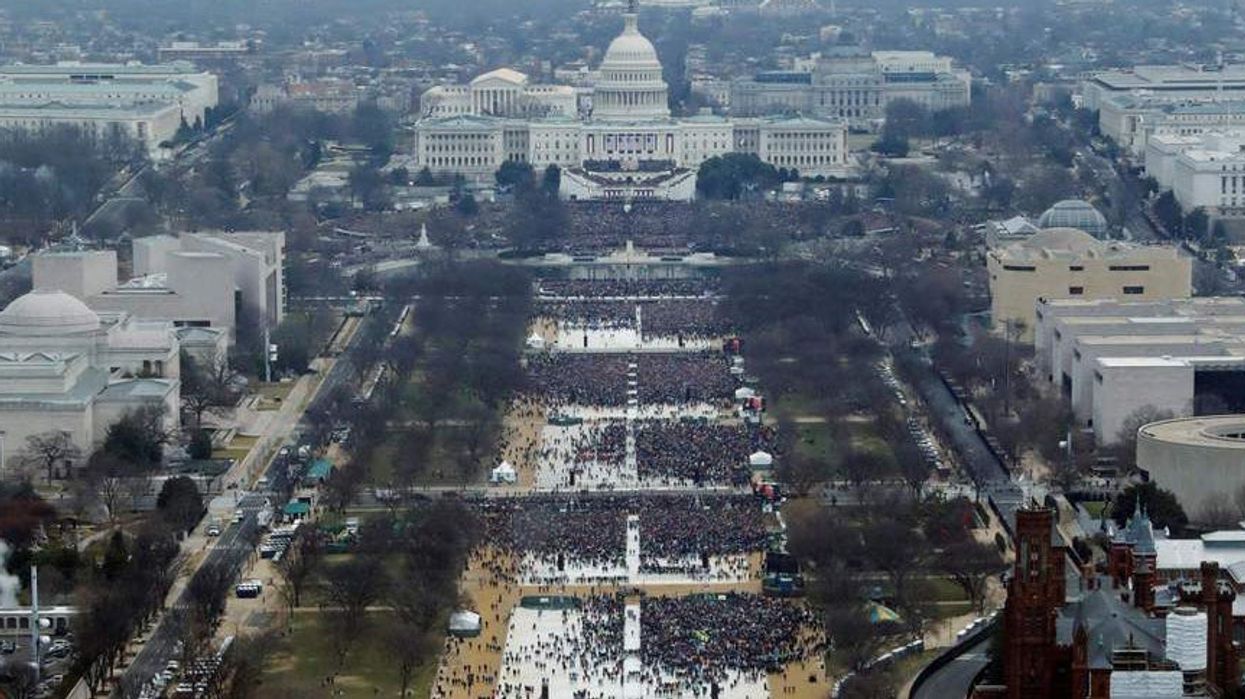 Reuters
A special investigation has found that Donald Trump requested that aerial images of his inauguration be edited to make the crowd appear larger.
The investigation, which was conducted by The Guardian, discovered that a National Parks Services photographer cropped the images to remove large empty spaces after an invention by Trump.
According to the report, the photographer completely removed the spaces where the crowd ended in the pictures on the very first morning of Trump's presidency, making it possibly one of the first things he did in the role.
Trump was said to be angered by the initial image which showed his crowd to be significantly smaller than the crowd that Barack Obama drew in 2009.
The Guardian obtained this information through the Freedom of Information Act and contradicts a report from June 2017, which stated that images of the crowd size had not been doctored.
This came after Trump's White House falsely claimed that they attracted the biggest ever inauguration audience.
@POTUS Obama inauguration photos on the left, Trump on the right--'nuff said: https://t.co/7DIUYNLYoW

— Vilmos Nagy (@Vilmos Nagy) 1488995743
According to the newly released documents, Trump held a phone call with the National Park Service director Michael Reynolds on January 21, 2017, after images of the crowd size began to circulate on social media and in the press.
Even the National Park Service Twitter account had shared a tweet comparing the two crowd sizes.
This led to former White House press secretary Sean Spicer contacting other photographer in an attempt to gain other photographs of the crowd.
A NPS communications official told investigators working on the report that Reynolds had told her that Trump had requested photos of the audience size and "got the impression that president Trump wanted to see pictures that appeared to depict more spectators in the crowd".
Another NPS representative said that Spicer had told them that they wanted photos that "accurately represented the inauguration crowd size".
Both officials were under the impression that the administration wanted photos of a larger crowd size but there were no specific instructions to crop the images.
The 2017 report stated that the Interior Department inspector general's final report indicated the anonymous photographer "selected a number of photos, based on his professional judgment, that concentrated on the area of the national mall where most of the crowd was standing".
However, the new report shows that the photographer had submitted 25 photos on the day of the event but was told to go back and edit a few more then resubmit them.
The Guardian reports that Sean Spicer was closely involved in this operation, which took place before his now infamous press briefing speech where he gave out the false audience size claim.
HT The Guardian