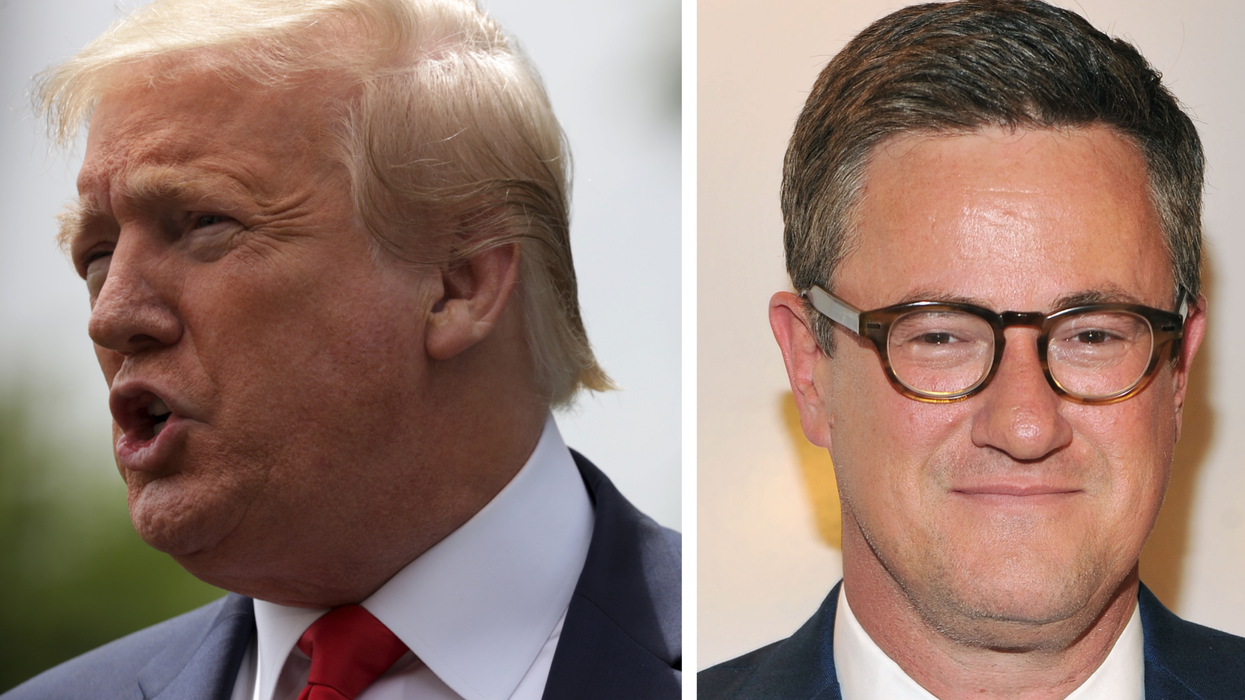 Getty
Always a controversial user, Donald Trump's Twitter presence has become positively deranged as of late.
Feeling cornered by the coronavirus crisis and subsequent criticism of his handling of it, Trump has taken to his favourite platform to hit out at his enemies.
This has resulted in references to increasingly bizarre theories, such as ' Obamagate ' and the Joe Biden/Ukraine conspiracy .
But the latest conspiracy Trump has promoted is a real corker: that MSNBC broadcaster Joe Scarborough killed an intern.
Before his career as a journalist, Scarborough was a Republican congressman, serving four terms as part of the party. As a host on MSNBC he has become an outspoken critic of Trump – which is how the president latched onto this particular conspiracy, regarding the tragic death of one of Scarborough's aides in 2001.
Lori Klausutis was 28 when she died in July 2001, in Scarborough's Florida office, where she worked as a constituent services coordinator.
An autopsy found she had an undiagnosed heart condition, causing her to faint and hit her head. A s a result of her fall were deemed to be the cause of Klausutis' death.
But Trump has sent out a series of tweets implying that Scarborough was somehow involved.
On Sunday, Trump wrote:
A blow to her head? Body found under his desk? Left Congress suddenly? Big topic of discussion in Florida...and, he's a Nut Job (with bad ratings).

Keep digging, use forensic geniuses!
As Forbes reports, Scarborough had resigned from Congress a month before Klausutis' death and was in Washington when she died.
Her injuries also weren't consistent with a blow inflicted by a person.
But that hasn't stopped Trump peddling the conspiracy theory, which he first mentioned in 2017 .
According to The Washington Post , Klausutis' family are too worried about attracting trolls to comment but her brother-in-law told a reporter:
There's a lot we would love to say, but we can't.
At the time of her death Klausutis' husband T.J. Klausutis praised the coroner for his "thoroughness and attention to detail", saying:
He did a wonderful job in finding the right answers without rushing to make a quick diagnosis.
Although Scarborough did not respond to Trump's latest tweet, he has previously debunked the conspiracy theory to Vanity Fair .
In a 2005 letter , Scarborough wrote:
Here are the facts.

(1) Lori worked in my annex office in Okaloosa County, Florida.

(2) I met her no more than three times; I was never alone with her.

(3) I didn't leave Congress because of her death; I announced my retirement from Congress in May 2001 — she passed away several months later.
Scarborough took things up a notch by addressing Trump's accusations on-air and criticised his response to coronavirus. On 4 May he said:
Mr. President, you're getting worse every day. You need to take a rest. You need to let Mike Pence actually run things for the next couple of weeks.

Come back when you're feeling a little better and when you can really actually focus on your job. You just can't do that right now. Americans are dying every day because of it.
Good to have a president sound of mind and on the ball.