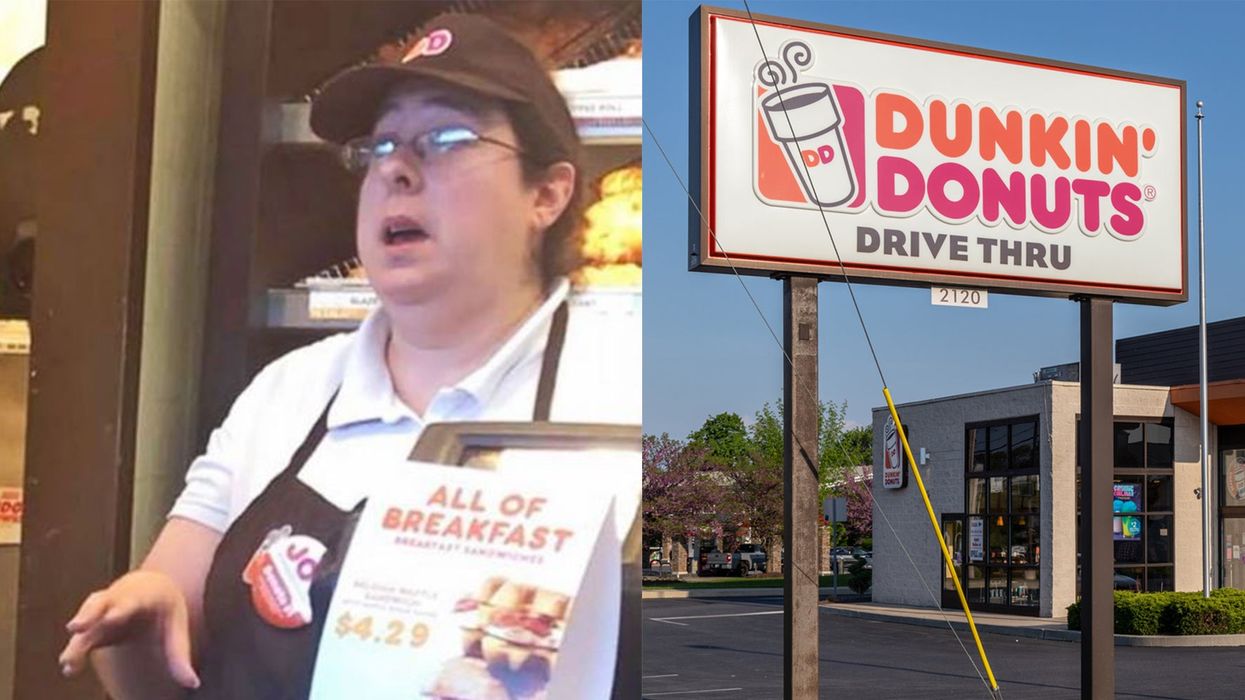 Hamdia Ahmed/Twitter/iStock/Getty Images
A young woman has been reported to the police in Portland, Maine, after she spoke Somalian while she was in a drive-thru at a Dunkin' Donuts restaurant.
20-year-old, Hamdia Ahmed was talking to her family in their car as they waited to be served last Monday.
However, when they arrived at the serving window, the employee at the fast food branch told them to stop yelling.
Speaking to NBC News the student activist, model and refugee said:
We were just speaking in our native language.

We weren't yelling.
In a video, which she posted on Twitter but has since been protected, Ahmed films the woman and the following argument, which resulted in a threat to call the police.
The New York Postreports that the tweet said:
Guys, I need your help. Today my family and I want @dunkindonuts.

Before we even place our order through the drive-thru, we were told to leave for speaking in our native language.

We were call a 'bitch.' The police were called on us, and now can't go back there. 

I am disgusted.
In the footage Ahmed asks the woman:
You're going to disrespect me cause I speak a different language than you.

Is that what it is?
The employee said in response:
You can leave. I don't want to hear it. I'm done with it.

You can leave or I will call the cops.
NBC then report that Ahmed then went into the restaurant to try and resolve the issue but her brother stayed in the vehicle.
Police then arrived on the scene five minutes later, which concerned her brother.
He was afraid as a black man in America - you never know what's going to happen.
Ahmed was then issued with a trespassing notice, which bars her from the store for 12 months with the police listing the reason as 'disturbance - yelling at staff'.
However, this notice has since been rescinded by the store's manager, Dave DeRosa, who apologised after meeting the family on Wednesday.
In a statement given to NBC News, Dunkin' Donuts said:
[DeRosa] sincerely apologised to her for the poor experience and is working on providing additional customer service training to his store crew.
Ahmed, who is a Somalian refugee, has lived in the US for the past 14 years, is currently a student at the University of Southern Maine, is an advocate for immigrant rights and has even spoken at United Nations.
Incidents of this nature, where people of colour are being reported to the police for no apparent reason, are becoming increasingly common in the US.
Ahmed added that she hopes that a discussion on this issue can begin to be had on this subject:
I'm proud of myself for speaking up against this because it's not right.

My family did not deserve to be treated that way, and I hope I started a conversation about why the police are called on Black people for no reason.
HT Daily Dot
More: White woman nicknamed 'Golfcart Gail' calls police on black dad at child's football game