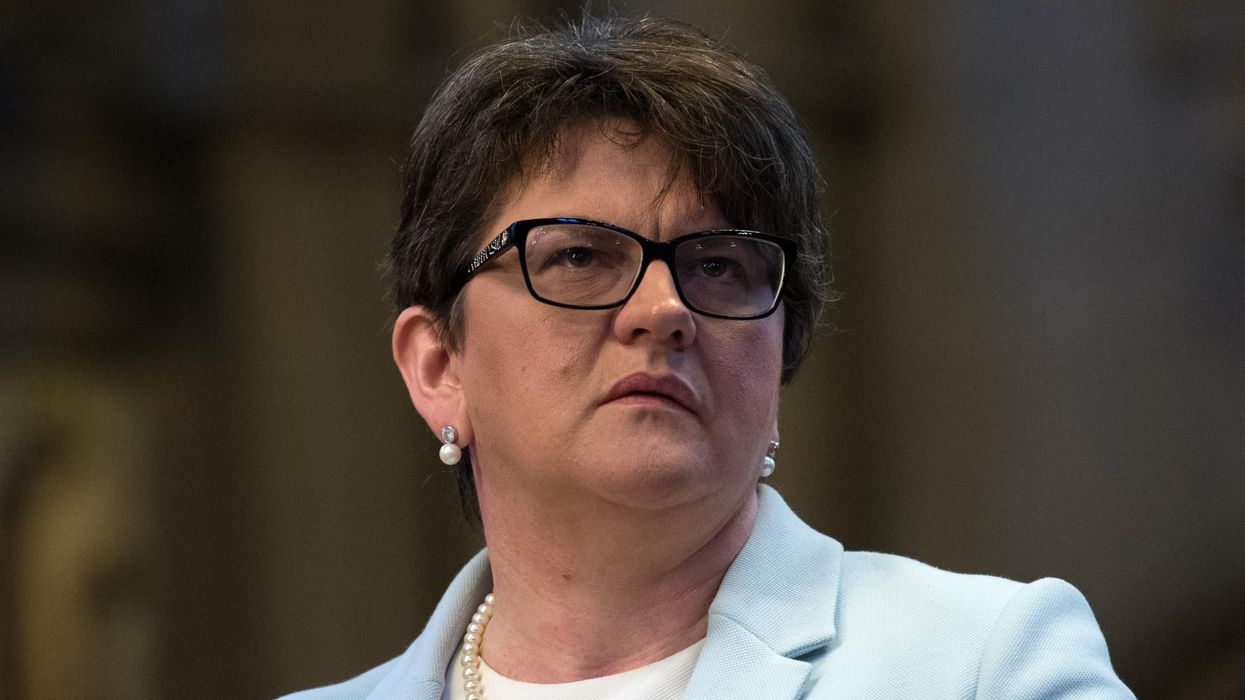 GETTY
Democratic Unionist Party (DUP) leader Arlene Foster will speak to members of the LGBT+ community at an event hosted by UK-based LGBT+ news site PinkNews later this month.
Currently, Northern Ireland is the only part of the UK without equal marriage, in part thanks to the DUP repeatedly blocking the process over the past several years. 
But Foster, who became DUP leader in 2015, will try to improve the party's relationship with Northern Ireland's LGBT+ community at a parliamentary summer reception in Belfast.
The DUP leader confirmed on Monday that she would accept the invitation to the reception, which all of Northern Ireland's main party leaders were invited to, in a move that surprised many LGBT+ people.
Last week Foster set out her plans in a speech to the DUP executive. She said:
I want to genuinely reach out to our minority communities and show them the hand of friendship, recognising they have made Northern Ireland their home.
Although she added that the party would not be shifting from its position on same-sex marriage, meaning that LGBT+ people in Northern Ireland will continue to be denied access to the rights that same-sex partners enjoy in other parts of the country,
I believe I can hold to my principled position, particularly in reality to the definition of marriage, while respecting the diversity across our society and recognising that sexuality is a matter for the individual.

All I ask in return is that my, and our views, are also respected and not the subject of the vilest of abuse as has sometimes been the case by a small minority.
Leading DUP politicians have previously described homosexuality as "repulsive", "disgusting" and an "abomination", as well as comparing gay people to paedophiles and rapists.
Yet the news that Foster will be attending has been welcomed by LGBT+ activists in the region.
John O'Doherty, director of the Rainbow Project, said:
This is the first time a DUP leader has attended an LGBT+ event and we hope it is the first of many such invitations that will be accepted.

While I and many in our community have been hurt by comments and actions by members of the DUP over many years, the only way we can achieve a Northern Ireland that is welcoming of all people is through dialogue, learning and of course listening.

While this action cannot erase the decades of hurt experienced by LGBT+ people and their families I hope it is a first step towards a new relationship between the LGBT+ community based on respect.
Benjamin Cohen, CEO of PinkNews, said:
We are so pleased that Arlene Foster, the leader of the DUP, is attending the PinkNews Belfast event at Stormont later this month, to acknowledge the LGBT+ community's contribution to society.

The decision by Arlene Foster to attend the first PinkNews event in Belfast is an important step towards encouraging a dialogue in Northern Ireland and we're delighted that there will be a number of other senior cross-party representatives attending and speaking.
But not everyone agrees that this is a positive move. Since the news broke, Twitter users have criticised PinkNews and Foster.
Though others agreed with the decision, viewing it as a first step in a path towards apologising to the LGBT+ community.