Leon Neal/Getty Images
This week, the European Union and Japan agreed on a free trade deal. This is a huge milestone, and will allow good to travel much more easily between the union and the country.
In addition, it's also going to send a fairly "strong message to Donald Trump," and American's new isolationist ethos.
In case you've been under a rock and missed it, the UK is in the process of leaving the EU, so we won't really benefit from any of the trade deals that are being secured.
Go us.
Liam Fox, the Secretary of State for International Trade, hasn't really mentioned anything bout securing trade deals recently. What he has done is complained about ties.
Ties with foreign countries? We hear you ask. Ties with big corporations? Ties with influential politicians who can get the best deals for Britain?
Nope. Just neck ties.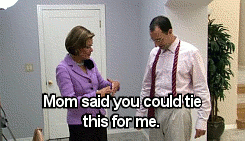 According to the former Tory-leadership contender, wearing ties in the commons could promote British exports.
His, rather bizarre, claim follows news that House Speaker John Bercow broke with tradition to rule that male MPs will be allowed to speak in the commons even if they aren't wearing a tie.
After being asked by Tory backbencher Peter Bone:
Could the Secretary of State suggest how this house could promote the wearing of ties to increase exports?
Fox replied:
I suggest that we can lead by example and I can say that this was made in England.
He then proceeded to point at his own tie.
As the New Statesman's political editor George Eaton puts it:
EU signs free trade deal with Japan. Meanwhile, Liam Fox tells MPs to wear ties to boost British exports. https://t.co/SFyIpeNrwf

— George Eaton (@George Eaton) 1499354631
Don't try to think too hard about it.