YOHEI KANASASHI - POOL / GETTY
There were 1,032 executions carried out around the world last year.
It is believed that China has carried out the highest number of executions, followed by Iran, Saudi Arabia, Iraq, Pakistan, Egypt, the US, Somalia, Bangladesh and Malaysia.
The good news however, is that the total number of recorded executions fell by 37 per cent in the year 2016, according to Amnesty International's latest report.
In China, exact numbers of death penalties are classified as a state secret. The organisation write in their report, Death Sentences and Executions 2016, that the true number of those put to death in the country is likely to be higher.
It states:
These numbers do not include the thousands of executions carried out in China, where data on the use of the death penalty remained classified as a state secret.
Since 2015, Iraq more than tripled its executions, and Egypt and Bangladesh doubled theirs.
Beheading was used in Saudi Arabia, and hanging in 14 countries, while public executions were carried out in Iran and North Korea.
Many of the executions broke UN human rights thresholds according to Amnesty:
People continued to be sentenced to death or executed for crimes that did not involve intentional killing, and therefore did not meet the threshold of "most serious crimes", as prescribed by Article 6 of the International Covenant on Civil and Political Rights. 

The death penalty was imposed or implemented for drug-related offences in a number of countries, including China, India, Indonesia, Iran, Kuwait, Laos, Malaysia, Saudi Arabia, Singapore, Sri Lanka, Thailand, United Arab Emirates and Viet Nam.
Elsewhere, 3,117 people were sentenced to death in 55 countries in 2016; more than a third higher than 2015.
Here's the world's worst offenders for executions: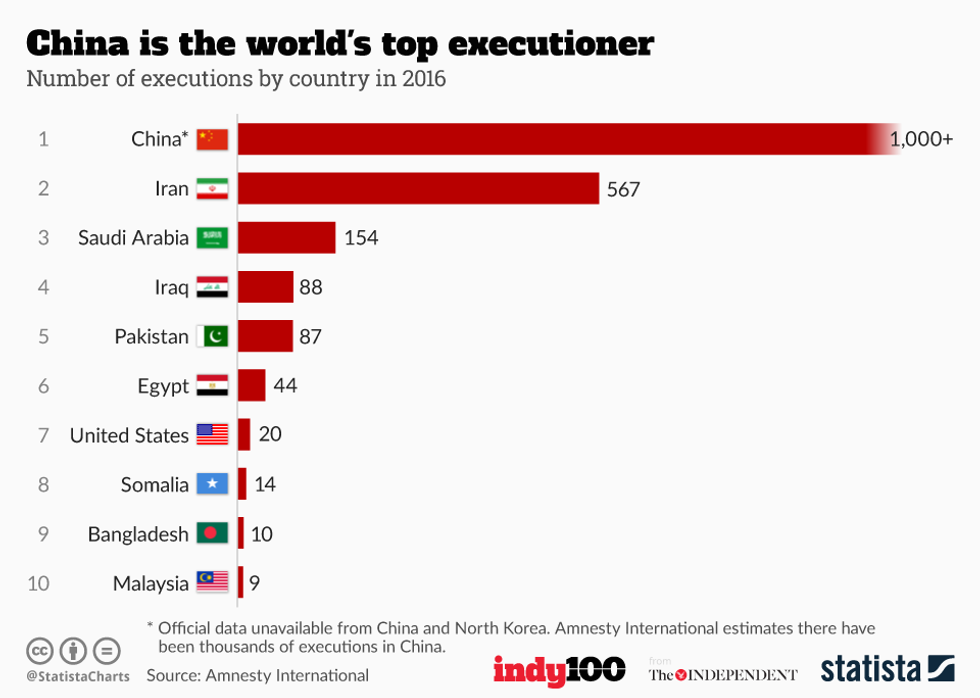 Picture: Statista