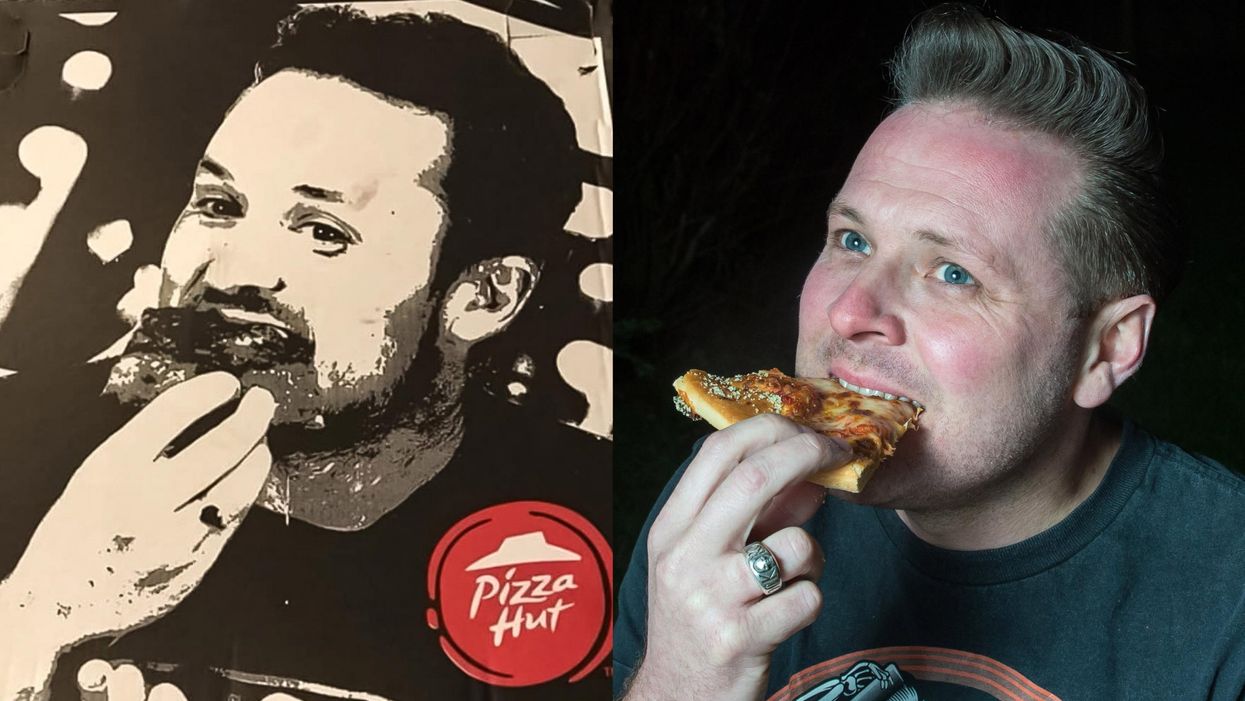 SWNS.com
A dad is convinced Pizza Hut secretly took a photo of him eating in one of their restaurants - after 'his face' was printed on their takeaway boxes.
Nick Richardson, 39, started to receive texts from friends around a month ago asking why his face was on the boxes containing their takeaway pizzas.
Even his own family thought it was him and Nick complained.
But the restaurant chain denied the allegation and said it was a member of their creative team - but refused to send him the original photo.
The box is one of five designs used by Pizza Hut Delivery shops, who deny using his image. A Pizza Hut Delivery spokeswoman said:
"All the artwork imagery on our Pizza Hut boxes, including this picture, feature employees from our creative agency and all of them provided consent for their photos to be used.
"We have not used any members of the public in this campaign and we can confirm that this photograph is not of Mr Richardson."
However Nick from Redditch, is convinced the man eating a pizza on the front of the box is him - and said his hair, beard, clothes and jewelry match.
The courier said: "I think it's me, my mum thinks it's me, my friends think it's me and my brother thinks it's me.
"I can't see how it's not me.
"Even the outline of the stubble is the same. It would be an enormous coincidence if it wasn't me.
"And if by some miracle it's not me then fine, show me the original image.
"I think it is me and it just makes me feel very weird. I was just out for dinner with my little boy, and the next thing I see this box. It's all very weird."
Nick visited the Pizza Hut in Stoke with his four-year-old son in August last year, and thought nothing more of it until around a month ago.
A friend sent him a photo of the Pizza Hut food box which featured someone the company had called 'Richard from London' eating a pizza, he claims.
"The friend said in the message 'what are you doing on my Pizza box?' and I thought he was just winding me up. I didn't think much of it," said Nick.
"Then I got another message from another friend - they didn't know each other - saying the same thing."
He complained to Pizza Hut via Facebook who told him to call them, but he claims they didn't get back in touch until his local press spotted the online post.
He claims a spokesman for the company then told him it was a member of staff at their creative agency, and they would send over the original image.
"But then they said they couldn't because it would be illegal due to copyright," claimed Nick.
"I don't see how that works because they have put it on pizza boxes.
"I all sounds a bit suspect to me."
SWNS