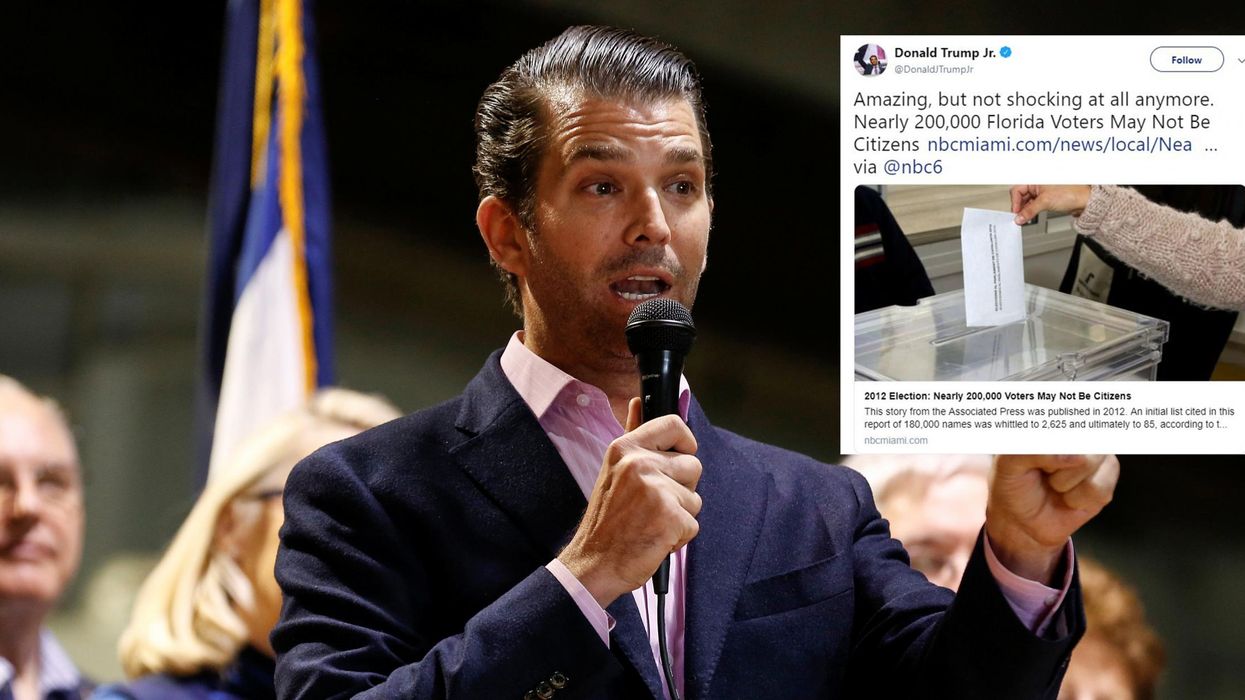 Joshua Roberts/ Reuters/ Twitter
Much like his dad, Donald Trump Jr isn't too happy about the midterm results, which saw the Republicans experience crushing losses in the House of Representatives.
Whereas the president seemed determined to take his frustration out on journalists, his son has taken the unorthodox route of spreading conspiracy theories, which is something that he is fairly familiar with.
This time Trump Jr has taken a step-back-in-time and is now peddling a debunked NBC article from 2012 and attributing it to the 2018 midterms.
Although Trump had accused the Democrats of voter fraud he provided no evidence for his claim, which led to Trump Jr and other prominent Conservatives spreading this article.
The report, which was published in May 2012, states that nearly 200,000 voters in Florida might not be US citizens and therefore aren't registered to vote.
This report was apparently first shared by David Wohl, the father of notorious right-wing activist Jacob Wohl, who called Florida a 'Banana Republic' in a tweet posted on Sunday.
Others, including Trump Jr, then began to tweet links to the article all with their own dismay and critical take on the Democrats.
Charlie Kirk, the founder of the pro-Trump student group Turning Point USA, also appeared to tweet the article but has since deleted it.
Unfortunately, for them, NBC obviously noticed what was going on and on Monday added a '2012 Election' kicker to the headline and the following disclaimer at the start of the article which states that the original information that they reported was incorrect..
Editor's note on Nov. 12, 2018: This story was published in May 2012.

The initial list of 180,000 names was whittled to 2,625, according to the Florida Department of State.

The state then checked a federal database and stated it found 207 non-citizens on the rolls (not necessarily voting but on the rolls).

That list was sent to county election supervisors to check and it also turned out to contain errors.

An Aug. 1, 2012, state elections document showed only 85 non citizens were ultimately removed from the rolls out of a total of about 12 million voters at that time.
As soon as this happened people began to call Trump Jr and co for spreading this false information, with some accusing them of not reading the article at all.
Florida is currently undergoing a recount in Broward County following what is reported to be a technical fault with their voting machines.
The county which traditionally votes Democrat has been criticised by the Republicans but this is unlikely to dissuade Trump's followers but is a further example of just how easily false information can be spread on social media.
HT Daily Dot