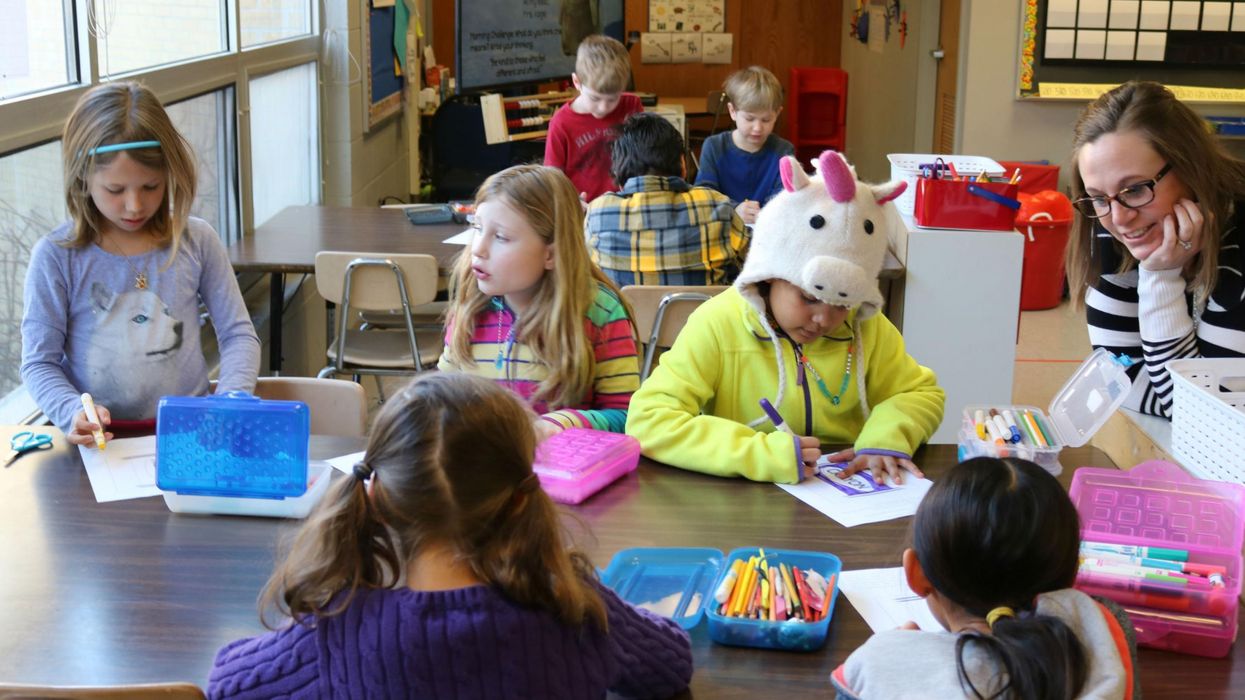 On a frigid morning in Madison, Wisconsin, where frost edges the windows, Erin Vogel reads aloud to her second-grade class at Crestwood Elementary School.
The story is about Red, a confused crayon whose name doesn't match his real colour: Everything he draws comes out blue. "He was red" Ms. Vogel reads, "but he wasn't very good at it." She turns to her students, sprawled on colourful mats on the classroom floor, and asks what they think the story is about.
"It's about, it doesn't matter who you are on the outside," one student, Kate, volunteers.
If they see he's red, and he actually comes out blue, then they just have to say, 'It's OK, he's different.'
It's a standard exchange here, part of a broader push by the Madison Metropolitan School District to combat bullying and harassment by fostering empathy and inclusion.
And it is not the only one. Madison is part of a patchwork of efforts in schools around the United States, both big and small, to root out sexism before it takes hold and expresses itself in the workplace, and to prevent the abuse or domestic violence at the centre of the #MeToo movement.
There are many countries, to be sure, where such efforts would be culturally inappropriate – even illegal. Some of the gender-education work still riles parents who worry about liberal agendas creeping into classrooms. Yet there is increasing evidence that the kinds of formal lessons that schools can offer, in which teachers are trained to recognise and counteract old patterns of thinking, can help change how a new generation of young people treat each other.
These kids are growing up with an awareness that there is an imbalance of power in our society, and they're being challenged to unpack that and break it down.
These are the words of Joshua Forehand, principal at Nuestro Mundo Community School, an elementary school in Wisconsin that has introduced discussions on gender and identity into the school plan.
Across the country, schools are increasingly incorporating their gender-equality teaching at the elementary school level, when more formal lessons begin.
The idea is to give students the chance to think about inclusion and diversity as they're learning to read, write and solve math problems.
Central to the Madison School District's work is Welcoming Schools, a program of the nonprofit Human Rights Campaign Foundation. It began as a response to the needs of transgender students and students who don't identify as exclusively either male or female. Now it aims to address broader themes, such as equality and tolerance across genders.
It is one of a number of programmes across the United States that has sprung up since the early 2000s.
Some programmes, such as Expect Respect, a program of the SAFE Alliance in Austin, Texas, started as support groups for students who experienced either violence at home or abusive dating and peer relationships.
Others – including Coaching Boys Into Men, which began in California's Bay Area – focus on raising compassionate boys and redefining masculinity.
Educators say the programmes are having an effect. Erin Vogel, the second-grade teacher, states:
We are raising a generation of boys who see girls as equals, and we're hoping they'll grow into men who understand that women have the same rights and deserve the same respect they do.
Evidence of their success goes beyond the anecdotal. The bedrock of programmes such as Welcoming Schools is research that ties bullying at an early age – and especially gender-based bullying – to sexual harassment in adolescence and adulthood. In 2003, an evaluation of the Expect Respect Elementary School project found that students who participated in role-playing and class discussions could identify more accurately than their peers what sexual harassment looked like.
The program also raised awareness and – more important – changed expectations about responses to bullying and harassment.
But many diversity and tolerance programmes, including Welcoming Schools, have run into resistance – particularly over topics such as same-sex parents.
In October, an Atlanta middle school faced heavy backlash after parents learned that sixth-graders had been quizzed on sexual identity. A high school teacher in Cambridge, N.Y., was suspended in November for distributing handouts about sexuality and gender.
"Some parents don't want their first- and second-graders coming home saying that people can have different family structures," says Dorothy Espelage, a psychology professor at the University of Florida. Still, she says educators should reach students as young as possible, always in a climate of respect.
You want to start this conversation in kindergarten, but it has to be developmentally sensitive.
Ultimately, teaching prevention is not about protecting a victim or punishing a perpetrator, but empowering society to recognise the flaw. "Students in intervention groups felt more empowered to do something about sexual harassment," says Barri Rosenbluth, a social worker who carried out the CDC study of harassment prevention.
That's the real change factor: courageous bystanders.
This article was published as part of impact journalism day, an international initiative involving more than 50 media outlets worldwide, highlighting local solutions to global problems and spreading stories in the first step towards change.