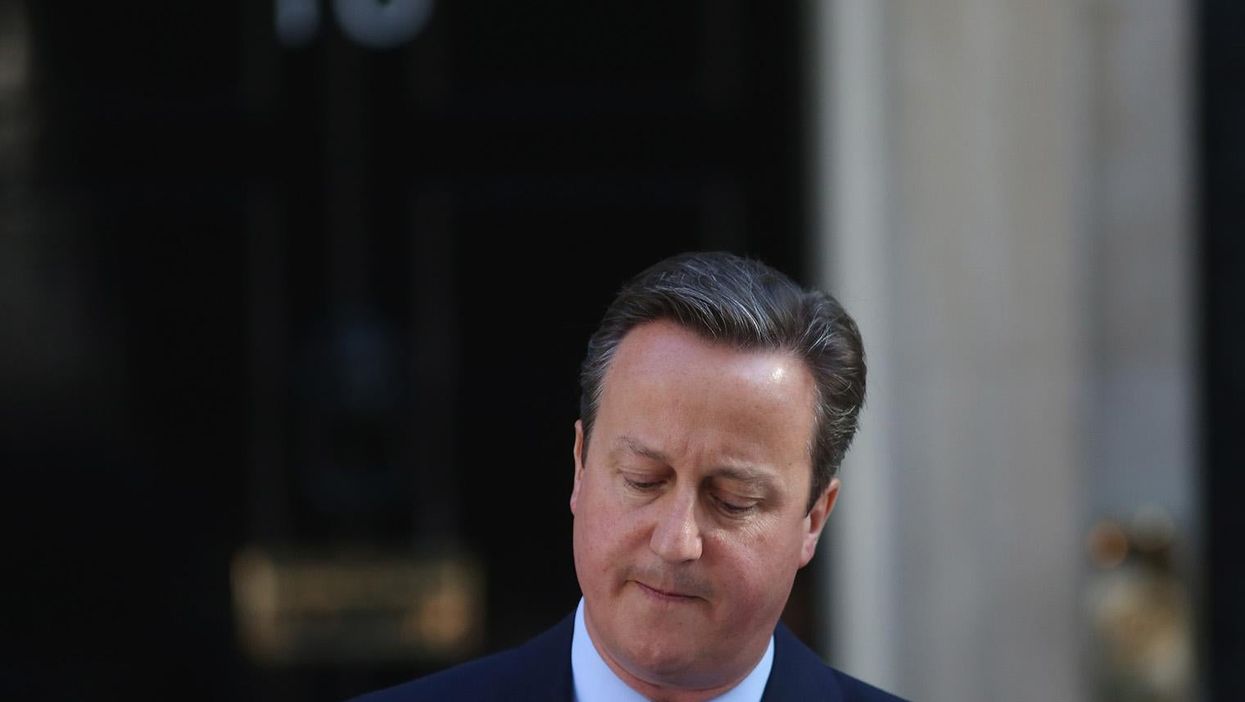 David Cameron has resigned as MP for Witney, meaning his role in the House of Commons will end and a by-election will take place.
The former Prime Minister's best moments are obvious: same-sex marriage, the Olympics, winning the Scottish independence referendum and the 2015 general election victory.
His worst moments are also obvious, but more fun to pore over in detail.
So here we go:
1. Brexit
The big one. The daddy. The legacy-defining slip-up.
In If, Rudyard Kipling's poem dictating a series of unreasonable requirements for masculinity, he wrote:
If you can make one heap of all your winnings
And risk it on one turn of pitch-and-toss,
And lose, and start again at your beginnings
And never breathe a word about your loss
Cameron appears to have taken this advice to heart, Mike Bassett-style.
Also remember "Brits don't quit"? Yeah, about that...
2. PigGate
The Daily Mail published excerpts from the unauthorised biography Call Me Dave in September last year, and news headlines were dominated by pig-based debauchery for days.
Then #piggate began trending on Twitter as the public woke up to the unsubstantiated claims, and certain pictures were never seen in the same light again.
Picture: Getty
3. West Ham
David Cameron, talking at length about the diversity of the country on the 2015 general election campaign, appeared to get a little jumbled when he claimed he'd "rather [people] supported West Ham".
The Prime Minister has long-spoken of his love for West Midlands team Aston Vila, apparently only confusing them with the East London outfit because of the similar claret and blue kits.
4. The Big Society
For the policy the prime minister most aligned himself with early on in his premiership, it really is a bit hard to identify.
Experts have said it is based on acknowledging that volunteers and communities can solve problems that the state cannot, and therefore the state should not interfere and thus enable communities to help themselves.
But seriously, can someone please point to something specific, an institution, anything, that is "big society".
Anyone?
The policy, despite a few stalled initiatives, was talked about less and less through the coalition and subsequent Tory government (withdrawn altogether from government statements and Cameron's speeches around 2013), before being quietly taken out back and sledgehammered.
5. Hug-a-hoodie
At a talk at the Centre for Social Justice think-tank in 2006, the newly-crowned leader of the opposition Mr Cameron tried to give a new perspective on youth crime, one of compassion.
He mentioned the word "hoodie" eight times, after which Cameron was taunted for months by the phrase "hug-a-hoodie", coined by the Labour Party.
6. When he left his daughter in a pub
A Downing Street spokeman said after the incident in 2012:
The Prime Minister and Samantha were distraught when they realised Nancy wasn't with them. Thankfully when they phoned the pub she was there safe and well. The Prime Minister went down to get her straight away.
7. 'Bunch of migrants'
On Holocaust Memorial Day earlier this year, Cameron sparked outrage when he referred to refugees living in desperate conditions in camps around Calais as a "bunch of migrants" during Prime Minister's Questions.
8. Saying the Queen 'purred'
Achieving a close 'Remain' result in the Scottish independence referendum, Cameron seized a defeat from the jaws of victory by unintentionally leaving his microphone on.
He was overheard telling the mayor of New York that the Queen had "purred" upon hearing the result.
Cameron was later forced to apologise on television and to the Queen privately.
9. This pose
What is going on here?
No.
10. His letter to Oxfordshire County Council
In November, letters sent to Oxfordshire County Council by the prime minister two months prior came to light.
He asked why the council has not been focused on "making back-office savings" and "generat[ing] savings in a more creative manner", given only "a slight fall in government grants in cash terms".
The council leader replied that the council had already slashed 40 per cent of senior staff and 2,800 jobs, had sold all the property available to them, and reminded Cameron that using this as income to leverage council costs "is neither legal, nor sustainable in the long-term since they are one-off receipts."
He also added:
I cannot accept your description of a drop in funding of £72m or 37 per cent as a 'slight fall'.
Cameron's own mother later signed a petition rallying against government cuts on children's services in the Conservative-run council.
Burned.