Gordon Ramsay is famous for his foul-mouthed outbursts in the kitchen.
Any episode of his reality shows Kitchen Nightmares or The F Word isn't complete without a bit of 'effing and 'jeffing from the Scotsman.
Well, it appears that his potty mouth is infectious as it has started to rub off on his kids.
In a recent interview with The Project in Australia, the 51-year-old told an anecdote about his 16-year-old daughter, Matilda.
During the 18 birthday party of his twins, Jack and Holly, Matilda dropped the "f-bomb" while she was addressing her dad.
Ramsay says:
It was out twins; 18th birthday party on Saturday just gone and we had this amazing Great Gatsby party and we had Olly Murs sing.

At literally five past 12 [midnight], my youngest turned around and said 'Dad' and I said, 'Are you OK Matlida?'

And she said, 'it's time to f**k off now.'
The chef did go on to state that he has tried to teach his kids that they shouldn't use those sort of words.
He added:
You know... I taught them very early on in life, you know, that those words were naughty - never use them.
Maybe it's time to introduce a swear jar to the Ramsay household?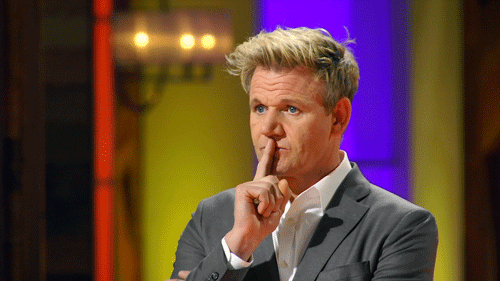 Via: Giphy
HT Lad Bible