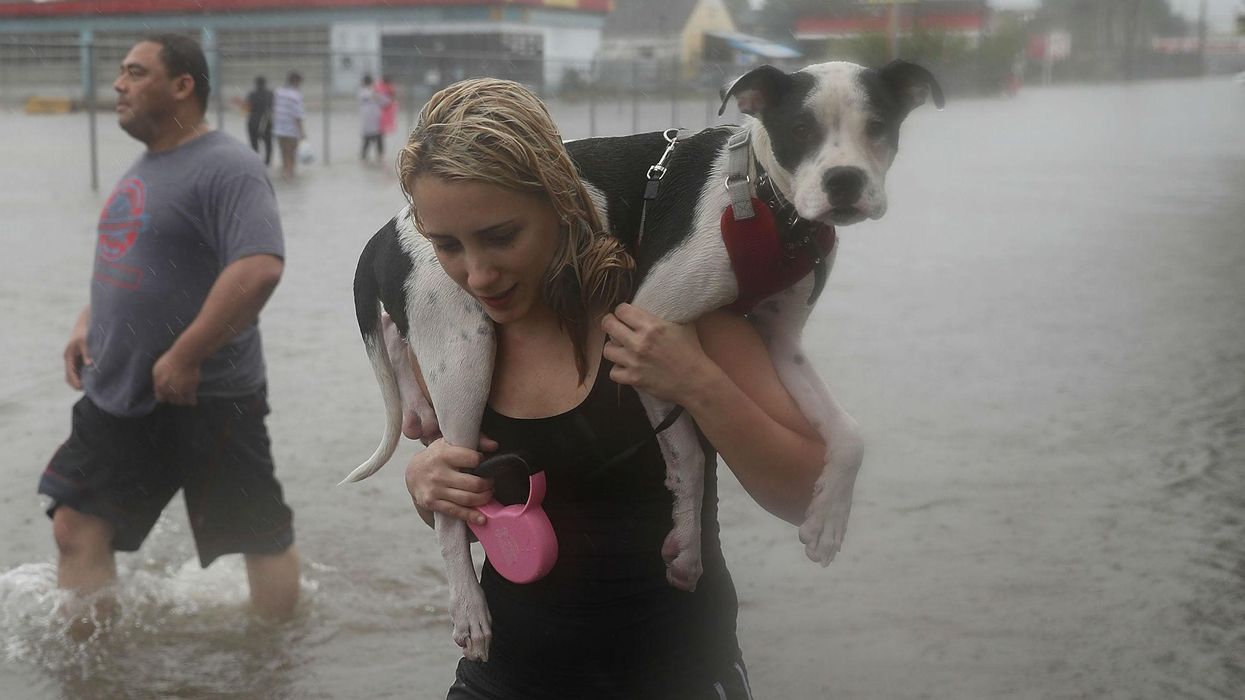 Joe Raedle/Getty Images
A modern day Noah's Ark tale has seen 21 dogs rescued from rising flood waters in Houston, Texas.
Betty Walter posted images of the 'ark' on Monday.
Flooding from Hurricane Harvey left Walter and her 21 dogs stranded. The pet owner refused to leave her home without her dogs.
According to Today, the 44-year-old had taken shelter in her attic to avoid the flooding below.
After 14 hours stranded, she and her pack of pooches were rescued by members of the Bay Area Pet Adoption (BAPA).
According to BAPA's website, they are the only 'no-kill' shelter in Galveston County.
Among the rescuers with the flat bottomed boat were Buck Beasley, Jeremy Williams, and Anthony Hernandez.
When the group reached dry land, the dogs were loaded onto Buck Beasley's truck, and taken to BAPA where he and his wife Amy volunteer.
Writing on Facebook, Walter said the rescuers had to walk through water over [her] head height to reach her and the dogs.
She also asked for donations to BAPA and for help rehousing the dogs.
According to her Facebook, Walter has a history working with animals, and is currently employed at Long Drive Dog & Cat Hospital.
According to AP, more than 40 dogs have also been flown from Houston to dog shelters in Seattle, Washington.
Volunteers unloaded the animals Wednesday afternoon after their flight from San Antonio, Texas.
Officials with Wings of Rescue say the transported animals were already in shelters before the storm and are being moved to make room in shelters for pets that have been displaced.
The rescue transfer is a collaboration between the Humane Society of the United States, Wings of Rescue, the Progressive Animal Welfare Society and other Seattle-area shelters.
Officials with Seattle Humane say the animals will be placed at their Bellevue shelter and will be available for adoption.
Another flight of animals is set to depart Friday, from San Antonio to Hillsboro, Oregon.
HT Ladbible