Dame Helen Mirren is one of the greatest actors in the world.
Her list of movies includes classics like The Long Good Friday, The Madness of King George, Gosford Park and Hitchcock to name but a few.
She even won an Oscar for playing The Queen, a role that we literally couldn't imagine anyone else playing.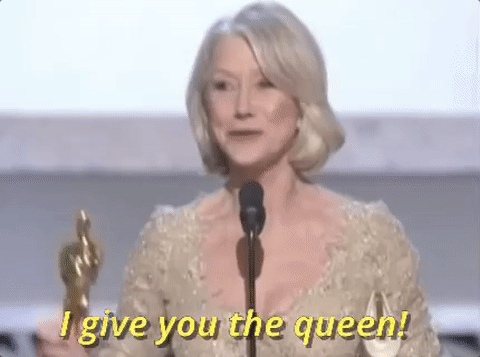 Via: Giphy
In many people's eyes the veteran actor can do no wrong, but during a recent appearance on The Ellen Show, where she was promoting her new movie The Leisure Seeker, she slipped up in a rather adorable way.
In-between discussions about The Royal Wedding, The Crown and Stranger Things, the subject of Mirren's age came up.
The actor was born in 1945 making her 72, but she was certain that she was a year older.
She told Ellen:
I think I'm 73. My husband and I, we forget.

I'm six months older than my husband and his birthday is on the 31 December and I can get prepared for the age I'm going to be by celebrating his birthday.
As she was explaining this Ellen interjected and assured her that she was 72.
This was then confirmed off-screen by a crew a member and then the realisation set in.
This is fantastic. This is amazing.  I've just made a whole year.

We [Mirren and her husband] thought we were 74 but then we worked it all out and figured out that we were 73.

So we both went 'oh this is fantastic we've got a whole year. A whole extra year.' Now I've got a whole other year.

This is amazing.
As Ellen pointed out:
I was gonna say: 'you look great but you're losing it'
Watch the full exchange in the clip below:
HT BuzzFeed