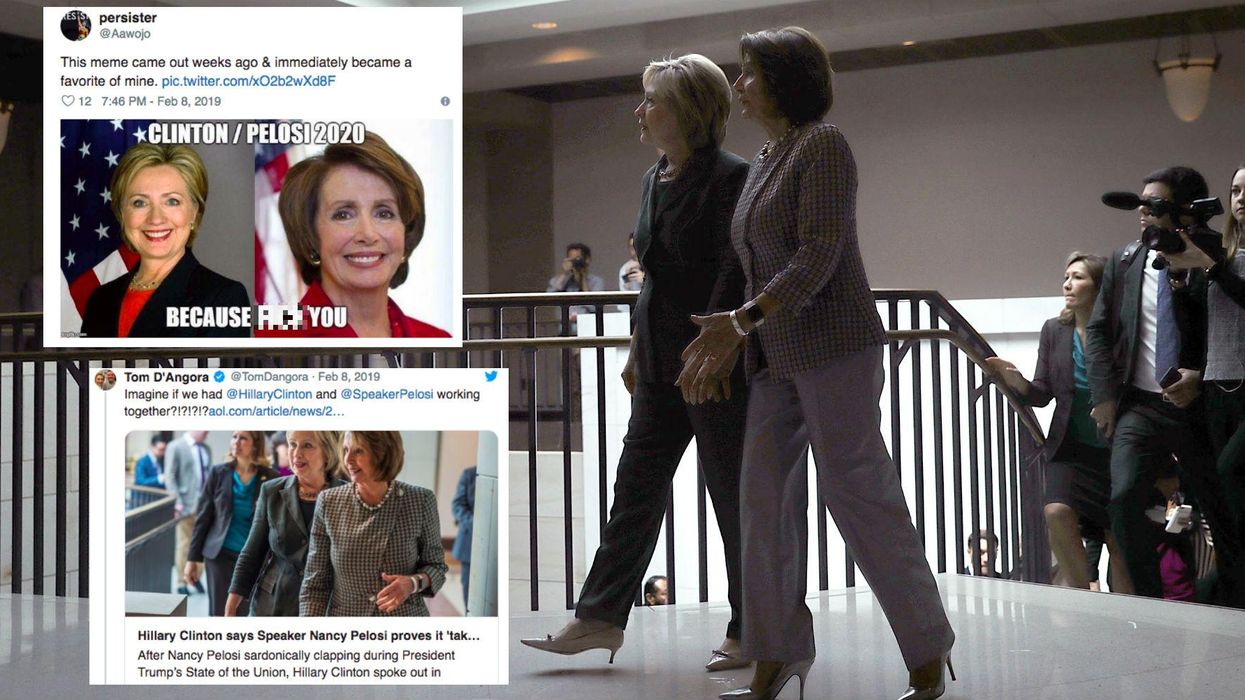 Getty Images / Twitter
Female politicians in Washington have been killing it in the last few months, which is why it comes as no surprise that Hillary Clinton has come out in support of House Speaker Nancy Pelosi, saying "it often takes a woman to get the job done".
In a video message recorded for the 2019 MAKERS Conference held this week in Dana Point, California, the former secretary of state, who is also a self-proclaimed feminist, said:
 I am energised and encouraged by the diverse group of women everywhere who are speaking out - speaking out against inequality, and bigotry, and racism, and homophobia, and organising to create change in their communities and our country, refusing to give in to cynicism or fear

You know, the tidal wave of women and young people running for office is helping to build an America that's not only kinder, fairer, bigger-hearted, but safer, stronger, and more secure. 

As Speaker Nancy Pelosi - doesn't that sound great - has proved yet again, it often takes a woman to get the job done

I've said for many years, and I believe more fiercely than ever today, that standing up for the rights and opportunities for women and girls is the unfinished business of the 21st century
Clinton's message for the 2019 MAKERS summit, a global women's leadership event, sparked hopes of a Pelosi and Hillary comeback.
Imagine if we had @HillaryClinton and @SpeakerPelosi working together?!?!?!? https://t.co/bHlZ4Zlkiv

— Tom D'Angora #StillWithHer #BLM #Vaccinated (@Tom D'Angora #StillWithHer #BLM #Vaccinated) 1549642654
@TomDangora @HillaryClinton @SpeakerPelosi This meme came out weeks ago & immediately became a favorite of mine. https://t.co/xO2b2wXd8F

— persister (@persister) 1549655202
Last week, Clinton caused a stir when she revealed that she wasn't ruling out another run at the presidency, a claim which was quickly shut down by her former campaign manager John Podesta when he insisted on CNN that she was not seeking to run for president again in 2020. He said
I take her at her word. She's not running for president
Either way, rest assured Nancy Pelosi seems to have things all under control.
HT DailyMail