INDRANIL MUKHERJEE/AFP/Getty Images
India's court overturned a 157-year-old law that made gay sex a criminal offence.
A panel of five judges issued a unanimous judgement in a landmark decision that is a victory for gay rights in the country.
Of the decision, India's chief justice Dipak Misra said:
Respect for individual choice is the essence of liberty.

This freedom can only be fulfilled when each of us realises that the LGBT+ community possesses equal rights.
The ruling is being met with celebrations, not only in India but worldwide, as activists see it as a step forward for LGBT+ rights.
The judgement decriminalises consensual sexual acts irrespective of sexuality, but there are still reforms needed in order to make same-sex marriage legal.
Paul Dillane, executive director of Kaleidoscope Trust, an NGO that campaigns for human rights of LGBT+ people in countries where they are discriminated against, called it a 'historic moment:
Today's judgment from the Indian Supreme Court is a historic moment for sexual and gender minorities across India. A country of over a billion people no longer criminalises people for who they are and who they love. We pay tribute to the tireless work by activists, organisations and communities across the country.
"India joins countries including Seychelles, Mozambique, Belize and Trinidad & Tobago which have all decriminalised homosexuality in recent years. The ruling has truly global repercussions given laws criminalising consensual same-sex acts continue to blight the lives of LGBT people in over 70 countries across the world."
Indian members of the LGBT+ community were emotionally jubilant and celebrated outside the Supreme Court with rainbow flags and tears.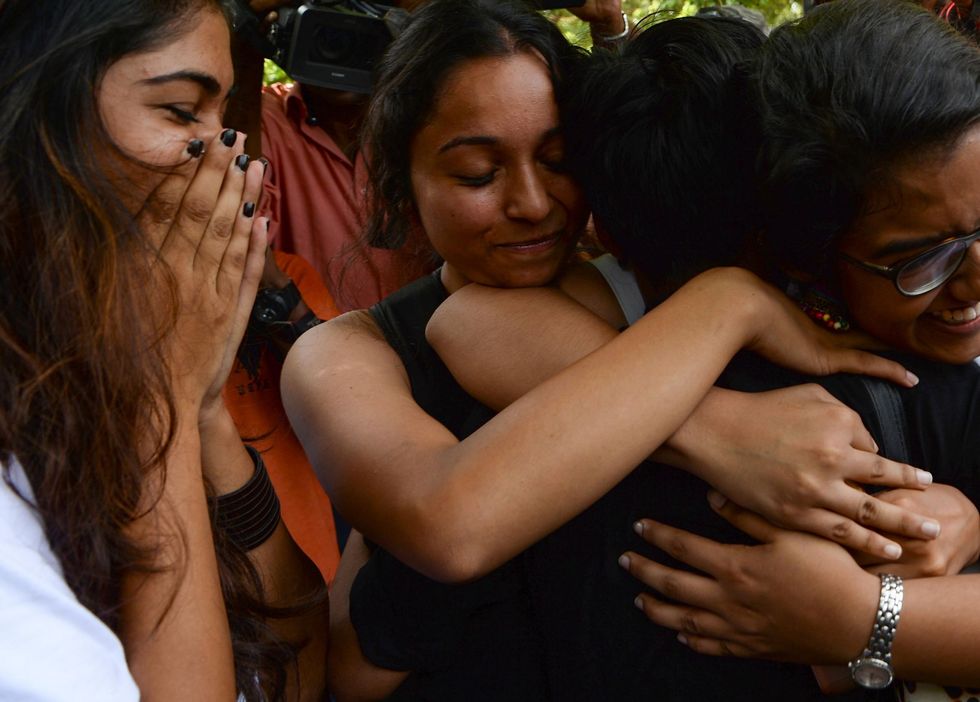 Others took their celebrations online, and with the country in the limelight, people were full of praise.
And the next step for the country? Legalise same-sex marriage.
Washington Post reporter Barkja Dutt pointed out that the court underlined the importance of individual liberty - a crucial step.
#Section377 is trending.
They're calling it a 'win' for humanity.
And the LGBT+ community in Chennai were handing out chocolate to celebrate the historic ruling.