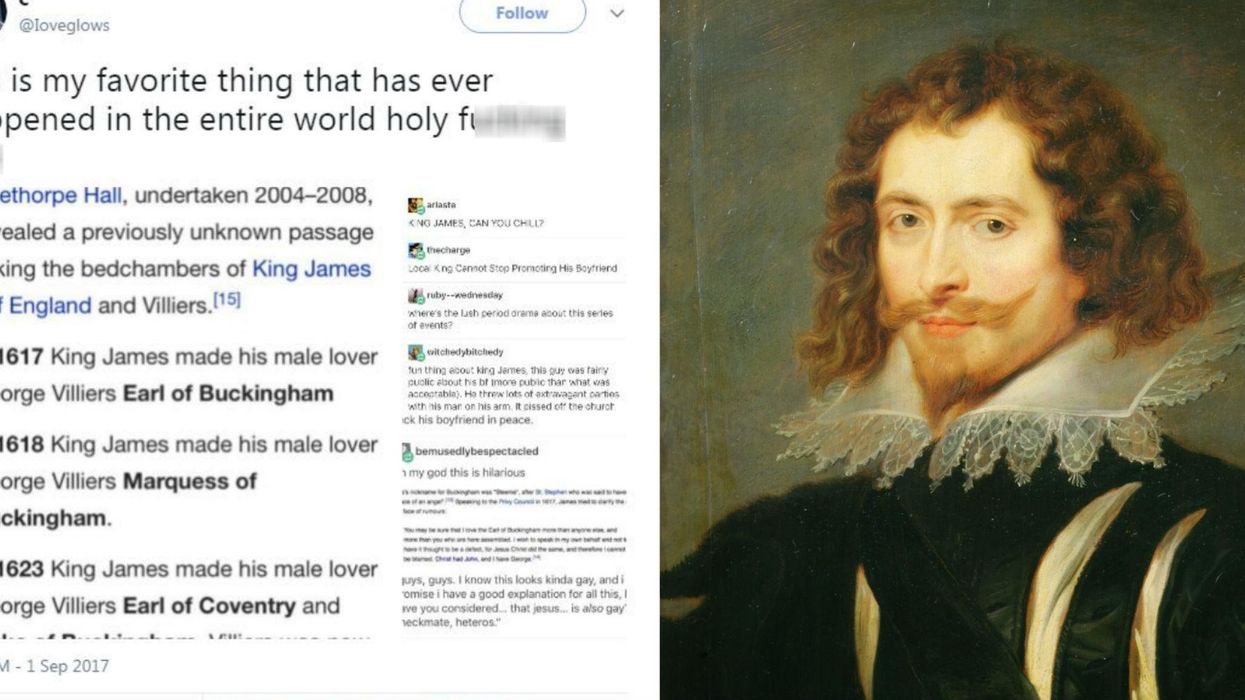 (L) Ioveglows/Twitter screenshot, (R) Sir Peter Paul Reubens (1625)/Alfredo Dagli Orti/REX/Shutterstock
Warning: Adult history follows.
James I, (aka King James the Thirst) and his 'favourite' George Villiers have became something of a celebrity couple for the second time in history.
According to Google Trends, searches containing 'King James Gay' have gone up worldwide since around 10pm on 1 September.
All because of a viral tweet posted on Friday, with screenshots from a timeline on a Wikipedia page devoted to LGBT history in the UK.
The post refers to George Villiers, a man many historians believe to have been in a same sex relationship with King James I of England and VI of Scotland (1566-1625).
Although James I was married, and had several children with his queen Anne, it has been a subject of debate within the historical community that the favourites of James were also his male lovers.
Villiers was one of three male favourites whom the King heaped numerous honours, including making Villiers a knight, the Earl of Coventry, and Duke of Buckingham between 1617-1623.
In her biography Charles I historian Pauline Gregg quotes a statement supposedly made King James to his Privy Council in the autumn of 1617.
You may be sure that I love the Earl of Buckingham more than anyone else, and more tha you who are here assembled.

I wish to speak in my own behalf, an not fave it thought to be a defence, for Jesus Christ did the same, and there I cannot be blamed.

Christ had his John, and I have my George.
He was allegedly brought to the English court as an Early Modern sort of honey trap for James, by the enemies of the king's previous favourite lover Robert Carr.
Ultimately Villiers was assassinated three years into the reign of James' son Charles I, in 1628.
The viral post has (re)ignited a fans in the James/George ship.
Dem pins tho.