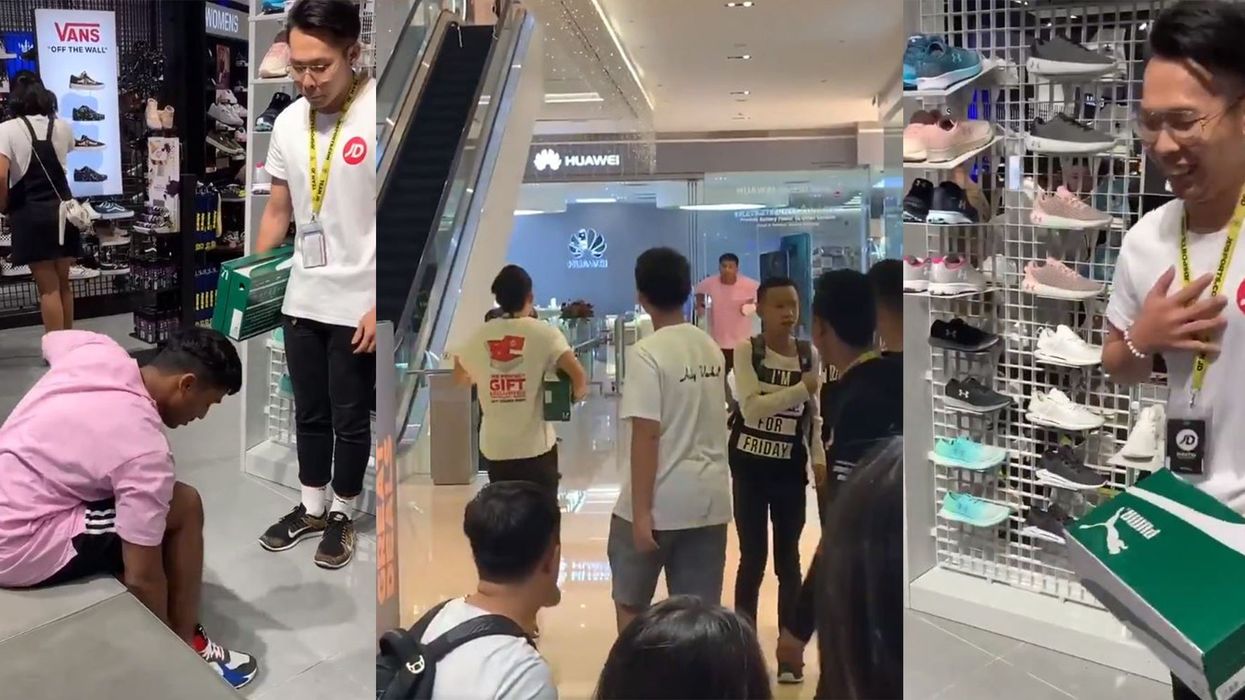 Harvinth Skin/ Twitter
Retail work is a tough and often thankless task, especially when it comes to the public, who - despite what employers tell their staff - aren't always right.
Sometimes though, hard work and commitment doesn't go unnoticed, as evident by the valiant effort to stop a suspected shoplifter at a branch of JD Sports in Malaysia.
Harvinth Skin is a popular YouTube personality who attempted to play a prank on a JD staff member, Martin Low, by pretending to run out of a store with a pair of brand new trainers that he had on his feet.
Skin only gets a few meters outside of the shop before turning around and sprinting back inside.
Remarkably Low, who also has his own fashion brand, can be seen running after Skin in a valiant attempt to stop what he must have presumed was a thief.
Luckily for Skin, Low saw the funny side of the prank and continued to serve the joker as if nothing had happened.
The clip soon went viral not because of it being 'really funny' but because of Low's exceptional work ethic and remaining professional.
Amazingly the video also caught the attention of Justin Lim, the CEO of JD Sports Malaysia and Singapore, who seemed concerned about the security at his stores.
Skin did compliment Low on heroically chasing him out of the store and asked JD Sports to give him a raise, which they duly obliged.
Although we would strongly recommend that anyone working in a shop doesn't chase a shoplifter (prank or no prank) it's nice to see someone recognised for going above and beyond their job requirements.
HT Daily Dot