Kevin Winter/Getty Images
John Cena is a 16-time world champion in the WWE. He has headlined some of their biggest events and is regarded as one of the most famous wrestlers in history.
Recently he has moved into the world of Hollywood, and has already appeared in movies alongside Tina Fey, Amy Schumer and Will Ferrell.
Oh and if that wasn't impressive enough, the 40-year-old has a lot of muscles.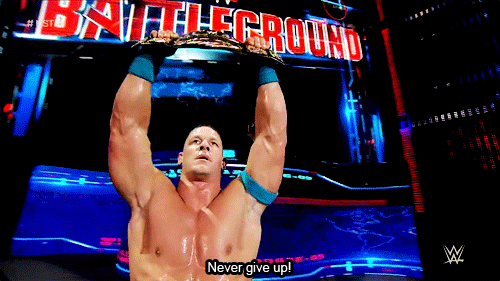 Via: Giphy
Speaking to Huffington Post, Cena revealed that bullying in school played a significant role in his physical development.
I haven't really run into a lot of folks that say that they weren't bullied as a kid.

Nowadays, especially with social media, there is a lot of bullying going on.

But, I go back to my high school dynamic and there were like two kids who bullied people and they bullied everybody.

So, yes, I was bullied, but that goes along with a lot of people. 
This proved to be a catalyst for Cena getting in shape and vastly increasing his muscle mass.
He is currently working with the shoe company Crocs as part of their "Come As You Are" campaign which aims to promote individualism and self-expression.
In an advert for the company, Cena explains that after asking his Dad if he could bulk up, the bullies never touched him again but he does stress that he never sought revenge on the bullies either.
While this has proved to be a life-changing decision for Cena it isn't necessarily a route that everyone should go down in order to deal with bullying.
No matter your age or profession bullying occurs in all walks of life.
If you feel that you have been a victim of bullying there is always someone that you can talk to.
Below is a list of free and confidential anti-bullying helplines that you can contact. Availability may vary.
Childline : 0800 1111
Bullybusters : 0800 169 6928
Bullying UK : 0808 800 2222
If you have been a victim of homophobic or transphobic bullying you can contact EACH on 0808 1000 143.