America has something of an obsession with the Royal Family. The news programmes love them, American tourists enjoy visiting Buckingham Palace, and any news of a wedding, birth or anniversary is sure to stir up some excitement across the pond.
Fortunately for the US though, British comedian John Oliver can inject a little reality into the royal news cycle.
Appearing on The Late Show with Stephen Colbert, the conversation between John and Stephen turned from Trump's military parade plans to the upcoming royal wedding between Prince Harry and American actor and activist Meghan Markle.
Stephen kicked off by asking:
Being English you must be really excited about the royal wedding?
To which John replied.
No.
But don't worry, there's more.
John goes on to say that he wouldn't blame Megan if "she pulls out of this at the last minute".
I don't think you need to have just seen the pilot episode of The Crown to get a basic sense she might be marrying into a family that could cause her some emotional complications.
When asked by Stephen if the current generation of royals were better than their predecessors, John remarks :
They're an emotionally stunted group of fundamentally flawed people doing a very silly pseudo-job – that's what she's marrying into. 

So, I hope she likes it. It's going to be weird for her. 
The conversation then turns to knighthoods and the fact that John has probably scuppered his chances of getting one. Stephen Colbert enquires:
If you see other performers or comedians get a knighthood, do you think... what the f**k are you doing?
John replies that "it's just weird to kneel in front of another adult".
It's a bit strange, it's an odd thing to still have. I like royal weddings, I also like fireworks. It's a spectacle, they're both nice to look at.
To finish the rather rousing chat, while still sticking to the topic of old traditions within the royal family, Stephen asks whether 'kiss the ring' has a different connotation in the UK to the US. He was, of course, referring to the traditional kiss of the Queen's hand at formal events.
After a long pause, John replies:
Historically, the Prime Minister, who would have to have tea with the King every week would have to end that tea time by puckering up and kissing the King on his exposed a******.

[long pause]

Do you think that's got my [knighthood] invitation back?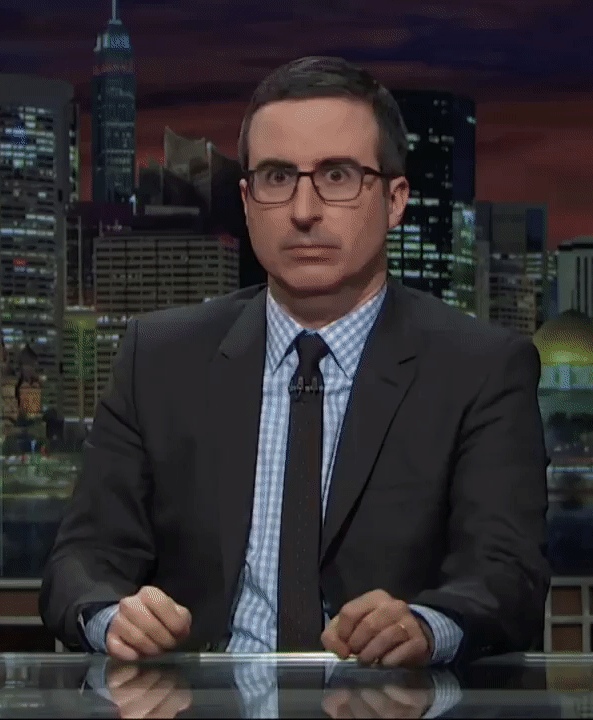 Watch the full interview here: