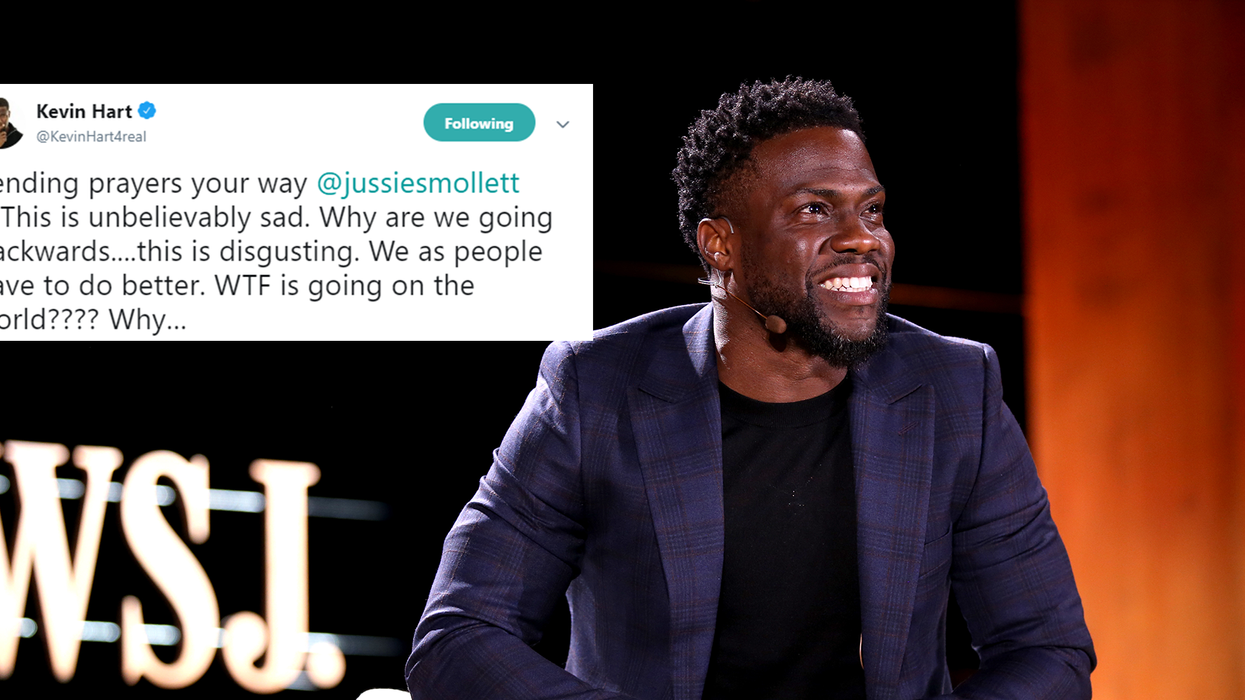 Getty Images / Twitter
Kevin Hart has come out in support of Jussie Smollett after he suffered a horrific homophobic and racist attack, and people on the internet are divided.
The 'Empire' actor was attacked in the early hours of Tuesday morning, in what police are saying is a possible hate crime. The 35-year-old actor, who identifies as gay, was attacked at 2am on Tuesday morning by two men in ski masks who poured an unknown chemical substance onto him, started beating him, and put a noose around his neck.
The Chicago Police Department said that the men shouted 'this is MAGA country' during the attack, as well as homophobic and racial slurs. After the attack, Smollett was admitted to the Northwestern Memorial Hospital, where he was treated for a fractured rib. The attack is also thought to have been premeditated, as Smollett also received a cut-out letter, dated 18 January, stating:
You will die you black f*g
Now, in response to this horrific attack, Kevin Hart took to Twitter and Instagram to express his condolences.
Taking to Twitter, he wrote:
Sending prayers your way @jussiesmollett ​

....This is unbelievably sad. Why are we going backwards....this is disgusting. We as people have to do better. WTF is going on the world???? Why…
He also posted on Instagram about the attack.
It's unsurprising that Hart's tweet and Instagram post had a mixed reaction after his high profile resignation from hosting the Oscars after a series of homophobic tweets he'd written resurfaced. He was also widely criticised for joking about beating his child if he found out that he was gay in 2011.
Some were unforgiving towards the comedian.
Others also offered up their prayers for Smollett, and defended Hart.
Some also defended him in the comments on his Instagram post.
One wrote:
Amen. I 100% agree with this message. I hear youm I feel you on this! God bless you @KevinHart4real for speaking out on this real life issue!

I'm not surprised that you are being real, and loving.

That's the type of person I see you as! Thank you!

We need more men, more kings to take there place on the right side of life, as you are!

Prayers for him! Sad and horrible.

That's what the bible says this evil world would try to do.

Glorify hate. Not today satan!

God wins in the end ALWAYS! REMEMBER THAT DEMONS!