left: Kid Rock/Facebook, right: Warner Bros. Records
Kid Rock and Warner Bros. Records have released some pro-Trump merchandise that's very rude about Hillary supporters.
The singer is a well known Republican, and endorsed Mitt Romney in 2012 as well Donald Trump in 2016.
In November, fans of his photoshopped a map of the 2016 election results onto his chest.
In the key of the map, the red Trump states are labeled "United States of America".
Blue states won by Hillary Clinton are labeled "Dumbf***istan".
The fake image was shared around the internet by people who like both Donald Trump and sweary cartography.
Snopes identified the original as being taken in a 2013 concert in Melbourne, Australia.
Picture: Wikimedia Commons
Normally that would be the end of that, but the popularity of the shirt prompted Kid Rock to cash in on the opportunity.
On Monday, this was posted to Kid Rock's official Facebook page:
He's created their own version of the shirt, and are selling it for $24.99 USD via the Warner Bros. Record website.
Picture:
The Warner Bros Records site also advertises this other Trump related merchandise: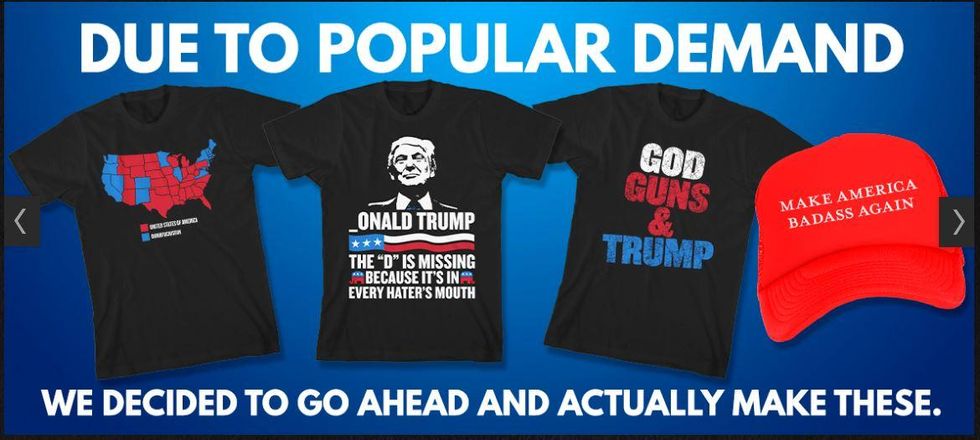 Picture:
The items include this t-shirt:
Picture:
Kid Rock, maverick that he is, suggests:
Purchase by Wednesday to receive by Christmas.
Merry Christmas one and all.
ind100 has contacted Warner Bros. Records for comment.