ABC/ Randy Holmes
Jennifer Lawrence stood in as a guest presenter this week on Jimmy Kimmel Live.
That in itself is an amazing bit of news, but things got evgen more exciting when it was announced that she would be interviewing Kim Kardashian West.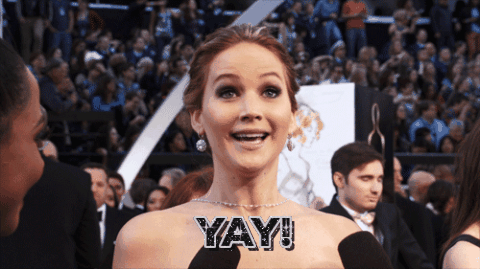 Via: Giphy
Needless to say it was everything that we could have hoped for.
The 37-year-old was there to promote her new cosmetics brand, but Jennifer was more interested in fawning over Kim, who she admitted to being obsessed with.
They discussed the time Jennifer visited Kris Jenner's house and got really drunk, and whether they would rather sleep with Kim Jong-un or Donald Trump in order to save the world.
The most touching element of the interview saw Jennifer touch on the tricky subject of the public break-up of her brother Rob Kardashian and Blac Chyna.
The couple split earlier this year and Blac has since taken legal action against both Rob and the other members of the Kardashian family.
Rather than focus on the feuding factions, Kim looked at what the situation might end up doing to the couple's daughter, Dream.
She said:
You know, I've always said when people ask me that Dream is going to see this one day.

So I just think it's super respectful to just not say anything about my niece's mom.
You can watch the full interview in the video below:
HT BuzzFeed
More: This is how much Kim Kardashian earns from a social media post​