Getty
Ever wondered how much the Kardashians, Made in Chelsea stars and Youtubers make from those #ads all over your Instagram?
Well, quite a lot as it turns out..
Advisa, a Swedish personal loan company did the math, scoured the web for reported figures and celebrity follower counts and put their minds to an algorithm which estimates how much each post is worth based on the number of followers one has.
Correlating this with data from social analytics company Stashmetrics, we can an estimate of how much each celeb could theoretically earn per post - and how much you could too.
Kim Kardashian, famed for her social media candidness, has nearly 224 million followers across Snapchat, Facebook, Instagram and Twitter.
These combined could earn her an estimated £360, 591, 583 a year.
Picture: advisa.se
Picture: advisa.se
Selena Gomez, the most followed person on Instagram with 120million followers, could earn £380,985 per Instagram post - or £360,591,583 a year, just for posting one picture a day.
But it's not just celebs that could earn the big bucks, top food and fitness bloggers could earn over £100,000 a year with just two posts a week.
Start practicing your selife game, because Instagram is where the money's at. The average Instagram user could earn over £20,000 a year if they had the same advertising opportunities, as followers on Instagram are worth 3.5 times as much as Twitter.
If you have 2,500 Instagram followers you could earn more than the UK's average salary by posting only twice a week.
You can enter your own numbers below to see how much you're worth
Here's how much some celebs allegedly earn according to Advisa and Stashmetrics...
Picture: advisa.se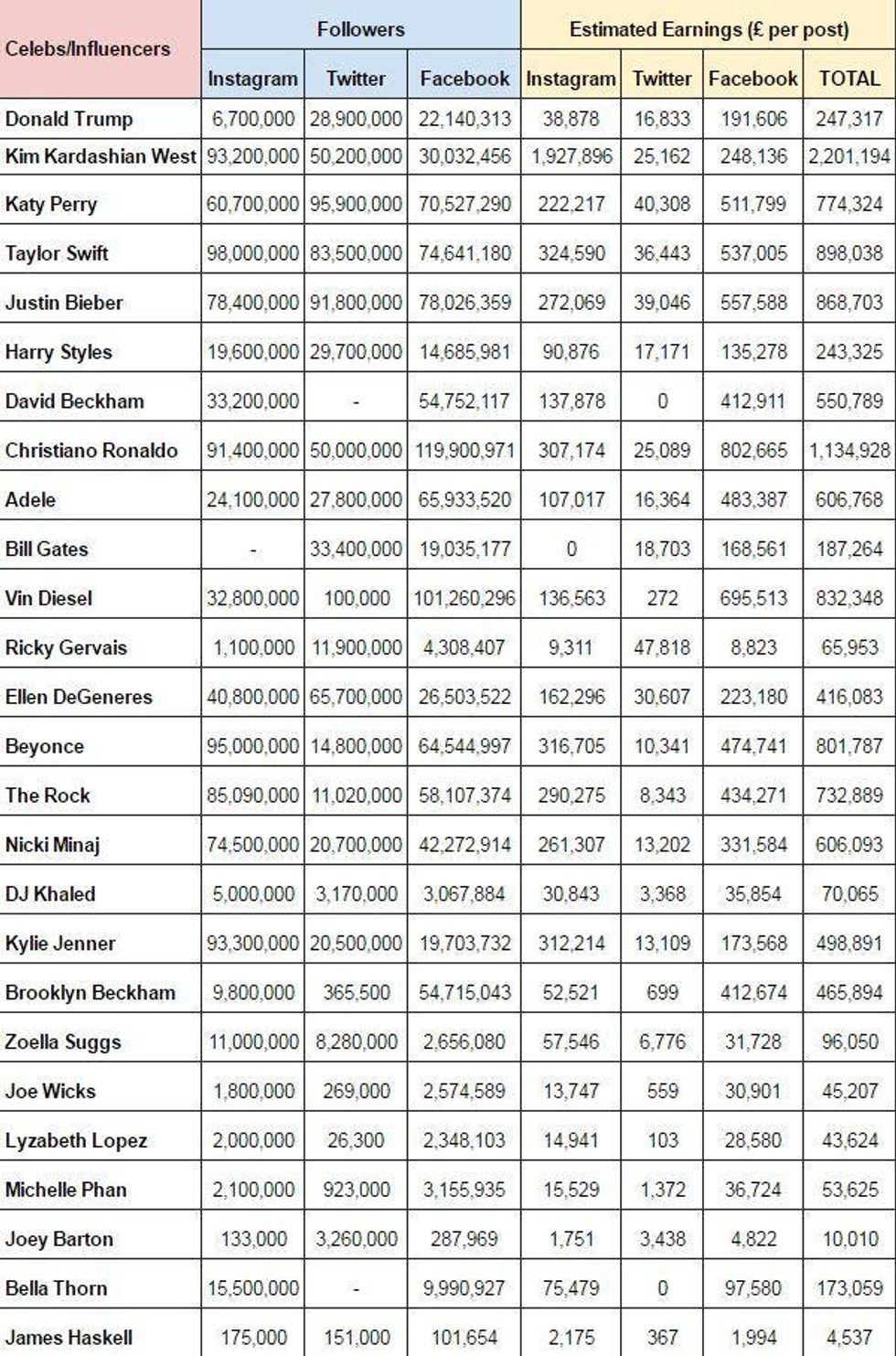 Picture: advisa.se
How much are you worth?
Picture: advisa.se