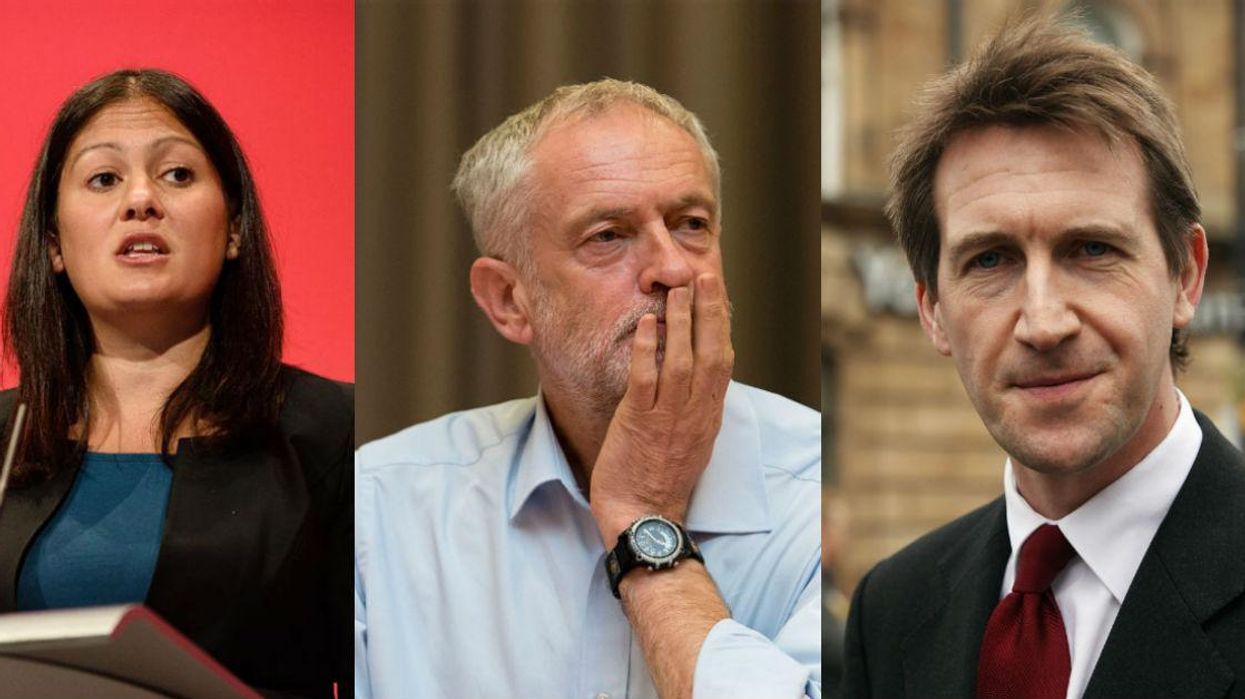 Picture: Composite/Getty Images
New polling by YouGov reveals the potential contenders to succeed Jeremy Corbyn as leader, should he step down.
On Thursday, two Labour seats will be up for grabs due to by-elections in Copeland, Cumbria, and Stoke Central, Staffordshire.
The results are being used by some as litmus test of Corbyn's efficacy, given that it's uncommon for opposition parties to lose seats to the party in power.
Ahead of the results, polling company YouGov has conducted a survey of the public's fondness for twenty leading Labour figures, including Corbyn.
How 'likeable' are you?
It is an ephemeral concept 'likeability', and also the sort of word you can imagine spin doctors have motivational posters about.
Some politicians have it, and some most definitely don't.
YouGov asked respondents how much they liked twenty leaders, and indy100has put them into order to see the top threats to Corbyn (those candidates best liked by the all voters).
In addition, you can see (below) how much voters from each party, feel about these top threats.
Dan Jarvis, the Barnsley Central MP and former soldier secured the best likeability score from YouGov's sample of 'all voters'.
Nevertheless it was still a negative result, of -1.
Behind him was Mayor of London Sadiq Khan, the shadow Brexit secretary Keir Starmer, and Lisa Nandy, a former shadow cabinet member who resigned in June 2016.
Of all voters, Jeremy Corbyn and John McDonnell each received a net likeability of -40, the lowest score of the twenty contenders about which respondents were polled.
All publicity is not good publicity
YouGov also took into account the public's awareness of each candidate.
Being visible can bring more popularity, but also draw you to the attention of more virulent detractors.
Less well known candidates are likely to have achieved higher ranks in the table, thanks to their anonymity.
For instance Labour figures Angela Rayner (-22), Heidi Alexander (-18), and Rebecca Long Bailey (-8) all secured middling likability scores.
However, none of these contenders were known by more than 13 per cent of all voters. By contrast 94 per cent of respondents had heard of Jeremy Corbyn.
YouGov created this matrix, combining 'awareness' of a candidate with their net likeability, to plot them.
Worst of all worlds were those figures plotted in to the bottom left quadrant. These Labour MPs were both not very well known, yet those who did know them disliked them.
'Less disliked' and 'more well known' figures in the top right quadrant were four former members of Ed Miliband's shadow cabinet, securing a better score than their leader.
Leaders Miliband and Corbyn had the oxygen of publicity but its unclear if it'd enough to sooth their status as 'more disliked'.
Here are five things you should take from this polling, and what the results tell us about each party.
Conservative voters match the country's opinions best
Conservative voters' top five Labour figures included many who were also favoured by all voters.
Conservatives were the largest group within YouGov's total sample, and the -6 net score given to Jarvis was close to the -1 given to him by all voters.
Similarly, Khan and Benn were in their top five, at lower rankings.
Nandy was less popular with Conservatives, and former Business secretary Chuka Umunna replaced her in the top five.
Lib Dem love for Labour moderates
Lib Dem voters similarly followed the same pattern of all voters and Conservative voters.
Benn (17) and Umunna (25) were both more popular among Liberal Democrat voters than among voters from their own party.
Ukip hates Labour, even the ones it loves
Ukippers generally held Labour figures in such low regard that this survey is better measure of the ones they dislike the least.
On top, (sort of) is Dan Jarvis again, followed by MPs who served under Tony Blair, Gordon Brown, and Ed Miliband.
While Ukip was the only breakdown by party which 'liked' more than one female candidate, their opinion of them was so low (-45 for Yvette Cooper and Angela Rayner) that it was something of a hollow crown.
Labour voters don't rate their leader
Based on these likeability numbers, Khan, benefiting from being the only Labour figure with a bigger mandate than Jeremy Corbyn, and the publicity of leading the capital, is the one to watch.
Though Khan's term as Mayor concludes in 2020, and he would need to re-enter the commons to do so.
Of the others who are well liked by Labour voters, only one, Keir Starmer, currently serve in the shadow cabinet of the Labour leader.
The leader is chosen by the party, not all Labour voters, yet this rating would certainly bolster Khan's pitch to Labour members, and to Labour MPs.
In 2015, 36 MPs nominated to Jeremy Corbyn to be leader, enough to get him on the ballot paper.
Khan was among the 36, but stated he did not intend to vote for Corbyn, only to get him on the ballot paper in order to 'broaden the debate'.
Despite Corbyn's two majority victories in Labour leadership races, Corbyn received -4 likeability rating from YouGov's poll of Labour voters.
This placed Corbyn 16th out of 20 candidates, less than ideal for any leader.