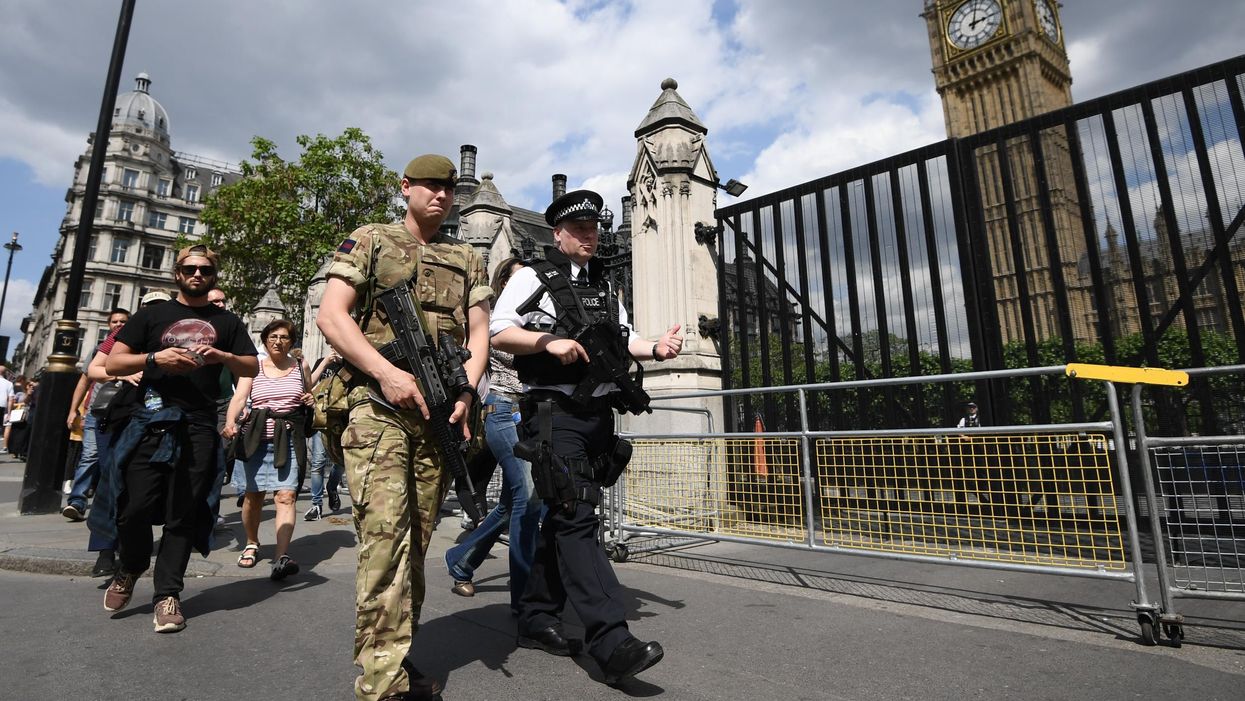 Getty
On Monday night, a terrorist bombing killed 22 people and injured at least 59 at an Ariana Grande concert in the Manchester Arena.
The concert was attended predominately by young girls and their families, and police confirmed a sole attacker died in the blast, for which responsibility was later claimed by Isis.
Terrorism generally refers to when a premeditated, politically motivated attack is carried out upon civilians by a sub-national group (rather than a state or an army).
The point of it is to spread fear, draw attention to a particular cause or manifesto, and leverage the state into negotiation.
It is commonly accepted that the best response to terrorism is defiance.
Theresa May addressed this in her speech following the Manchester attacks:
We will take every measure available to us and provide every additional resource we can to the police and the security services as they work to protect the public.

And while we mourn the victims of last night's appalling attack, we stand defiant.

The spirit of Manchester - and the spirit of Britain - is far mightier than the sick plots of depraved terrorists. That is why the terrorists will never win, and we will prevail.
It's particularly disconcerting to see the more intellectually bereft members of the right-wing crying for some form of excessive call of action, often undefined because it's probably all kinds of illegal.
It begs the question: What exactly are you asking for?
If it's the constant surveillance of terror suspects, particularly from the Middle East - this is already done.
The head of MI6 said in December that 12 terrorist plots had been disrupted since June 2013, mostly from ungoverned spaces in the Middle East.
If it's that people don't treat life as 'normal' after an attack - you should pause for thought.
The story was broadcast everywhere; on television, radio and the internet.
Few people in the UK treated the night of 22 May or the 23 May as just another day.
There is a difference between acknowledging, grieving and continuing in defiance of the terrorism, and pretending the terrorism didn't happen.
If it's for more Muslims to condemn the attacks, then we have some news for you.
The Muslim Council of Britain condemned the attack. The chief executive of the Ramadhan Foundation in Manchester condemned the attack. Muslim leaders condemned the attack. The Mosque the attacker attended condemned the attack.
Muslims are condemning these attacks. The Islamic State is an extremist organisation. They don't represent Islam in the same way the actions of the Westboro Baptist Church, the KKK and white nationalist terrorists don't encapsulate Christianity.
If it's for more funding into counter-terrorism operations.
Then fine, you can call for that, you're well within your rights.
But don't imply the Government does absolutely nothing. As we've previously mentioned, they've stopped at least 12 terrorist plots since June 2013.
Shashank Joshi, a senior fellow at the Royal United Services Institute for Defence and Security Studies, also confronted this:
A Whitehall internal review last year concluded that 'Prevent' should be "strengthened, not undermined". More than 8,000 people were found to be at risk of being drawn into far-right neo-nazi cells or Islamist groups, and had been referred to deradicalisation programmes.
However, critics warned the programme was too confrontational and toxic in the Muslim community. The commons committee recommended it should be rebranded "Engage" with clearer training guidelines.
Analysis has spotted trends about UK terrorism - 93 per cent of attempted incidents between 1998 and 2015 were committed by young men. Islamist terrorism remains mostly home-grown (72 per cent). Indiscriminate attempted incidents remain commonly committed by under 30s (84 per cent).
Prior convictions are prevalent (25 per cent) and more than a fifth are committed by individuals known to have attended training camps (22 per cent).
These are predominately young men swayed to a vicious ideology.
If you're looking for what more needs to be done - look to this interviewee: