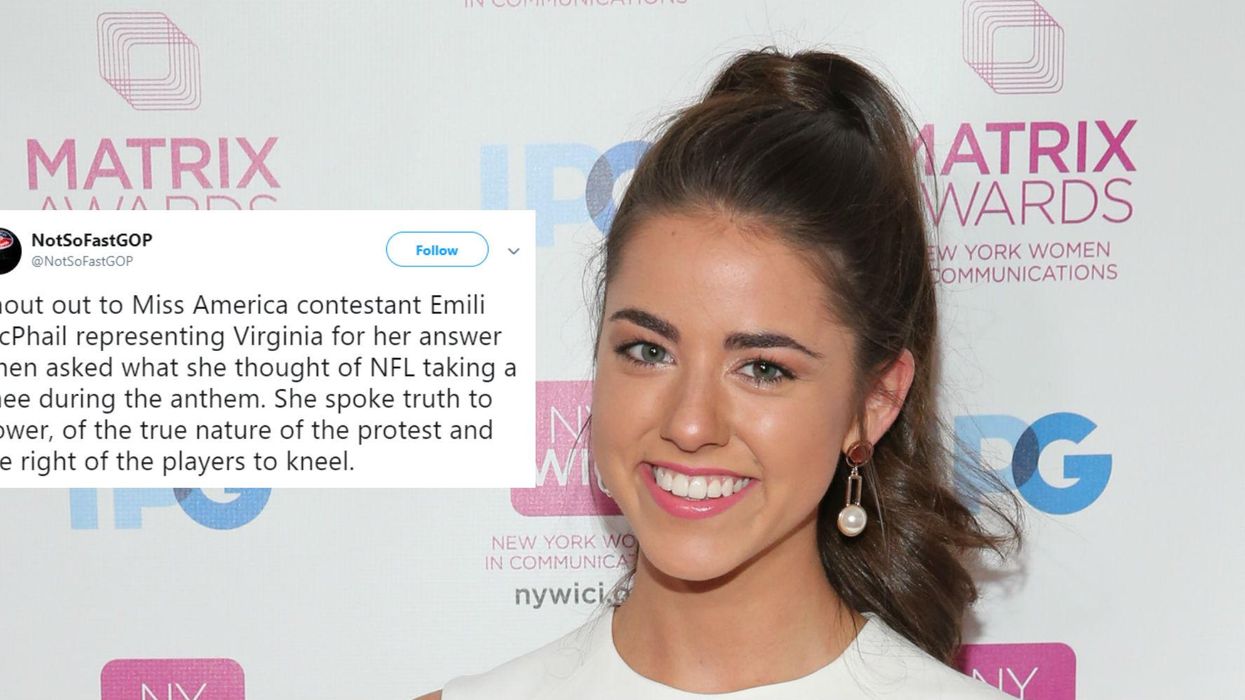 Rob Kim / Getty Images
On the day that the NFL kicked off its regular season, Miss America contestant Emili McPhail was asked about her opinions on the NFL players kneeling during the national anthem in a silent protest.
The 22-year-old beauty queen's answer impressed the judges so much that she earned her preliminary round win in the onstage question category, as well as a $1,000 scholarship prize.
Stepping up to the mic, McPhail, who will be representing Virginia, said:
Kneeling during the national anthem is absolutely a right that you have to stand up for what you believe in, and to make the right decision that's right for you.

It's very important that we also have to take into consideration that it is not about kneeling: It is absolutely about police brutality.
BOOM!
​
After the event, she elaborated on her ideas to the Press of Atlantic City. Speaking to the local paper, she said:
I said standing up for what you believe in is the most important thing that you can do, and that's what I did.
Her Twitter feeds have been flooded with messages of admiration and support, despite the predictable backlash from trolls, too.
@emlizphail @MissAmericaVA Thank you for displaying intelligence, courage and judgment. Good luck on the contest.

— Naomi Williamson (@Naomi Williamson) 1536347524
Emili McPhail is a total winner. Thanks for representing not just Virginia, but AMERICAN VALUES! ❤️ Miss America… https://t.co/uMynQRRIQB

— Gideon Mountain Hunt (@Gideon Mountain Hunt) 1536359627
McPhail got the win Thursday in a newly installed category, as, for the first time in the pageant's 97-year history, it eschews the swimsuit competition.
The change has been ushered in by first-year Miss America Organisation chairwoman Gretchen Carlson, who won the pageant in 1989, but is not universally popular with everyone associated with the event, and has resulted in a revolt by state organisations, most of which want Carlson to resign. 
The third and final night of the preliminaries will be held on Friday, and the next Miss America will be crowned Sunday Night in Atlantic City. 
Good luck Emili!
HT Someecards