Getty Images/iStockphoto
The Victoria and Albert Museum is one of London's more prestigious and beautiful museums.
Based in Knightsbridge, it houses a permanent collection of 4.5 million art and design objects, making it the largest museum in the world of it's kind.
They've got everything: post-classical sculpture, Italian Renaissance paintings and ancient ceramics.
Given that they proudly exhibit cultures from all over the world, you'd think they'd be OK with breastfeeding in 2017. Sadly not.
A mother, who goes by the Twitter handle @Vaguechera, discovered this the hard way when she was allegedly told to cover up after flashing "a nanosecond of nipple".
It was following this interruption to her son's feeding that she noticed something rather ironic about the request.
The museum is literally filled with statues of bare breasted women...
Fortunately for us, she documented all her thoughts in a fantastic Twitter thread.
Picture: Twitter/ Vaguechera/ Screengrab
Picture: Twitter/ Vaguechera/ Screengrab
Her expert observations of the museums hypocrisy quickly went viral, with many people lending her their support.
She then continued her documentation of nudity in the museum which proved that she is a very witty woman.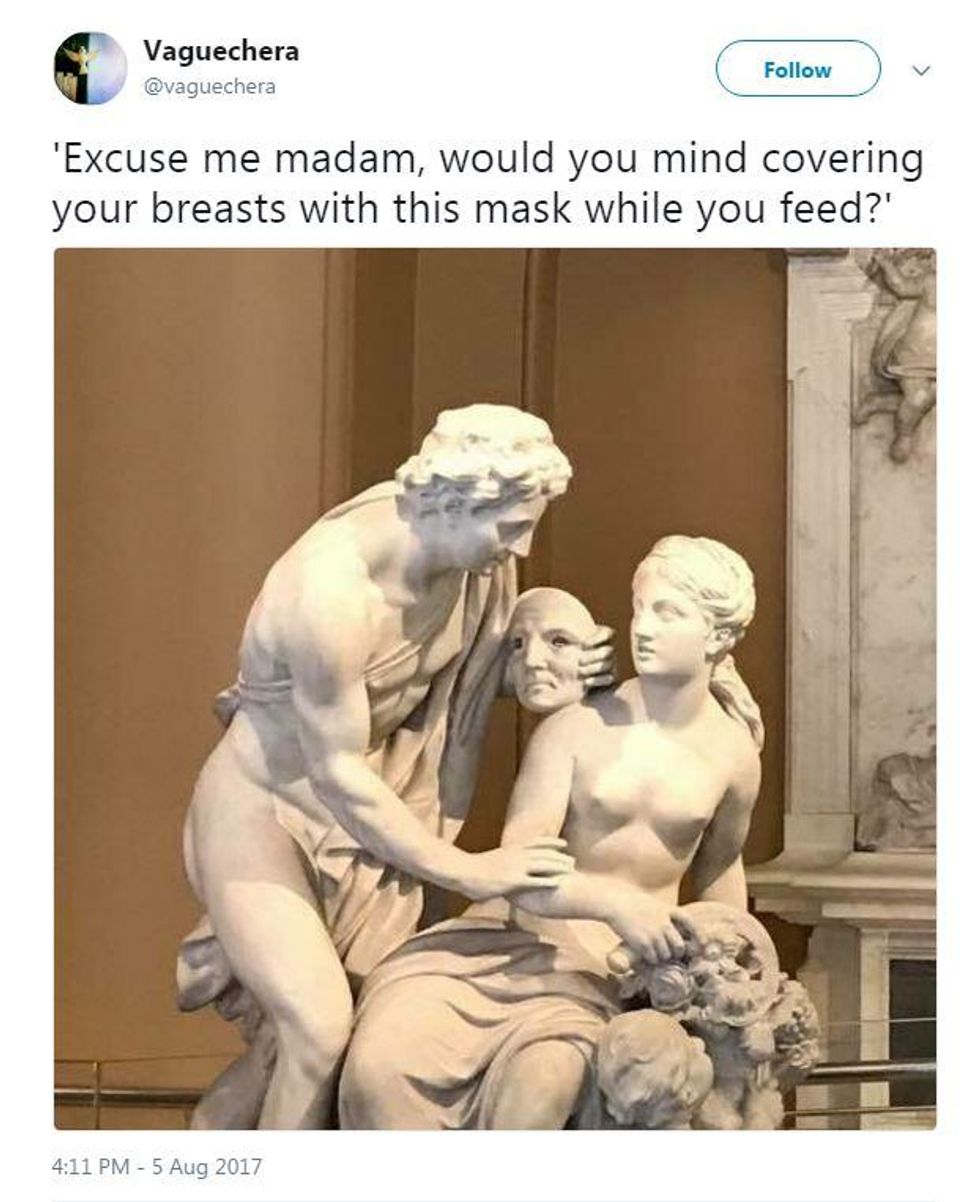 Picture: Twitter/ Vaguechera/ Screengrab
Picture: Twitter/ Vaguechera/ Screengrab
In later tweets, she admitted that this is the first time she had been asked to cover up in her 3-and-a-half years of breastfeeding - and despite the embarrassment, she was only asked to cover up but notstop feeding.
To make the situation even worse, the incident occurred during World Breastfeeding Week, which aims to promote and protect the importance of this perfectly natural way of feeding children.
The museum has since offered their apologies, explaining that they do not prohibit breastfeeding, and even provide quiet spaces for those who wish to so in private.
The V & A director and former Labour politician, Tristam Hunt offered his apologies as well, which the mother gave an expert reply to.